Beriev Be-12 Video - Picture
Beriev Be-12 Aircraft Information
Beriev Be-12
Be-12 Chayka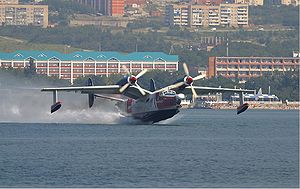 Picture - Be-12P-200 at Gelendzhik in September 2004
Role: Maritime patrol aircraft
Manufacturer: Beriev
First flight: October 1960
Introduced: 1960s
Status: Operational (in small numbers)
Primary user: Soviet Naval Aviation
Number built: 143
Developed from: Beriev Be-6

The Beriev Be-12 Chayka ("Seagull", NATO reporting name: Mail) is a Soviet twin-turboprop-powered amphibious anti-submarine and maritime patrol aircraft.
Design and development
Beriev Be-12 is development of the Beriev Be-6 flying boat whose primary roles were as an anti-submarine and maritime patrol bomber aircraft. Though tracing its origins to the Be-6, the Be-12 inherited little more than the concept of its gull wing and twin oval tailfins.
The Be-12 was first flown in October 18, 1960 at Taganrog airfield.
Operational history
The Be-12 entered service with Soviet Naval Aviation, or AV-MF (Aviatcia Voenno-Morskogo Flota), in the early 1960s in the maritime patrol role, and is one of the few amphibian aircraft still in military service in the world. Initially its role was ASW patrol, but when newer missiles enabled the United States Navy submarines to launch from further offshore, the Be-12 was converted to a search and rescue role (Be-12PS). Small numbers are still in service.
During development of the Beriev Be-200 unique fire-fighting equipment was tested using a specially modified Be-12P, coded '12 Yellow'. After installation of the fire-fighting system, the aircraft was registered RA-00046 and given the designation Be-12P-200. This modified Be-12 was used to develop both the fire-fighting system and methods of operation for the Be-200.
According to figures released in 1993, the Russian Navy had 55 aircraft in service. By 2005 this had reduced to twelve, and by 2008 there were only 9 aircraft still in service.
Variants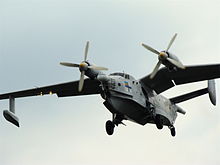 Picture - Ukrainian Be-12
Be-12
Twin-engined maritime reconnaissance, anti-submarine warfare flying-boat. 2 prototypes and 130 production airframes built.
Be-12EKO
Projected ecological reconnaissance version. Never built.
Be-12I
Projected scientific research version designed in 1991. Not built.
Be-12LL
Conversion for testing the 3M-80 'Moskit' anti-shipping missile. Nose radar replaced with missile seeker head. One aircraft converted in 1980.
Be-12N
ASW version fitted with new sensors, avionics, MAD sensor and Nartsiss search/attack system. 27 aircraft converted.
Be-12Nkh
Utility transport, experimental passenger transport version. Military equipment removed, additional windows fitted. 2 built, both converted from Be-12.
Be-12P
Firefighting version. One 4,500 l tank and two 750 l tanks installed. Four aircraft converted in 1992.
Be-12P-200
Technology demonstrator for the Beriev Be-200. Fire-fighting configuration. One aircraft converted.
Be-12PS
Maritime Search and rescue version. Life rafts and survival equipment carried. 6 crew. 10 built new, 4 converted from Be-12.
Be-12SK
One aircraft converted in 1961 for use in SK-1 nuclear depth charge tests.
Be-14
All weather, day/night SAR version. Additional SAR and medical equipment. 6 crew. AI-20D engines. One built.
M-12
Stripped-down Be-12 used for record-setting flights. 2 Crew. Later returned to standard configuration.
Operators
Egypt
Egyptian Air Force operated two or three Be-12s circa 1970, crewed by Soviet personnel, to maintain surveillance on the United States Navy's 6th Fleet in the Mediterranean.

Russia
Russian Naval Aviation received ex-Soviet Union aircraft. 9 Aircraft still in operation with the Black Sea fleet.

Soviet Union
Soviet Naval Aviation passed their aircraft to successor countries: Russia and Ukraine.

Syria
Syrian Air Force

Ukraine
Ukrainian Naval Aviation received ex-Soviet Union aircraft.

Vietnam
Vietnam People's Air Force - 4 aircraft were exported to Vietnam in 1981.

Specifications (Be-12)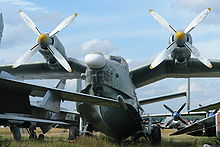 Picture - Be-12 at Monino Central Air Force Museum (Moscow) 2006
General characteristics
Crew: Four
Length: 30.11 m (98 ft 9 in)
Wingspan: 29.84 m (97 ft 11 in)
Height: 7.94 m (26 ft 1 in)
Wing area: 99.0 m² (1,065 ft²)
Empty weight: 24,000 kg (52,800 lb)
Loaded weight: 29,500 kg (64,900 lb)
Max takeoff weight: 36,000 kg (79,200 lb)
Powerplant: 2x— Ivchenko Progress AI-20D turboprops, 3,864 kW (5,180 hp) each

Performance
Maximum speed: 530 km/h (290 kn, 330 mph)
Range: 3,300 km (1,800 nmi, 2,100 mi)
Service ceiling: 8,000 m (26,247 ft)
Wing loading: 298 kg/m² (61 lb/ft²)
Power/mass: 260 W/kg (0.16 hp/lb)

Armament
1,500 kg (3,300 lb) of external stores, including bombs, depth-charges and torpedoes

Related development
Beriev Be-6

Comparable aircraft
PBM Mariner
P5M Marlin
CL-415
ShinMaywa US-2
Harbin SH-5

Bibliography
Yefim Gordon, Andrey Sal'nikov and Aleksandr Zablotskiy (2006) Beriev's Jet Flying Boats. Hinckley, UK: Midland Publishing. ISBN 1-85780-236-5
"Beriev Be-12 'Mail'". aeroflight.co.uk. 2005-08-05. http://www.aeroflight.co.uk/types/russia/beriev/be-12/be-12.htm. Retrieved 2008-09-11.
"Beriev". Aviation.ru. 2004-03-30. http://www.aviation.ru/Be/#12. Retrieved 2006-08-14.

Beriev Be-12 Pictures
More aircraft.
Source: WikiPedia