Beriev Be-2 Video - Picture
Beriev Be-2 Aircraft Information
Beriev Be-2
Be-2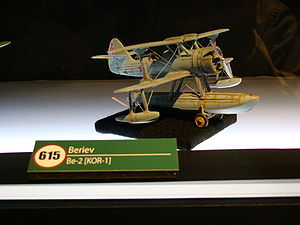 Role: Reconnaissance seaplane
Manufacturer: Beriev
First flight: April 1936
Primary user: Soviet Navy
Number built: ca. 300

The Beriev Be-2 (originally designated KOR-1) was a two-seat reconnaissance seaplane built for the Soviet Navy shortly before World War II. It was designed to replace the Navy's obsolete Heinkel He 55 aircraft operating from warships and shore bases. From the outset, the design exhibited serious handling difficulties and maintenance problems. These problems were never really resolved, despite the large number of aircraft produced, meaning that in practice, the type was restricted to training and secondary roles, and was more often deployed from land than from warships as originally planned. In addition, delays with updating the Navy's cruisers meant that suitable catapults were not installed until about 1939.
Operational history
With the outbreak of war with Germany, all attempts to deploy the troublesome aircraft from ships were finally abandoned. During the war, they served as shore-based reconnaissance and search/rescue aircraft on the Baltic, and with their float undercarriage replaced by wheels, some were pressed into service as strike aircraft during the Battle of Sevastopol.
Operators
Soviet Union
Soviet Naval Aviation

Specifications
General characteristics
Crew: two, pilot and observer
Length: 8.67 m (28 ft 3 in)
Wingspan: 11.00 m (36 ft 1 in)
Height: 3.80 m (12 ft 6 in)
Wing area: 29.3 m² (315 ft²)
Empty weight: 1,800 kg (3,970 lb)
Gross weight: 2,686 kg (5,920 lb)
Powerplant: 1 x— Shvetsov M-25A radial engine, 522 kW (700 hp)

Performance
Maximum speed: 245 km/h (152 mph)
Range: 1,000 km (621 miles)
Service ceiling: 6,600 m (21,654 ft)

Armament
2 x— fixed, forward-firing 7.62 mm ShKAS machine guns
1 x— flexible 7.62 mm ShKAS machine gun for observer
100 kg (220 lb) of bombs

Taylor, Michael J. H. (1989). Jane's Encyclopedia of Aviation. London: Studio Editions. pp. 153.
World Aircraft Information Files. London: Bright Star Publishing. pp. File 890 Sheet 26.

Beriev Be-2 Pictures
More aircraft.
Source: WikiPedia