Beriev Be-4 Video - Picture
Beriev Be-4 Aircraft Information
Beriev Be-4
Be-4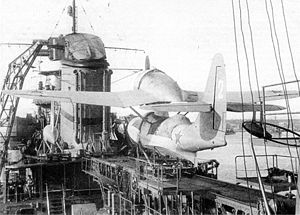 Picture - Be-4 on the Soviet cruiser Molotov, 1941.
Role: Reconnaissance flying boat
Manufacturer: Beriev
First flight: 1941
Number built: ca. 100

The Beriev Be-4 (originally designated KOR-2) was a reconnaissance flying boat built to operate from Soviet warships during World War II. Its development was a direct result of the failure of the Beriev Be-2 design. The Be-4 was an elegant, parasol-winged monoplane with a slight inverse-gull wing. The large radial engine was mounted in a nacelle above the fuselage. This aircraft had none of the vices of the Be-2 and was quickly put into production. However, not many had been completed before the fall of Sevastopol and the over-running of the Beriev factory. Production was resumed in 1943 at Krasnoyarsk, which is where most of the roughly 100 examples were constructed.
Operators
Soviet Union
Soviet Naval Aviation

Specifications
General characteristics
Crew: three
Length: 10.50 m (34 ft 5 in)
Wingspan: 12.00 m (39 ft 4 in)
Height: 4.05 m (13 ft 3 in)
Wing area: 25.5 m² (274 ft²)
Empty weight: 2,082 kg (4,590 lb)
Gross weight: 2,760 kg (6,085 lb)
Powerplant: 1 x— Shvetsov M-62 radial, 746 kW (1,000 hp)

Performance
Maximum speed: 356 km/h (221 mph)
Range: 1,150 km (716 miles)
Service ceiling: 8,100 m (26,575 ft)

Armament
1 x— fixed, forward-firing 7.62 mm ShKAS machine gun
1 x— trainable 7.62 mm ShKAS machine gun for observer
up to 400 kg (880 lb) of bombs or depth charges

Taylor, Michael J. H. (1989). Jane's Encyclopedia of Aviation. London: Studio Editions. pp. 153.
World Aircraft Information Files. London: Bright Star Publishing. pp. File 890 Sheet 26.

Beriev Be-4 Pictures
More aircraft.
Source: WikiPedia