Beriev MBR-2 Video - Picture
Beriev MBR-2 Aircraft Information
Beriev MBR-2
Beriev MBR-2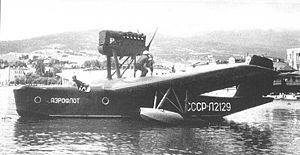 Picture - Aeroflot MP-1 at Yalta, circa 1938.
Role: Patrol aircraft
Manufacturer: Beriev OKB
Designed by: Georgy Mikhailovich Beriev
First flight: 1931
Introduced: 1935
Status: Retired
Primary user: Soviet Navy
Produced: 1934-1941

The Beriev MBR-2 was a reconnaissance flying boat which entered service with the Soviet Navy in 1935.
Design
The MBR-2 was designed by Georgy Mikhailovich Beriev and first flew in 1931, powered by an imported 373 kW (500 hp) BMW VI.Z engine. Production models, which arrived in 1934, used a licence-built version of this engine, the Mikulin M-17 of 508 kW (680 hp), and could be fitted with a fixed wheel or ski undercarriage.
Beriev also designed a commercial airliner derivation, the MP-1, which entered airline service in 1934, and a freighter version, which followed in 1936.
In 1935, an improved version was developed, the MBR-2bis, powered by the Mikulin AM-34N engine, and fitted with an enclosed cockpit, dorsal gun-turret and enlarged vertical tail. In this configuration, the machine remained in production until 1941. As with the MBR-2, the bis spawned a commercial derivative and the MP-1bis entered service in 1937.
Variants
MBR-2M-17 : Short-range maritime reconnaissance, bombing flying-boat, powered by a 508 kW (680 hp) Mikulin M-17B piston engine.
MBR-2AM-34 or MBR-2bis : Improved version, powered by a Mikulin AM-34N engine.
MBR-2M-103 : One MBR-2AM-34 was fitted with the more powerful M-103 engine. One prototype only.
MP-1 : Civil version of the MBR-2M-17 flying-boat for Aeroflot. It could carry six passengers in an enclosed cabin.
MP-1bis : Civil version of the MBR-2AM-34 flying-boat for Aeroflot.
MP-1T : Freight transport conversion of MBR-2.

Operators
Finland
The Finnish Air Force operated five captured aircraft from 1941.

Soviet Union
Aeroflot
Soviet Naval Aviation

Specifications (MBR-2bis)
General characteristics
Crew: 4-5
Length: 13.50 m (44 ft 3½ in)
Wingspan: 19.00 m (62 ft 4 in)
Height: 4.40 m (14 ft 9 in)
Empty weight: 2,718 kg (5,990 lb)
Max takeoff weight: 4,245 kg (9,359 lb)
Powerplant: 1x— Mikulin AM-34N V12 engine, 559 kW (750 hp)

Performance
Maximum speed: 275 km/h (148 knots, 171 mph)
Range: 1,500 km (810 nm, 930 mi)
Service ceiling: 4,900 m (16,080 ft)

Armament
Guns:
1x— 7.62 mm (0.30 in) PV-1 machine gun in bow
1x— 7.62 mm ShKAS machine gun in dorsal turret
Bombs: 300 kg (660 lb) of bombs, mines, and depth charges carried underwing

Comparable aircraft
Supermarine Walrus

Munson, Kenneth (1969). Bombers, Patrol and Transport Aircraft 1939-45. Blandford. ISBN 0-71370379-2.

Beriev MBR-2 Pictures
More aircraft.
Source: WikiPedia