Beriev R-1 Video - Picture
Beriev R-1 Aircraft Information
Beriev R-1
R-1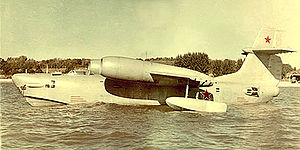 Role: Experimental flying boat
National origin: Soviet Union
Manufacturer: Beriev
First flight: 30 May 1952
Status: scrapped
Number built: 1

The Beriev R-1 (known in-house as 'product R') was the first Soviet turbojet-powered flying boat. Although many stability problems were encountered, the aircraft was involved in extensive testing between 1951-1956. Experience gained during the test programme with the R-1 was used in the development of the Beriev Be-10. After a crash in February 1956, the R-1 was never repaired and subsequently scrapped. The R designation is believed to have stood for Reaktivnyy (jet-propelled).
Specifications (R-1)
Data from Beriev's Jet Flying Boats
General characteristics
Crew: 3, Pilot, navigator and gunner/radio operator
Length: 19.9 m (65 ft 3 in)
Wingspan: 20 m (65 ft 7 in)
Height: 7.1 m (23 ft 3 in)
Wing area: 58 sq m (624 sq ft)
Airfoil: NACA 23009
Useful load: 1,000 kg (2,205 lb)
Max takeoff weight: 20,300 kg (44,760 lb)
Powerplant: 2x— Klimov VK-1 non-afterburning turbojets, 2,700 kgf (5,950 lbf) each

Performance
Maximum speed: 800 km/h (497 mph)
Range: 2,000 km (1,242 mi)
Service ceiling: 11,500 m (37,730 ft)

Armament
Guns: 2 forward-firing 23-mm Nudelman-Rikhter NR-23 cannons, 2 tail-mounted 23-mm Shpitalniy Sh-3 cannons.
Bombs: Maximum of 1,000 kg (2,205 lb) carried on underwing bomb racks.

Related development
Beriev Be-10

Bibliography
Yefim Gordon, Andrey Sal'nikov and Aleksandr Zablotskiy (2006) Beriev's Jet Flying Boats. Hinckley, UK: Midland Publishing. ISBN 1-85780-236-5

Beriev R-1 Pictures
More aircraft.
Source: WikiPedia