Blackburn B-2 Videos - At Old Warden 2010 - Only flying B-2
Blackburn B-2 Videos - At Old Warden 2009 - Only flying B-2
Blackburn B-2 Aircraft Information
Blackburn B-2
B-2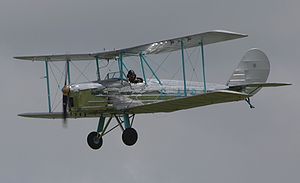 Picture - Blackburn B2 at the Shuttleworth Collection
Role: Trainer
Manufacturer: Blackburn Aircraft
First flight: 1931
Introduced: 1932
Retired: 1942
Primary user: Royal Air Force
Number built: 42
Developed from: Blackburn Bluebird IV

The Blackburn B-2 was a British biplane side-by-side trainer aircraft of the 1930s. Designed and built by Blackburn Aircraft, 42 were built.
Development
The Blackburn B-2 was developed by Blackburn as a successor for its earlier Bluebird IV trainer, retaining the layout and side-by-side seating of the earlier aircraft, but having a semi-monocoque all-metal fuselage. The prototype B-2 (registered G-ABUW) first flew on 10 December 1932, powered by a de Havilland Gipsy III engine. A total of 42 B-2s, including the prototype, were built.
Operational history
The prototype B-2 was shipped to Lisbon in September 1933 for evaluation by Portugal. Although it performed well in the evaluation, the Portuguese preferred a tandem layout and purchased the de Havilland Tiger Moth. Although not successful in competing for major military orders, the B-2 continued in production to equip civilian flying schools in the United Kingdom, which were busy training pilots for the Royal Air Force under the RAF expansion scheme, the B-2 equipping flying schools at Brough and London Air Park, Hanworth owned by Blackburn.
The last three B-2s were sold to the RAF and used by No. 4 EFTS (Elementary Flying Training School), also at Brough.
On the outbreak of the Second World War, the aircraft at Hanworth were moved to Brough and merged with that school's aircraft. The school at Brough continued to be operated by Blackburn, with the aircraft remaining with civilian registrations (although they were repainted with wartime training markings with yellow fuselages, camouflaged wings and RAF roundels) . The remaining aircraft were taken over by the RAF in February 1942 , being handed over to the Air Training Corps, where they were used as instructional airframes.
Operators
United Kingdom
Royal Air Force
No. 4 EFTS

Survivors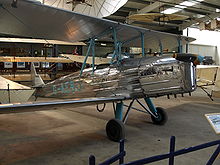 Picture - Blackburn B-2 at Old Warden
Only two B-2s survived to fly postwar, one crashing in 1951, with the sole survivor (G-AEBJ) preserved and maintained in airworthy condition by Blackburn (now part of British Aerospace). G-AEBJ is maintained in airworthy condition as part of the Shuttleworth Collection at Old Warden
Specifications (B-2)
Data from British Civil Aircraft since 1919, Volume 1
General characteristics
Crew: 2
Length: 24 ft 3 in (7.39 m)
Wingspan: 30 ft 2 in (9.20 m)
Height: 9 ft 0 in (2.74 m)
Wing area: 246 ft² (22.9 m²)
Empty weight: 1,175 lb (534 kg)
Loaded weight: 1,850 lb (841 kg)
Powerplant: 1x— de Havilland Gipsy III 4 cylinder in-line engine, 120 hp (90 kW)

Performance
Maximum speed: 97 kn (112 mph, 180 km/h)
Cruise speed: 83 kn (95 mph, 153 km/h)
Range: 278 nmi (320 mi, 515 km)
Rate of climb: 700 ft/min (3.6 m/s)
Wing loading: 7.52 lb/ft² (36.7 kg/m²)
Power/mass: 0.065 hp/lb (0.11 kW/kg)

Related development
Blackburn Bluebird
Blackburn Bluebird IV

Comparable aircraft
de Havilland Tiger Moth
Miles Magister

Blackburn B-2 Pictures and Blackburn B-2 for Sale.
Living Warbirds: The best warbirds DVD series.
Source: WikiPedia