Blackburn B-20 Videos - Picture
Blackburn B-20 Aircraft Information
Blackburn B-20
Blackburn B-20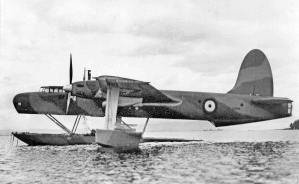 Picture - The B-20 afloat. Note the notch in the lower fuselage where the main float retracted. A notch can also be seen in the end of the wing, where the support for the wing float lay when it folded outward.
Role:
Manufacturer: Blackburn Aircraft
Designed by: J. D. Rennie
First flight: March 1940
Primary user: Royal Air Force
Number built: 1

The Blackburn B-20 was an experimental aircraft, first flying in 1940, that attempted to drastically increase the performance of flying boat designs. Blackburn Aircraft undertook an independent design study based on a patent filed by their chief designer, J. D. Rennie.
The B-20 was an attempt to combine the best features of both the flying boat and the floatplane. While on the water, the B-20 was essentially a floatplane, using a large float under the fuselage for buoyancy, and two smaller floats near the wing tips for stability. In flight, the main float retracted towards the fuselage, fitting into a "notch" to become streamlined as a part of the fuselage. The wing floats folded outward to become the wing tips.
Blackburn along with Supermarine and Saunders-Roe tendered craft for Air Ministry Specification R1/36. What would enter service as the Saunders Roe Lerwick was the chosen aircraft but the Ministry was interested enough to authorise prototype of the B-20, serial number V8914. The prototype would fly for the first time on March 26, 1940. On 7 April, during a test run, the aircraft experienced extreme vibration due to aileron flutter and the crew bailed out, three were lost the other two were picked up by HMS Transylvania, a converted merchantman. Development ceased when the first prototype crashed, as Blackburn's resources were dedicated to the war effort.
The aircraft's wreck still exists, but is remains undisturbed as it is designated a War grave. In 1998, one of the engines was raised as it had been caught in a fishing boat's nets and dragged away from the wreck, into shallower water. It is currently an exhibit in the Dumfries and Galloway Aviation Museum.
Specifications (B-20, as designed)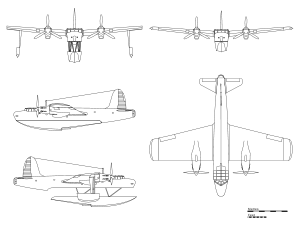 Picture - Orthographic projection of the B-20
Data from Jane's Fighting Aircraft of World War II
General characteristics
Crew: 6
Length: 69 ft 8 in (21.2 m)
Wingspan: 82 ft (25 m tip-floats retracted)
Height: 25 ft 2 in (7.65 m)
Wing area: 1,066 ft² (99 m²)
Max takeoff weight: 35,000 lb (16,000 kg)
Powerplant: 2x— Rolls-Royce Vulture 24-cylinder X-type engines, 1,720 hp (1,280 kW) each

Performance
Maximum speed: 306 mph (266 kn, 490 km/h) at 15,000 ft (4,600 m)
Range: 1,500 mi (810 nmi, 2,400 km)

Armament
Guns: provision for two turrets and other defensive positions
Bombs: bomb-cells in centre section

Comparable aircraft
F2Y Sea Dart
Saro Lerwick

Related lists
List of aircraft of the RAF
List of experimental aircraft

Bibliography
"Blackburn B-20". British Aircraft Directory. 2003-07-20. http://www.britishaircraft.co.uk/aircraftpage.php?ID=304. Retrieved 2006-08-19.
Townend, David R. Clipped Wings -- World War Two Edition. Markham: Aerofile Publications, 2010. ISBN 978-0-9732020-1-4.

Blackburn B-20 Pictures and Blackburn B-20 for Sale.
Living Warbirds: The best warbirds DVD series.
Source: WikiPedia