Blackburn Bluebird IV Videos - Picture
Blackburn Bluebird IV Aircraft Information
Blackburn Bluebird IV
L.1C Bluebird IV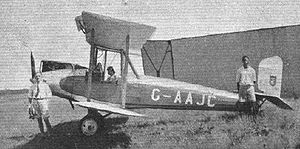 Role: Tourer /Trainer
Manufacturer: Blackburn Aircraft
First flight: 1929
Introduced: 1929
Retired: 1947
Produced: 1929-1931
Number built: 58
Developed from: Blackburn Bluebird
Variants: Blackburn B-2

The Blackburn Bluebird IV was a single-engine biplane light trainer/tourer biplane with side-by-side seating designed by Blackburn Aircraft. It was an all-metal development of the wooden Blackburn Bluebird I, II and II aircraft.
Design and development
In 1929, Blackburn completely redesigned the wooden Bluebird side-by-side trainer aircraft with an all-metal structure as the L.1C Bluebird IV. With its metal structure, the Bluebird IV was larger and heavier than its wooden predecessors, and was fitted with a near rectangular balanced rudder, without a fixed fin to replace the rounded fin and rudder assembly of the wooden Blackbirds. It could be fitted with a variety of engines, with the de Havilland Gipsy, ADC Cirrus or Cirrus Hermes engines available as standard, and could also be fitted with floats. The first Bluebird IV flew in early 1929, and was used to fly its owner home to South Africa in March 1929, completing the journey between Croyden and Durban between 7 March and 15 April 1929 . A further two aircraft were built by Blackburn, who were busy fulfilling orders for military aircraft, so further construction was sub-contracted to Saunders-Roe, who built a further 55 aircraft with Boulton & Paul Ltd producing the wings.
Operational history
Like the wooden Bluebirds, the Bluebird IV was heavily used by flying clubs, and unfortunately also suffered high attrition, with several being lost in fatal crashes, including a number of unexplained dives into the ground from normal cruising flight .
Privately owned Bluebird IVs undertook a number of pioneering long distance flights, the most famous of which was the round the world trip by The Hon Mrs Victor Bruce, and also including a number of flights to Australia and Africa . No Bluebirds survive today, the last being scrapped in 1947 .
Operators
Australia Canada British India United Kingdom
Specifications (Bluebird IV (Gipsy I engine))
Data from British Civil Aircraft since 1919, Volume 1
General characteristics
Crew: Two
Length: 23 ft 2 in (7.06 m)
Wingspan: 30 ft 0 in (9.15 m)
Height: 9 ft 0 in (2.74 m)
Wing area: 246 ft² (22.9 m²)
Empty weight: 1,070 lb (486 kg)
Loaded weight: 1,750 lb (795 kg)
Powerplant: 1x— de Havilland Gipsy I Four cylinder inline engine, 100 hp (75 kW)

Performance
Maximum speed: 104 kn (120 mph, 193 km/h)
Cruise speed: 74 kn (85 mph, 137 km/h)
Range: 278 nmi (320 mi, 515 km)
Rate of climb: 730 ft/min (3.7 m/s)
Wing loading: 7.11 lb/ft² (34.7 kg/m²)
Power/mass: 0.057 hp/lb (0.094 kW/kg)

Related development
Blackburn Bluebird
Blackburn B-2

Comparable aircraft
Avro Avian
de Havilland Moth

Blackburn Bluebird IV Pictures and Blackburn Bluebird IV for Sale.
Living Warbirds: The best warbirds DVD series.
Source: WikiPedia