Blackburn Cirrus Bombardier Videos - Picture
Blackburn Cirrus Bombardier Aircraft Information
Blackburn Cirrus Bombardier
Cirrus Bombardier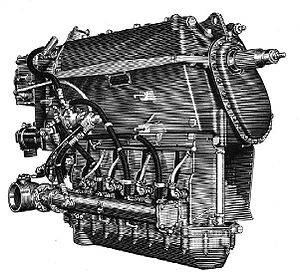 Type: Air-cooled 4 cylinder inline piston engine
National origin: United Kingdom
Manufacturer: Blackburn Aircraft
First run: c.1954

The Blackburn Cirrus Bombardier was a British, inline, four cylinder aircraft engine that was developed and built by the Blackburn Aircraft company in the mid-1950s. The engine featured fuel injection.
Variants
Cirrus Bombardier 203 Military version, 203 hp (151 kW). Cirrus Bombardier 702 Civil version, 180 hp (134 kW).
Applications
Auster AOP.9
Cierva W.14 Skeeter IIIB
Miles Messenger

Specifications (Cirrus Bombardier 203)
Data from Lumsden.
General characteristics
Type: Inline, air cooled, inverted 4-cylinder
Bore: 4.8 in (122 mm)
Stroke: 5.5 in (140 mm)
Displacement: 398 cu in (6.5 L)
Length: 45.3 in (1,151 mm)
Width: 19 in (483 mm)
Height: 30.95 in (786 mm)
Dry weight: 325 lb (147.4 kg)

Components
Valvetrain: 1 inlet and 1 exhaust valve per cylinder
Fuel system: Fuel injected
Fuel type: 100 octane petrol
Cooling system: Air-cooled

Performance
Power output: 203 hp (151 kW) at 2,100 rpm
Compression ratio: 7:1
Power-to-weight ratio: 0.62 hp/lb (1 kW/kg)

Related development
Blackburn Cirrus Minor
Blackburn Cirrus Major

Comparable engines
Alfa Romeo 110
de Havilland Gipsy Major
Hirth HM 504
Menasco C4

Related lists
List of aircraft engines

Bibliography
Oldengine.org
Gunston, Bill (1986). World Encyclopedia of Aero Engines. Wellingborough: Patrick Stephens. pp. 40.
Lumsden, Alec. British Piston Engines and their Aircraft. Marlborough, Wiltshire: Airlife Publishing, 2003. ISBN 1-85310-294-6.

Blackburn Cirrus Bombardier Pictures and Blackburn Cirrus Bombardier for Sale.
Living Warbirds: The best warbirds DVD series.
Source: WikiPedia