Blackburn Iris Videos - Flying Boat Pictures and video
Blackburn Iris Aircraft Information
Blackburn Iris
Iris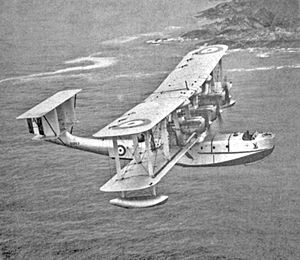 Picture - The Blackburn Iris Mk III S1263
Role: Flying Boat
National origin: United Kingdom
Manufacturer: Blackburn Aircraft
First flight: 1926
Introduced: 1929
Retired: 1933
Primary user: Royal Air Force
Number built: 5
Variants: Blackburn Perth

The Blackburn Iris was a 1926 British biplane flying boat.
The Iris Mark V was developed into the aircraft that subsequently became the Blackburn Perth.
Variants
R.B.1 Iris I Prototype. One built. R.B.1A Iris II The Iris I was fitted with three 675 hp (503 kW) Rolls-Royce Condor IIIA inline piston engines. R.B.1B Iris III Five-seat long-range maritime reconnaissance flying boat for the Royal Air Force. Powered by three 675 hp (503 kW) Rolls-Royce Condor IIIB inline piston engines. Four built. R.B.1C Iris IV The Iris IV was fitted with three 800 hp (600 kW) Armstrong Siddeley Leopard III radial piston engines. R.B.1D Iris V This was the final variant. Three Iris Mk IIIs were fitted with 825 hp (615 kW) Rolls-Royce Buzzard IIMS piston engines.
Operators
United Kingdom
Royal Air Force
No. 209 Squadron RAF

Specifications (Iris III)
Data from Aircraft of the Royal Air Force 1918-57
General characteristics
Crew: Five
Length: 67 ft 4¾ in (20.54 m)
Wingspan: 97 ft 0 in (29.6 m)
Height: 25 ft 5 in (7.7 m)
Wing area: 2,461 ft² (228.7 m²)
Empty weight: 19,301 lb (8,773 kg)
Loaded weight: 29,000 lb (13,182 kg)
Max takeoff weight: 29,490 lb (13,405 kg)
Powerplant: 3x— Rolls-Royce Condor H-1B piston engines, 675 hp (503 kW) each

Performance
Maximum speed: 102 kn (118 mph, 190 km/h)
Cruise speed: 79 kn (97 mph, 155 km/h)
Range: 691 nmi (800 mi, 1,280 km) (with maximum fuel)
Service ceiling: 10,597 ft (3,230 m)
Rate of climb: 630 ft/min (3.20 m/s)
Wing loading: 11.8 lb/ft² (57.6 kg/m²)
Power/mass: 0.0699 hp/lb (114 W/kg)
Endurance: 4.9 hours

Armament
3 x— .303 in (7.7 mm) Vickers machine guns, 1 mounted forward and two aft in open cockpits
Up to 1,984 lb (900 kg) of bombs

Related lists
List of seaplanes and flying boats
List of aircraft of the Royal Air Force

Bibliography
Thetford, Owen (1957). Aircraft of the Royal Air Force 1918-57 (1st edition ed.). London: Putnam.

Blackburn Iris Pictures and Blackburn Iris for Sale.
Living Warbirds: The best warbirds DVD series.
Source: WikiPedia