Blackburn Lincock Videos - Picture
Blackburn Lincock Aircraft Information
Blackburn Lincock
F.2 Lincock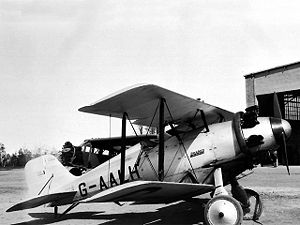 Picture - Blackburn Lincock II
Role: Single-seat lightweight fighter
Manufacturer: Blackburn Aircraft Limited
First flight: 1928
Number built: 7

The Blackburn F.2 Lincock was a British single-seat lightweight fighter produced by Blackburn Aircraft Limited.
Design and development
In 1928 Blackburn designed and built a private venture lightweight biplane fighter powered by a Armstrong Siddeley Lynx IVC engine. The Blackburn F.2 Lincock was of wooden construction and first appeared in May 1928. It performed well in demonstrations but failed to gain any orders. The Canadian government showed an interest in the design, and a metal construction variant (the Lincock II) was built. It was tested in Canada at Camp Borden in 1930 who were interested in using the Lincock as an advanced trainer but the type was not ordered. It was later used to perform public aerobatic displays in 1933 and 1934.
The final version was the Lincock III of which five were produced, two were delivered to China, two to Japan and one retained as a demonstrator. Interest from Italy resulted in Piaggio acquiring a licence to produce a two-seat version as an aerobatic trainer, only one (the Piaggio P.11) was built.
Variants
Lincock I
Wooden-construction prototype, one built.
Lincock II
Metal-construction prototype, one built.
Lincock III
Production version, five built.
Piaggio P.11
two-seat aerobatic trainer, one built in Italy.
Piaggio P.11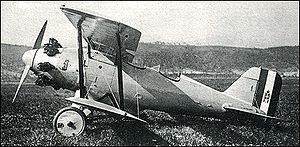 Picture - Piaggio P.11
Operators
China
Chinese Nationalist Air Force received 2 aircraft.

Japan
Imperial Japanese Army Air Force received 2 aircraft.

Specifications (Lincock III)
General characteristics
Crew: 1
Length: 19 ft 6 in (5.94 m)
Wingspan: 22 ft 6 in (6.86 m)
Height: 7 ft 4 in (2.24 m)
Wing area: 170 ft² (15.79 m²)
Empty weight: 1,326 lb (601 kg)
Max takeoff weight: 2,082 lb (944 kg)
Powerplant: 1x— Armstrong Siddeley Lynx Major radial piston, 270 hp (201 kw)

Performance
Maximum speed: 164 mph (264 km/h)
Range: 380 mi (612 km)
Service ceiling: 23,000 ft (7,010 m)
Rate of climb: 1,660 ft/m (506 m/m)

Armament
2 x— forward-firing .303 in (7.7 mm) Vickers machine guns.

The Illustrated Encyclopedia of Aircraft (Part Work 1982-1985). Orbis Publishing.

Blackburn Lincock Pictures and Blackburn Lincock for Sale.
Living Warbirds: The best warbirds DVD series.
Source: WikiPedia