Blackburn Perth Videos - Newsreel - Overview
Blackburn Perth Videos - Newsreel - Fitted with 1½ Pr C.O.W. gun
Blackburn Perth Aircraft Information
Blackburn Perth
R.B.3A Perth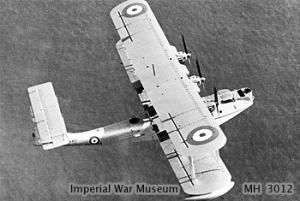 Picture - A Perth, flying with the MAEE in 1935
Role: Flying boat
Manufacturer: Blackburn Aeroplane and Motor Company
First flight: 11 October 1933
Introduction: 1934
Retired: 1938
Primary user: Royal Air Force
Produced: 1933-1934
Number built: 4
Developed from: Blackburn Iris

The Blackburn Perth was a British flying-boat during the inter-war period. It was essentially an upgraded Iris, hence the largest flying-boat to serve with the Royal Air Force at the time (and the largest biplane flying boat ever to serve with the RAF).
Design and development
The Blackburn R.B.3A Perth was designed as a replacement to the earlier Iris to Air Ministry Specification 20/32. Developed from the Iris Mk. V, the Perth first flew in 1933. It differed from the Iris by replacing the Rolls-Royce Condor engines of the Iris by more powerful Rolls-Royce Buzzards and having an enclosed cockpit for the pilots. Unusually, in addition to its normal armament, the Perth was fitted with a Coventry Ordnance Works C.O.W 37 mm (1.46 in) autocannon in its bows.
Four Perths were ordered for service for the RAF.
Operational history
The Perth entered service with the RAF in January 1934, when the second aircraft was delivered to No. 209 Squadron RAF at RAF Mount Batten Plymouth . Perths remained in service until 1937 , being replaced by the Short Singapore and the Saro London. One aircraft was retained by the Marine Aircraft Experimental Establishment until 1938.
Operators
United Kingdom
Royal Air Force
No. 204 Squadron RAF
No. 209 Squadron RAF
Marine Aircraft Experimental Establishment

Specifications (Perth)
Data from Aircraft of the Royal Air Force 1918-57
General characteristics
Crew: Five
Length: 70 ft 0 in (21.34 m)
Wingspan: 97 ft 0 in (29.57m)
Height: 26 ft 5½ in (8.06 m)
Wing area: 2,461 ft² (233.3 m²)
Empty weight: 20,927 lb (9,492 kg)
Loaded weight: 32,500 lb (14,772 kg)
Max takeoff weight: 38,000 lb (17,237 kg)
Powerplant: 3x— Rolls-Royce Buzzard II MS 12 cylinder water-cooled inline engine, 825 hp (615 kW) each

Performance
Maximum speed: 115 kn (132 mph, 213 km/h)
Cruise speed: 95 kn (109 mph, 175 km/h)
Range: 1,130 nmi (1,300 mi, 2,093 km)
Service ceiling: 11,500 ft (3,500 m)
Rate of climb: 800 ft/min (4.1 m/s)
Wing loading: 13.2 lb/ft² (63.3 kg/m²)
Power/mass: 0.076 hp/lb (0.12 kW/kg)

Armament
1 x— C.O.W 37 mm (1.46 in) automatic cannon in bow
3 x— .303 in (7.7 mm) Lewis guns in bow, amidships and tail positions
Up to 2,000 lb bombs

Blackburn Perth Pictures and Blackburn Perth for Sale.
Living Warbirds: The best warbirds DVD series.
Source: WikiPedia