Blackburn Roc Videos - Picture
Blackburn Roc Aircraft Information
Blackburn Roc
B-25 Roc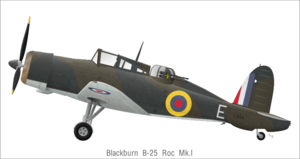 Picture - Roc Mk.I L3154, 805 sqn., RNAS Donibristle, 1940
Role: Carrier-based fighter
Manufacturer: Boulton Paul
Designed by: Blackburn Aircraft
First flight: 23 December 1938
Introduced: April 1939
Retired: 1943
Primary user: Fleet Air Arm
Number built: 136
Variants: Blackburn Skua

The Blackburn B-25 Roc was a British Second World War-era Fleet Air Arm fighter aircraft designed by Blackburn Aircraft Ltd. It took its name from the mythical bird of the tales of the Arabian Nights, the Roc.
Design and development
The Roc was originally to have been fitted with floats, and four floatplane prototypes were built. The first crashed, but modifications made the remaining three flyable, although the concept was not pursued. The first flight by a Roc was on 23 December 1938, however the type quickly became obsolete and enjoyed only a brief service life.
The Roc was a "fighter" development of the Skua dive bomber using the same turret fighter concept as the Boulton Paul Defiant in that its sole armament was four .303 in (7.7 mm) Browning machine guns in a powered dorsal turret. The reduced firepower (compared to land based fighters such as the Hawker Hurricane) was offset by the ability to direct it in any direction. In practice, the weight of the turret made the Roc even slower than the already slow - for fighter purposes - Skua and it was suggested by the Air Council, even before production started, that it might be better used as an advanced trainer. The Roc eventually found its niche as a dive bomber.
While Blackburn designed the Roc, detail work and all 136 production aircraft were built by Boulton Paul in Wolverhampton alongside the Defiant, and although the two aircraft were different and required separate production lines, they did use the same Boulton Paul turret.
Operational history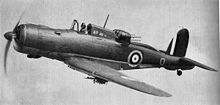 Picture - A Roc in flight.
Although intended for carrier use, Rocs only served alongside Skuas in two land-based squadrons of the Fleet Air Arm between February 1940 and August 1941. During the Allied campaign in Norway a small contingent of Rocs travelled with 800 and 803 squadrons onboard HMS Ark Royal. Skuas and Rocs flew both fighter sweeps and bombing sorties over the English Channel during Operation Dynamo, and Operation Ariel, the evacuation of Allied forces from Dunkirk and other French ports.
Finally, the Roc was relegated to training and target-towing roles until 1943, when the type was withdrawn from service. However, until late 1944, four non-airworthy Rocs were stationed at HMS Daedalus in Gosport, their turrets being used for anti-aircraft defence.
What was probably the Roc's sole confirmed victory occurred on 28 May 1940 when an 806 Naval Air Squadron Roc flown by pilot Mid A. G. Day, together with two Blackburn Skuas, intercepted five Junkers Ju 88s which were attacking a convoy off Ostende in Belgium. Flying underneath the Junkers while the Skuas attacked from above, Mid Day's Roc destroyed one Ju 88 before returning safely to Detling.
Operators
United Kingdom
Royal Air Force
No. 2 Anti-Aircraft Co-operation Unit, RAF
No. 24 Squadron RAF
241 Squadron RAF
Royal Navy Fleet Air Arm
725 Naval Air Squadron
758 Naval Air Squadron
759 Naval Air Squadron
760 Naval Air Squadron
765 Naval Air Squadron
769 Naval Air Squadron
770 Naval Air Squadron
771 Naval Air Squadron
772 Naval Air Squadron
773 Naval Air Squadron
774 Naval Air Squadron


775 Naval Air Squadron
776 Naval Air Squadron
777 Naval Air Squadron
778 Naval Air Squadron
782 Naval Air Squadron
787 Naval Air Squadron
789 Naval Air Squadron
791 Naval Air Squadron
792 Naval Air Squadron
793 Naval Air Squadron
794 Naval Air Squadron
800 Naval Air Squadron
801 Naval Air Squadron
803 Naval Air Squadron
805 Naval Air Squadron
806 Naval Air Squadron

Specifications
Data from British Naval Aircraft since 1912
General characteristics
Crew: 2
Length: 35 ft 7 in (10.85 m)
Wingspan: 46 ft (14.02 m)
Height: 12 ft 1 in (3.68 m)
Wing area: 310 ft² (28.8 m²)
Empty weight: 6,121 lb (2,782 kg)
Loaded weight: 7,950 lb (3,614 kg)
Powerplant: 1x— Bristol Perseus XII radial engine, 890 hp (664 kW)

Performance
Maximum speed: 194 kn (223 mph, 359 km/h) at 10,000 ft (3,050 m)
Range: 704 nmi (810 mi, 1,304 km)
Service ceiling: 18,000 ft (5,500 m)
Rate of climb: 1,500 ft/min (7.6 m/s)
Wing loading: 25.6 lb/ft² (125 kg/m²)
Power/mass: 0.11 hp/lb (0.18 kW/kg)

Armament
Guns: 4 x— 0.303 in (7.7 mm) Browning machine guns in power operated dorsal turret
Bombs: 8 x— 30 lb (14 kg) bombs

Related development
Blackburn Skua

Comparable aircraft
Boulton Paul Defiant
Hawker Hotspur

Bibliography
Brew, Alec. The Turret Fighters: Defiant and Roc. Ramsbury, Marlborough, Wiltshire, UK: Crowood Press, 2002. ISBN 1-86126-497-6.
Brown, Eric, CBE, DCS, AFC, RN.; William Green and Gordon Swanborough. "Blackburn Skua and Roc." Wings of the Navy, Flying Allied Carrier Aircraft of World War Two. London: Jane's Publishing Company, 1980, pp. 29-40. ISBN 0-7106-0002-X.
Green, William. War Planes of the Second World War: Volume Two Fighters. London: Macdonald, 1961.
Mondey, David. The Hamlyn Concise Guide to British Aircraft of World War II. London: Chancellor Press, 1994. ISBN 1-85152-668-4.
Thetford, Owen. British Naval Aircraft since 1912. London: Putnam, Fourth edition, 1978. ISBN 0370-30021-1.
Thomas, Andrew. Royal Navy Aces of World War 2. Oxford, UK: Osprey Publishing, 2007. ISBN 978-1-84603-178-6.
Willis, Matthew. Blackburn Skua and Roc. Sandomierz, Poland/Redbourn, UK: Mushroom Model Publications, 2007. ISBN 83-8945-044-5.

Blackburn Roc Pictures and Blackburn Roc for Sale.
Living Warbirds: The best warbirds DVD series.
Source: WikiPedia