Blackburn Sydney Videos - Historical Video and pictures, with drawings
Blackburn Sydney Aircraft Information
Blackburn Sydney
Sydney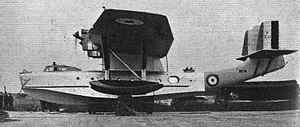 Role: Patrol flying boat
Manufacturer: Blackburn
First flight: 18 July 1930
Number built: 1

The Blackburn R.B.2 Sydney was a long-range maritime patrol flying boat developed for the Royal Air Force in 1930, in response to Air Ministry Specification R.5/27. It was a parasol-winged braced monoplane of typical flying boat arrangement with triple tail fins and its three engines arranged on the wing's leading edge. After evaluation, it was not ordered into production and no further examples were built.
With development of the Sydney abandoned, construction of a cargo-carrying variant powered by radial engines, the C.B.2 Nile was also put to an end.
Specifications (Sydney)
Data from British Flying Boats
General characteristics
Crew: Two pilots, plus gunners
Length: 65 ft 7 in (19.99 m)
Wingspan: 100 ft (30.49 m)
Height: 20 ft 4 in (6.20 m)
Wing area: 1,500 ft² (139.4 m²)
Empty weight: 17,065 lb (7,741 kg)
Loaded weight: 23,350 lb (10,591 kg)
Powerplant: 3x— Rolls-Royce F.XII MS, 525 hp (381 kW) each

Performance
Maximum speed: 123 mph (107 kn, 198 km/h)
Cruise speed: 100 mph (87 kn, 161 km/h)
Service ceiling: 16,500 ft (5,030 m)
Rate of climb: 390 ft/min (2.0 m/s)
Endurance:7 hours 30 minutes

Armament
Guns: 3 x— trainable .303 in (7.7 mm) Lewis Gun in open bow, dorsal and ventral positions
Bombs: 1,102 lb (500 kg) of bombs or 2 x— torpedoes

Related lists
List of seaplanes

Bibliography
London, Peter (2003). British Flying Boats. Stroud, UK: Sutton Publishing. ISBN 0-7509-2695-3.
Taylor, Michael J. H. (1989). Jane's Encyclopedia of Aviation. London: Studio Editions. pp. 158.
britishaircraft.co.uk

Blackburn Sydney Pictures and Blackburn Sydney for Sale.
Living Warbirds: The best warbirds DVD series.
Source: WikiPedia