Boeing 314 Video - Overview
Boeing 314 Video - Newsreel - Yankee Clipper NC18603
Boeing 314 Aircraft Information
Boeing 314
314 Clipper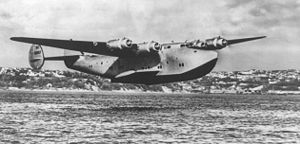 Picture - A Boeing 314 "Clipper" flying low
Role: Flying boat airliner
Manufacturer: Boeing Airplane Company
First flight: June 7, 1938
Introduced: 1939
Retired: 1946
Status: all 12 were scrapped
Primary users: Pan American World Airways British Overseas Airways Corporation United States Navy
Produced: 1938-1941
Number built: 12

The Boeing 314 Clipper was a long-range flying boat produced by the Boeing Airplane Company between 1938 and 1941 and is comparable to the British Short S.26. One of the largest aircraft of the time, it used the massive wing of Boeing's earlier XB-15 bomber prototype to achieve the range necessary for flights across the Atlantic and Pacific Oceans. Twelve Clippers were built for Pan Am, three of which were sold to BOAC in 1941 before delivery.
Design and development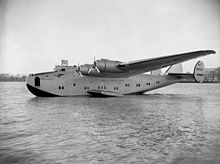 Picture - The Yankee Clipper in 1939.
The 314 was a response to Pan American's request for a flying boat with unprecedented range capability that could augment the airline's trans-Pacific Martin M-130. Boeing's bid was successful and on July 21, 1936, Pan American signed a contract for six. Boeing engineers adapted the cancelled XB-15's 149 feet (45 m) wing, and replaced the original 850 horsepower (630 kW) Pratt & Whitney Twin Wasp radial engines with the more powerful 1,600 horsepower (1,200 kW) Wright Twin Cyclone. The first flight was carried out with a single, conventional tail before experiments with twin tail and triple tail configurations led to the choice of a triple tail to provide more rudder area for controllability. Pan Am ordered an additional six aircraft with increased engine power and a larger carrying capacity of 77 daytime passengers as the Boeing 314A. The first prototype of the series flew on March 20, 1941.
Internally, the 314 used a series of heavy ribs and spars to create a robust fuselage and cantilevered wing. This sturdy structure negated the need for external drag-inducing struts to brace the wings, something other flying boats of the day could not boast. Boeing addressed the flying boats' other drag-inducing issue, stabilizing pontoons, by incorporating Dornier-style sponsons into the hull structure. The sponsons, which were broad lateral extensions placed at the water line, on both the port and starboard sides of the hull, served several purposes: they provided a wide platform to stabilize the craft while floating on water, they acted as an entryway for passengers boarding the flying boat and they were shaped to contribute additional lift in flight. With weight an extremely sensitive concern, passengers and their baggage were weighed, with each passenger allowed up to 77 pounds (35 kg) free baggage allowance (in the later 314 series) but then charged $3.25 per lb ($7.15/kg) for exceeding the limit. To fly the long ranges needed for trans-Pacific service, the 314 carried 4,246 US gallons (16,070 l; 3,536 imp gal) of gasoline. The later 314A model carried a further 1,200 US gallons (4,500 l; 1,000 imp gal). To quench the radial engines' thirst for oil, a capacity of 300 US gallons (1,100 l; 250 imp gal) was required.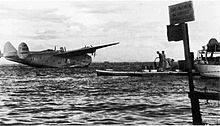 Picture - The California Clipper at Cavite, 1940.
Pan Am's "Clippers" were built for "one-class" luxury air travel, a necessity given the long duration of transoceanic flights. The seats could be converted into 36 bunks for overnight accommodation; with a cruise speed of only 188 miles per hour (303 km/h) (typically flights at maximum gross weight were carried out at 155 miles per hour (249 km/h)), many flights lasted over 12 hours. The 314s had a lounge and dining area, and the galleys were crewed by chefs from four-star hotels. Men and women were provided with separate dressing rooms, and white-coated stewards served five and six-course meals with gleaming silver service. Although the transatlantic flights were only operated for three months in 1939, their standard of luxury has not been matched by heavier-than-air transport since then; they were a form of travel for the super-rich, at $675 return from New York to Southampton, comparable to a round trip aboard Concorde in 2006. Most of the flights were transpacific with a one-way ticket from San Francisco to Hong Kong, via the "stepping-stone" islands posted at $760 (or $1,368 round-trip).
Equally critical to the 314's success was the proficiency of its Pan Am flight crews, who were extremely skilled at long-distance, over-water flight operations and navigation. For training, many of the transpacific flights carried a second crew. Only the very best and most experienced flight crews were assigned Boeing 314 flying boat duty. Before coming aboard, all Pan Am captains as well as first and second officers had thousands of hours of flight time in other seaplanes and flying boats. Rigorous training in dead reckoning, timed turns, judging drift from sea current, astral navigation, and radio navigation were conducted. In conditions of poor or no visibility, pilots sometimes made successful landings at fogged-in harbors by landing out to sea, then taxiing the Clipper into port.
Operational history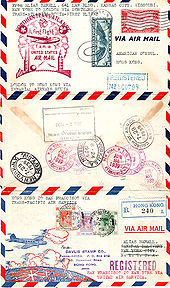 Picture - Flown cover carried around the world on PAA Boeing 314 Clippers and Imperial Airways Short S23 flying boats June 24-July 28, 1939 (The Cooper Collections)
The first 314, Honolulu Clipper, entered regular service on the San Francisco-Hong Kong route in January 1939. A one-way trip on this route took over six days to complete. Commercial passenger service lasted less than three years, ending when the United States entered World War II in December 1941.
At the outbreak of the war in the Pacific, the Pacific Clipper was enroute to New Zealand. Rather than risk flying back to Honolulu and being shot down by Japanese fighters, it was decided to fly west to New York. Starting on December 8, 1941 at Auckland, New Zealand, the Pacific Clipper covered over 8,500 miles (13,700 km) via such exotic locales as Surabaya, Karachi, Bahrain, Khartoum and Leopoldville. The Pacific Clipper landed at Pan American's LaGuardia Field seaplane base at 7:12 on the morning of January 6, 1942.
The Yankee Clipper flew across the Atlantic on a route from Southampton to New York with intermediate stops at Foynes, Ireland, Botwood, Newfoundland, and Shediac, New Brunswick. The inaugural trip occurred on June 24, 1939.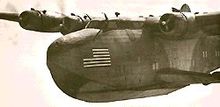 Picture - Boeing 314 in US Navy colours, c. 1942
The Clipper fleet was pressed into military service during World War II, and the flying boats were used for ferrying personnel and equipment to the European and Pacific fronts. In actual fact, only the markings on the aircraft changed: the Clippers continued to be flown by their experienced Pan Am civilian crews. American military cargo was carried via Natal, Brazil to Liberia, to supply the British forces at Cairo and even the Russians, via Teheran. The Model 314 was then the only aircraft in the world that could make the 2,150-statute mile (3,460 km) crossing over water. and were given the military designation C-98. Since the Pan Am pilots and crews had extensive expertise in using flying boats for extreme long-distance, over-water flights, the company's pilots and navigators continued to serve as flight crew. In 1943, President Franklin D. Roosevelt traveled to the Casablanca Conference in a Pan-Am crewed Boeing 314. Winston Churchill also flew on them several times adding to the Clippers' fame during the war.
After the war, several Clippers were returned to Pan American hands. However, even before hostilities had ended, the Clipper had become obsolete. The introduction of long-range airliners such as the Lockheed Constellation and Douglas DC-4, together with a prodigious wartime runway construction program, made the flying boat all but obsolete. The new landplanes were relatively easy to fly, and did not require the extensive pilot training programs required for seaplane operations. One of the 314's most experienced pilots said, "We were indeed glad to change to DC-4s and I argued daily for eliminating all flying boats. The landplanes were much safer. No one in the operations department... had any idea of the hazards of flying boat operations. The main problem now was lack of the very high level of experience and competence required of seaplane pilots"
Retirement
The last 314 to be retired in 1946, the California Clipper NC18602, had accumulated more than a million flight miles. Of the 12 Boeing 314 Clippers built, three were lost to accidents, although only one of those resulted in fatalities with 24 fatalities among passengers and crew aboard the "Yankee Clipper" NC18603 in a landing accident at Lisbon, Portugal, on February 22, 1943. The 314 was removed from scheduled service in 1946 and the seven serviceable B-314s were purchased by a start-up airline called New World Airways, although they sat for long time on San Diego's Lindbergh Field before all were eventually sold for scrap in 1950. The last of the fleet, the Anzac Clipper NC18611(A) was resold and scrapped in late 1951 in Baltimore, Maryland.
Variants
Model 314
Initial production version with 1,500 horsepower (1,100 kW) Double Cyclone engines, six built
Model 314A
Improved version with 1,600 horsepower (1,200 kW) Double Cyclones with larger-diameter propellers, additional 1,200 US gallons (4,500 l; 1,000 imp gal) fuel capacity, and revised interior, six built
B-314
Five Model 314s impressed into military service with the U.S. Navy
C-98
Four Model 314s impressed into military service with the U.S. Army Air Force
Model 306
An concept aircraft using a Model 314 Fuselage with a tailess delta-wing planform. No examples built.
Operators
United States
Pan American World Airways
United States Army Air Force
United States Navy

United Kingdom
British Overseas Airways Corporation

Survivors
None of the dozen 314s built between 1939 and 1941 survived beyond 1951, with all 12 having been scrapped, scuttled, cannibalized for parts, or otherwise written off. The hulls of two sunken 314s--NC18601 (Honolulu Clipper), scuttled in the Pacific Ocean in 1945, and NC18612 (Bermuda Sky Queen, formerly Cape Town Clipper)--were sunk in the Atlantic by the Coast Guard in 1947.
A private team of French businessmen is planning to find and recover Honolulu Clipper by mid-2011.
There is a life-size 314 mock-up at the Foynes Flying Boat Museum, Foynes, County Limerick, Ireland. The museum is at the site of the original transatlantic flying-boat terminus.
Specifications (314A Clipper)
Data from Jane's Fighting Aircraft of World War II
General characteristics
Crew: 11, including 2 cabin stewards
Capacity: Daytime: 74 passengers, Nighttime: 36 passengers
Payload: 10,000 lb (4,500 kg) of mail and cargo
Length: 106 ft 0 in (32.33 m)
Wingspan: 152 ft 0 in (46.36 m)
Height: 20 ft 4˝ in (6.22 m)
Wing area: ft˛ (m˛)
Empty weight: 48,400 lb (21,900 kg)
Loaded weight: 84,000 lb (38,000 kg)
Powerplant: 4x— Wright R-2600-3 radial engines, 1,600 hp (1,200 kW) each

Performance
Maximum speed: 210 mph (180 knots, 340 km/h)
Cruise speed: 188 mph (163 knots, 302 km/h) at 11,000 ft (3,400 m)
Range: 3,685 mi (3,201 nm, 5,896 km) normal cruise
Service ceiling: 19,600 ft (5,980 m)

Popular culture
The Boeing 314 "Pan Am Clipper" has been featured in many instances of pop culture.
Several novels have featured 314s, including:The Night of the Triffids, where the main character flies one at an altitude of 100 feet (30 m) into New York City at night, Night Over Water, by British author Ken Follett, The Winds of War and its sequel War and Remembrance, by Herman Wouk and The Proteus Operation by James P. Hogan.
The film Raiders of the Lost Ark featured a Short Solent Mark III flying boat modified by matte effects to resemble a Boeing 314 and which is now on exhibit at the Western Aerospace Museum on the grounds of the Oakland airport The 1940 Alfred Hitchcock film Foreign Correspondent features the 314 in a pivotal and exciting inflight disaster and rescue on the water scene. The Boeing 314 also appears in the film Wake Island (1942) moments before the Japanese attack on the island and where it is both seen and spoken about by William Bendix's character.
Related development
Boeing XB-15

Comparable aircraft
Dornier Do X
Martin M-130
Saunders-Roe Princess
Short Empire
Short S.26

Bibliography
Bowers, Peter M. "The Great Clippers, Part I." Airpower, Volume 7, No. 6, November 1977.
Bowers, Peter M. "The Great Clippers, Part II." Wings, Volume 7, No. 6, December 1977.
Bridgeman, Leonard. "The Boeing 314-A Clipper." Jane's Fighting Aircraft of World War II. London: Studio, 1946. ISBN 1-85170-493-0.
Brock, Horace. Flying the Oceans: A Pilot's Story of Pan Am, 1935-1955. New York: Jason Aronson, Inc., 3d edition: 1978, ISBN 0-87668-632-3.
Dorr, Robert F. Air Force One. New York: Zenith Imprint, 2002. ISBN 0-76031-055-6.
Dover, Ed. The Long Way Home - Revised Edition. McLean, Virginia: Paladwr Press, 2008. ISBN 0-61521-472-X.
Hardesty, Von. Air Force One: The Aircraft that Shaped the Modern Presidency. Chanhassen, Minnesota: Northword Press, 2003. ISBN 1-55971-894-3.
Klaxˇs, M.D. "Clipper Across the Pacific, Part One." Air Classics, Volume 25, No. 12, December 1989.
Klaxˇs, M.D. "Clipper Across the Pacific, Part Two." Air Classics, Volume 26, No. 1, January 1990.
Klaxˇs, M.D. "Clipper Flight 9035." Air Classics, Volume 29, No. 2, February 1993.
Klaxˇs, M.D. "The Incredible Clippers." Air Classics, Volume 5, No. 5, June 1969.
Klaxˇs, M.D. "When the Clippers Went to War" Air Classics, Volume 27, No. 4, April 1991.

Boeing 314 Pictures
Living Warbirds: The best warbirds DVD series.
Source: WikiPedia