Boeing 747-400 Aircraft Information
Boeing 747-400
Boeing 747-400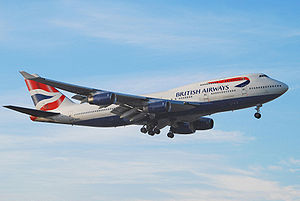 Picture - A Boeing 747-400 operated by British Airways, the largest operator of the 747
Role: Wide-body jet airliner
National origin: United States
Manufacturer: Boeing Commercial Airplanes
First flight: April 29, 1988
Introduction: February 9, 1989 with Northwest Airlines
Status: Out of production, in service
Primary users: British Airways
Lufthansa
Qantas
United Airlines
Produced: Passenger versions: 1988-2007
Freighter versions: 1988-2009
Number built: Total: 694
747-400: 442
747-400M: 61
747-400D: 19
747-400ER: 6
747-400F: 126
747-400ERF: 40
Unit cost: 747-400/-400ER: US$234-266.5 million
747-400F/-400ERF: US$238-268 million
Developed from: Boeing 747-300
Variants: Boeing YAL-1
Boeing 747 Large Cargo Freighter
Developed into: Boeing 747-8

The Boeing 747-400 is a four-engine widebody commercial jet airliner, manufactured by Boeing Commercial Airplanes. The -400 series is the best-selling model in the successful 747 family. Its most distinguishing feature from the other 747 models are its winglets, although the -400D does not feature any. With seatings for a maximum of 624 people, the 747-400 can fly non-stop for 7,670 nautical miles (14,200 km), depending on model.
The 747-400 is the second-most recent version of the Boeing 747 aircraft, to be superseded by the more economical and advanced Boeing 747-8. The last -400 model was delivered in December 2009.
Design and development
The 747-400 was announced by Boeing Commercial Airplanes in October 1985. Compared to the 747-300 the 747-400 has 6 feet (1.8 m) wing tip extensions, 6 feet (1.8 m) winglets, and a glass cockpit, which dispensed with the need for a flight engineer. The 747-400 also improved on the 300 version with the addition of a fuel tank in the horizontal stabilizer, engines with improved fuel efficiency and higher thrust, an all-new interior, revised fuselage/wing fairings and newer in-flight entertainment. Like the 747-300, the passenger version of the 747-400 has the stretched upper deck (SUD) as a standard feature. The SUD is almost twice as long as the original 747 upper deck. The SUD was previously offered as a retrofit and first appeared on two Japanese 747-100 SR models. While the wingspan was increased, the overall weight of the wings was decreased due to the use of composites and aluminum alloys.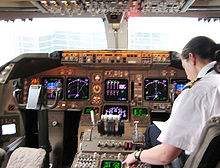 Picture - The modernized glass cockpit of the Boeing 747-400
The first 747-400 was rolled out in January 1988 and flew for the first time on April 29, 1988. Certification was received on January 10, 1989 with Pratt & Whitney PW4000 engines, May 18, 1989 with General Electric CF6-80C2s and June 8, 1989 with Rolls-Royce RB211-524Gs. The first 747-400 was delivered to launch customer Northwest Airlines on January 26, 1989, with service entry on February 9 with a flight from Minneapolis to Phoenix.
The extended range freighter (ERF) entered service in October 2002. The next month, the extended range (ER) passenger version entered service with Qantas, the only airline ever to order the passenger version of the 747-400ER. Qantas uses the aircraft on its Melbourne-Los Angeles and Sydney-San Francisco flights, which are too long to operate using a standard 747-400.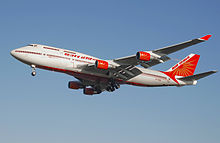 Picture - Air India 747-400 Konark, the first 747-400 to enter the Air India fleet.
The Boeing Signature Interior was later made available on the 747-400, either as interior refitting on existing 747-400s or as a "fresh-from-installation" option on newer 747-400s and 747-400ERs. One example, China Airlines's four newest Boeing 747-400s (tail number B-1821x), also the last four passenger 747-400s built, were newly built with Boeing Signature Interior. One of these (B-18210) has a hybrid livery, with China Airlines' tail and Boeing's fuselage liveries.
In an effort to promote sustainable and alternative fuel development, as well as lower emissions, several airlines are studying the use of oil extracted from the jatropha plant. Air New Zealand carried out the first commercial flight using jatropha oil for fuel; the airline's 747-400 had one engine burning a mix of 50% jatropha oil and 50% jet fuel for two hours during the flight while engineers collected data. Continental Airlines tested jatropha oil in one of its airliners on January 7, 2009. Jatropha is easy to grow, needs little fertilizer or water, and produces an oil-rich plant.
Variants
747-400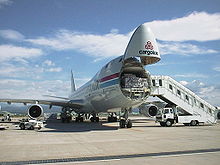 Picture - A Cargolux 747-400F
The 747-400 is an improved version of the 747-300 with increased wingspan, winglets, revised engines and a glass cockpit that removed the need for a flight engineer. The 747-400 passenger version features a stretched upper deck (SUD) like the 747-300 as a standard feature. In 1989, a Qantas 747-400 flew non-stop from London to Sydney, a distance of 9,720 nmi (11,190 mi, 18,001 km) in 20 hours and 9 minutes, to set a commercial aircraft world distance record. This was a delivery flight with no commercial passengers or freight aboard.
Production of the 747-400 passenger version officially ceased on March 15, 2007. The last four -400s on order were cancelled by Philippine Airlines (which switched to the 777-300ER). The last to order the -400 was China Airlines in November 2002, with the last passenger 747-400 constructed in 2005 and delivered in April of that year. It was the 1358 747 (MSN33737/B-18215).
747-400F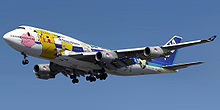 Picture - An All Nippon Airways 747-400, decorated with images of different Pokémon.
The 747-400F (Freighter) is an all freight version which uses the fuselage design of the 747-200F. The aircraft's first flight was on May 4, 1993 and it entered service with Cargolux on November 17, 1993. Major customers include Atlas Air, Cargolux, China Airlines, Korean Air, Nippon Cargo Airlines, Polar Air Cargo, and Singapore Airlines. The -400F can be easily distinguished from the passenger -400 by its shorter upper-deck hump.
The 747-400F has a main deck nose door and a mechanized cargo handling system. The nose door swings up so that pallets or containers up to 40 ft (12 m) can be loaded straight in on motor-driven rollers. An optional main deck side cargo door (like the 747-400M (Combi) allows loading of dimensionally taller cargo modules.
Boeing has delivered 126 Boeing 747-400F aircraft with no unfilled orders as of November 2009. The last -400F was delivered to Nippon Cargo Airlines.
747-400M
The 747-400M (a passenger/freight or "Combi" variant) first flew on June 30, 1989 and entered service with KLM on September 12, 1989. The -400M has a large cargo door fitted to the rear of the fuselage. The last 747-400M was delivered to KLM on April 10, 2002.
747-400D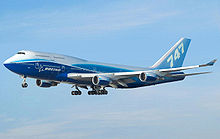 Picture - Boeing 747-400 in Boeing livery
The 747-400D (Domestic) is a high density seating model developed for short-haul domestic Japanese flights. The aircraft is capable of seating a maximum of 568 passengers in a 2-class configuration or 660 passengers in a single-class configuration. The -400D lacks the wing tip extensions and winglets included on other variants. The benefits of winglets would be minimal on short routes. The -400D may be converted to the long range version when needed. The 747-400D is also unusual in having more windows on both sides of the upper deck than the basic -400 series. This allows for additional seating all the way down the upper deck, where a galley is situated on most international models.
The 747-400 Domestic first flew on March 18, 1991 and entered service with Japan Airlines on October 22, 1991. The last was delivered to All Nippon Airways in December 1995.
747-400ER
The 747-400ER (Extended Range) was launched on November 28, 2000 following an order by Qantas for six aircraft. This was ultimately the only order for the passenger version. The -400ER can fly an additional 500 miles (805 km) or carry 15,000 lb (6,800 kg) more freight. Qantas received the first -400ER on October 31, 2002.
The 747-400ER includes the option of one or two additional 3,240 US gallon body fuel tanks in the forward cargo hold. Manufactured by Marshall Aerospace, these tanks utilize innovative metal to metal honeycomb bonded technology to achieve a high dry weight to fuel volume ratio. Similar technology has been used in the development by Marshall of body fuel tanks for the 777-200LR and P-8A Poseidon MMA aircraft.
747-400ERF
The 747-400ERF (747-400ER Freighter) is the freight version of the -400ER, launched on April 30, 2001. The 747-400ERF is similar to the 747-400F, except for the increased gross weight capability which allows it to carry more cargo weight. Unlike the 747-400F, this airplane is not fitted with the cargo compartment fuel tanks.
The first -400ERF was delivered to Air France (via ILFC) on October 17, 2002. The 747-400ERF has a maximum takeoff weight of 910,000 pounds (412,769 kg) and a maximum payload of 248,600 pounds (112,760 kg). It offers the cargo airline the choice of either adding 22,000 pounds (9,980 kg) more payload than other 747-400 freighters, or adding 525 nautical miles (972 km) to the maximum range. It has a maximum range of 5,700 miles (9,200 km), about 326 miles (525 km) farther than other 747-400 freighters, and has a strengthened fuselage, landing gear and parts of its wing, along with new, larger tires.
Boeing has delivered 40 Boeing 747-400ERFs with no outstanding orders as of 2009. The last 747-400, a -400ERF was delivered on December 22, 2009. The new 747-8 Freighter will have more payload capacity but less range than the 747-400ERF.
747-400 converted freighters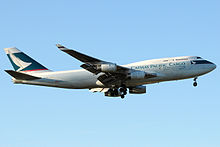 Picture - B-HOU, the first Boeing Converted Freighter (BCF), landing in Frankfurt
The 747-400BCF (Boeing Converted Freighter), formerly known as the 747-400SF (Special Freighter), is a conversion program for standard passenger 747-400s. The project was launched in 2004 and will be done by approved contractors such as TAECO, KAL Aerospace and SIA Engineering. The first Boeing 747-400BCF was redelivered to Cathay Pacific Cargo and entered service on December 19, 2005.
The 747-400BDSF (Bedek Special Freighter) is another converted version freighter by Israel Aerospace Industries (IAI). The first 747-400BDSF was redelivered to Air China Cargo.
747 Large Cargo Freighter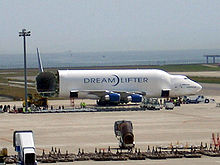 Picture - A 747 LCF Dreamlifter with its swing-tail cargo bay open
Boeing announced in October 2003 that because of the amount of time involved with marine shipping, air transport will be the primary method of transporting parts for the Boeing 787 Dreamliner. Pre-owned passenger 747-400 aircraft have been converted into an outsize, "Large Cargo Freighter" (LCF) configuration to ferry sub-assemblies to Everett, Washington for final assembly. The LCF has a bulging fuselage similar to that of the Super Guppy or Airbus Beluga cargo planes used for transporting wings and fuselage sections. The conversion, designed by Boeing engineers from Puget Sound, Moscow and Canoga Park, Cal., and Gamesa Aeronxˇutica in Spain, is carried out in Taiwan by a subsidiary of the Evergreen Group. Boeing has purchased four second-hand aircraft and converted all of them. The fourth and final making its first flight in January 2010.
Delivery times will be reduced from up to 30 days to as low as a day with the 747 LCF. The LCF can hold three times the volume of a 747-400F freighter. The LCF is not a Boeing production model and will not be sold to any customers or see any airliner operation. The LCFs are for Boeing's exclusive use.
Government, military and other variants
C-33: Proposed U.S. military transport version of the 747-400, intended to augment the C-17 fleet. The C-33 cost less and had greater range, although it could not use austere runways or handle outsize military equipment and had a higher expected operating cost. The plan was canceled in favor of the purchase of additional C-17s.

YAL-1: "Airborne Laser" carrier based on a 747-400F for the United States Air Force. The aircraft has been heavily modified to carry a nose mounted turret and Chemical Oxygen Iodine Laser (COIL) equipment.

Operators
Commercial airlines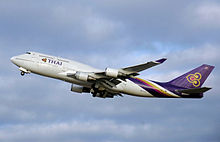 Picture - Thai Airways International 747-400
As of July 2010 a total of 664 Boeing 747-400 were in service with the commercial operators listed below:
Aerolx­neas Argentinas
AeroSur
Air Atlanta Icelandic
Air Cargo Germany
Air China
Air France
Air India
Air New Zealand
Air Pacific
AirBridge Cargo
Al Wafeer Air
All Nippon Airways
Asiana Airlines
Atlas Air
Blue Sky Airlines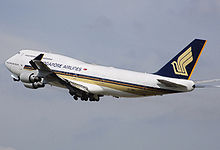 Picture - Singapore Airlines 747-400 at London Heathrow Airport
British Airways - largest operator
Cargolux
Cargolux Italia
Cathay Pacific
China Airlines
China Airlines Cargo
China Southern Airlines
Corsairfly
Delta Air Lines
El Al
EVA Air
Evergreen International Airlines
Garuda Indonesia
Global Supply Systems
Grandstar Cargo
Great Wall Airlines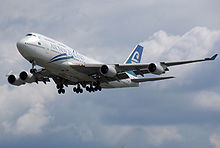 Picture - Air New Zealand 747-400
Jade Cargo International
Japan Airlines
Kalitta Air
KLM
Korean Air
Kuwait Airways
Lion Air
Lufthansa
Mahan Air
Malaysia Airlines
Martinair
Nippon Cargo Airlines
Orient Thai Airlines
Philippine Airlines
Polar Air Cargo
Air Pullmantur
Qantas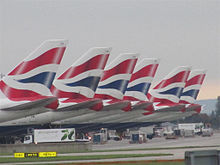 Picture - British Airways Boeing 747-400 tailfins.
Royal Air Maroc
Saudi Arabian Airlines
Singapore Airlines
Singapore Airlines Cargo
SonAir
South African Airways
Thai Airways International
TNT Airways
Transaero
United Airlines
UPS Airlines
Virgin Atlantic Airways
World Airways
Yangtze River Express
Other non-airline users
Abu Dhabi Flight
Bahrain Amiri Flight
Dubai Air Wing
Government of Brunei
Government of Kuwait
Government of Saudi Arabia
Japan Air Self-Defense Force
Kingdom Aircraft Leasing
Republic of Korea Air Force
Royal Flight of Oman
United States Air Force

Deliveries
Specifications
Sources: 747-400 specifications, 747-400/-400ER airport report, Gilchrist
Incidents and accidents
Notable accidents and incidents
On November 4, 1993, China Airlines Flight 605, flying from Taipei to Hong Kong Kai Tak Airport, touched down more than 2,100 feet past the runway's displaced threshold during 20 knot (gusting 38) crosswinds. Combined with the disengagement of auto brakes and retracted speed brakes, manual braking and thrust reversal were not enough to prevent the aircraft from sliding into Victoria Harbour. No one was seriously injured, but it was the first hull loss of a 747-400.
On July 23, 1999, a man hijacked All Nippon Airways Flight 61, a 747-400D bound for New Chitose Airport near Sapporo, HokkaidĹŤ from Tokyo International Airport (Haneda). The man killed the pilot. Other crew members restrained him, and the airliner landed safely.
On October 31, 2000, Singapore Airlines Flight 006, a 747-400 flying on a Singapore to Los Angeles via Taipei route rammed into construction equipment while attempting to take off from a closed runway at Chiang Kai-shek International Airport, caught fire and was destroyed, killing 79 passengers and four crew members.
On January 31, 2001, Japan Airlines Flight 907, a 747-400D bound for Naha International Airport from Tokyo International Airport, nearly collided with a Japan Airlines DC-10. The 747 pilot suddenly dived and narrowly avoided the oncoming airliner.
On March 12, 2003, Singapore Airlines Flight SQ286, a 747-400 departing Auckland, New Zealand for Singapore suffered a serious tailstrike on take-off causing major damage to the tail section of the aircraft. The airplane returned safely with no fatalities reported.
On July 25, 2008, Qantas Flight 30, a 747-400 bound for Melbourne Airport from Hong Kong International Airport, made an emergency landing at Ninoy Aquino International Airport in Manila, Philippines with a gaping hole in its lower fuselage forward of the starboard wing; the aircraft lost a fairing. No one was hurt. After ruling out terrorism, authorities focused on the possibility of an exploding oxygen bottle from the emergency oxygen supply system. This theory was confirmed as the cause in an interim report issued by the Australian Transport Safety Bureau.
On January 21, 2010, Cargolux Flight 7933, 747-400 LX-OCV, struck a vehicle on landing at Luxembourg International Airport. The van suffered major damage and the aircraft sustained a damaged tire. Three investigations have been launched into the incident.
On September 3, 2010, UPS Airlines Flight 6 from Dubai, UAE, to Cologne, DE, a 747-400 with two crew members on board crashed roughly 25 minutes after departure. The crew declared an emergency, apparently due to an in-flight fire, and after abandoning one attempt at landing were unable to see their instruments. The aircraft impacted with the ground at high speed, killing both crew members.

Competition between Airbus and Boeing

Related development
Boeing YAL-1
Boeing 747-8

Comparable aircraft
Airbus A380

Boeing 747-400 Pictures
More aircraft.
Source: WikiPedia