Boeing C-97 Stratofreighter Video - Newsreel - Introduction of C-97
Boeing C-97 Stratofreighter Video - Newsreel - Introduction of C-97
Boeing C-97 Stratofreighter Aircraft Information
Boeing C-97 Stratofreighter
C-97 Stratofreighter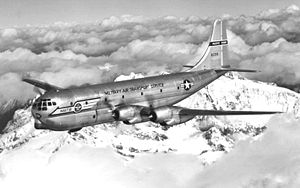 Role: Military transport aircraft
Manufacturer: Boeing
First flight: 9 November 1944
Introduced: 1947
Retired: 1978
Status: Retired
Primary users: United States Air Force Israeli Air Force
Produced: 1944-1958
Number built: 60 (888 all variants)
Unit cost: $1,205,000
Developed from: B-29 Superfortress B-50 Superfortress
Variants: KC-97 Stratotanker Boeing 377 Stratocruiser Aero Spacelines Pregnant Guppy Aero Spacelines Super Guppy Aero Spacelines Mini Guppy

The Boeing C-97 Stratofreighter was a long range heavy military cargo aircraft based on the B-29 bomber. Design work began in 1942, with the prototype's first flight in 1944, and the production aircraft entering service in 1947. Between 1947 and 1958, 888 C-97s in several variants were built - 816 of them KC-97 tankers. C-97s served in the Berlin Airlift, the Korean War, and the Vietnam War. Some aircraft served as flying command posts for the Strategic Air Command, while others were modified for use in Aerospace Rescue and Recovery Squadrons (ARRS).
Development
The Boeing C-97 Stratofreighter was developed towards the end of World War II by fitting an enlarged upper fuselage onto a lower fuselage and wings which were essentially the same as the B-50 Superfortress with the tail, wing, and engine layout being nearly identical. It was built before the death of Boeing president, Philip G. Johnson. It can be easily distinguished from the 377 Stratocruiser airliner by the radar "beak" radome beneath the nose, and by the flying boom and jets on later tanker models.
The prototype XC-97 was powered by the 2,200 hp (1,640 kW) Wright R-3350 engine. It had clamshell doors under the tail that a retractable ramp could be used to drive in equipment. It also was fitted with a built-in ramp and a hoist to help in the loading and unloading of supplies and personnel through the large clamshell-type doors in the belly. But unlike the later C-130 Hercules, it was not designed as a combat transport which could deliver directly to primitive forward bases using relatively short takeoffs and landings. The rear ramp could not be used in flight for air drops.
On January 9, 1945 the first prototype, piloted by Major Curtin L. Reinhardt, flew from Seattle to Washington, DC in 6 hours 4 minutes, an average speed of 383 mph (616 km/h) with 20,000 pounds (lb) of cargo, which was for its time rather impressive for such a large aircraft. Production models featured the 3500 hp (2,610 kW) Pratt & Whitney Wasp Major engine, the same engine as the B-50.
The C-97 had a useful payload of 35,000 lb (16 t) and could carry two normal trucks, towed artillery or light tracked vehicles such as the M56 Scorpion. The C-97 was also the first mass produced air transport to feature cabin pressurization, which made long range missions somewhat more comfortable for the crew and passengers.
C-97s evacuated casualties during the Korean War. C-97s also participated in the airlift of relief materials to Uli airstrip (Biafra) during the Nigerian Civil War. Flying under the cover of darkness and at tree-level to evade radar, at least two C-97s were lost. The USAF Strategic Air Command operated C-97 Stratofreighters from 1949 through 1978. Early in its service life, it served as an airborne alternative SAC command post. While only 60 C-97 transports were built, 816 were built as the KC-97 Stratotanker variant for inflight refueling. The civilian derivative of the C-97 was the Boeing 377 Stratocruiser, a very luxurious transoceanic air liner which featured a lower deck lounge and could be fitted with sleeper cabins.
One YC-97A (45-9595) was used in the Berlin Airlift during April 1949 operating for the 1st Strategic Support Squadron. It suffered a landing gear accident at Rhein Main Air Base and by the time it was repaired, the Soviet Blockade was lifted.
Legacy
Two C-97s are still airworthy at the present day, one (s/n 52-2718, named "Angel of Deliverance") operated as a privately-owned warbird, the other operated as a fire bomber in the United States.
The C-97's direct replacement, the jet-powered 707-based KC-135 retained the flying boom of the KC-97 but had the speed to match the B-52s and later supersonic B-58s of Strategic Air Command. They remain the dominant tanker in the Air Force fleet in the twenty-first century. Its civilian counterpart, the 707 gave Boeing a dominance in jet airliners it never had in the prop age. But jets had not put an end to propeller transports, as Lockheed's turboprop powered C-130 of similar size and top speed became the standard combat transport in the west as C-97s were retired. The Hercules continues to serve as an air-tanker for Navy and Marine jets, and Air Force helicopters.
The Israelis turned to Stratocruisers and KC-97s when they could not buy the highly regarded C-130. The Israelis adapted 377 Stratocruiser airliners into transports, including many using C-97 tail sections including the loading ramp. Others were adapted with swiveling tails and refueling pods. One Israeli C-97 was downed by an Egyptian SA-2 Guideline missile in the early 1970s, while flying as an electronic counter-measures platform some twelve miles from the Suez Canal.
Variants
XC-97
prototype, 3 built.
YC-97
cargo transport, 6 built.
YC-97A
troop carrier, 3 built.
YC-97B
fitted with 80 airliner-style seats, one in 1954 redesignated VC-97D, retired to MASDC 15 December 1969.
C-97A
transport, 50 built.
KC-97A
Three C-97As were converted into aerial refueling tankers with rear loading door removed and a flight refueling boom added. After the design was proven, they were converted back into the standard C-97A.
C-97C
medical evacuation transports, 14 C-97As converted during the Korean War (also designated MC-97).
VC-97D
staff transport conversions, 1 YC-97A, 2 C-97As converted, plus the YC-97B. Later designated C-97D.
C-97E
KC-97Es converted to transports.
KC-97E
aerial refueling tankers with rear loading doors permanently closed, 60 built.
C-97F
KC-97Fs converted to transports.
KC-97F
3800hp R-4360-59B engines and minor changes, 159 built.
C-97G
135 KC-97Gs converted to transports.
EC-97G
ELINT conversion of three KC-97Gs. 53-106 was operated by the CIA for covert ELINT operations in the West Berlin Air Corridor.
KC-97G
dual-role aerial refueling tankers/cargo transportation aircraft. KC-97G models carried underwing fuel tanks. 592 built.
GKC-97G
Five KC-97Gs were used as ground instruction airframes.
JKC-97G
One aircraft was modified to test the underwing General Electric J47-GE-23 jet engines, and was later designated KC-97L.
HC-97G
KC-97Gs converted for search and rescue operations, 22 converted.
KC-97H
One KC-97F was experimentally converted into a probe-and-drogue refueling aircraft.
YC-97J
KC-97G conversion with four 4250 kW Pratt & Whitney YT34-P-5 turboprops, dropped in favour of the Boeing KC-135 Stratotanker, two converted
C-97K
KC-97Gs converted to troop transports.
KC-97L
81 KC-97Gs modified with two J47 turbojet engines on underwing pylons.
Operators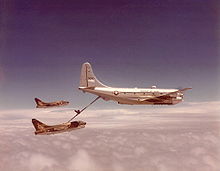 Picture - A KC-97L of the 180th ARS
Military Operators
Israel
Israeli Air Force

Spain
Spanish Air Force

United States
United States Air Force

USAF Units
The following USAF wing organizations flew the various C-97 models at some time during their existence:
Air National Guard
105th Aeromedical Transport Group - Westchester County Airport, New York (1962-1969)
137th Air Transport Squadron
106th Air Transport Group - Suffolk County Airport, New York (-)
102d Air Transport Squadron
109th Air Transport Group - Schenectady Airport, New York (-)
139th Air Transport Squadron
111th Air Transport Group - NAS Willow Grove, Pennsylvania (-)
103d Air Transport Squadron
116th Air Transport Group - Dobbins ARB, Georgia (-)
128th Air Transport Squadron (Heavy)
118th Air Transport Group - Nashville International Airport, Tennessee (-)
105th Air Transport Squadron
126th Air Refueling Wing - O'Hare Airport, Illinois
133d Air Transport Wing - Minneapolis-St Paul International Airport, Minnesota (-)
109th Air Transport Squadron (Heavy)
137th Air Transport Group - Will Rogers World Airport, Oklahoma (-)
185th Air Transport Squadron
138th Air Transport Group - Tulsa International Airport, Oklahoma (-)
125th Air Transport Squadron
139th Air Transport Group - Rosecrans Air National Guard Base, Missouri (-)
180th Air Transport Squadron (Heavy)
146th Air Transport Wing - NAS Point Mugu, California (-)
115th Air Transport Squadron (Heavy)
195th Air Transport Squadron (Heavy)
151st Air Transport Wing - Salt Lake City International Airport, Utah (-)
191st Air Transport Squadron (Heavy)
157th Air Transport Group - Grenier Field, New Hampshire (-)
133d Air Transport Squadron
161st Air Transport Group - Sky Harbor International Airport, Arizona (1966-1972)
197th Air Transport Squadron
162d Air Transport Wing - , Arizona (-)
164th Air Transport Group - Memphis International Airport, Tennessee (-)
155th Air Transport Squadron (Heavy)
165th Air Transport Group - Savannah International Airport, Georgia (-)
158th Air Transport Squadron (Heavy)
166th Air Transport Group - Greater Wilmington Airport, Delaware (-)
142d Air Transport Squadron

Civil Operators
Balair
Berlin Airlift Historical Foundation
Hawkins & Powers Aviation
Zantop Air Transport

Accidents and incidents
22 March 1957 - A USAF C-97 en route to Tokyo went missing over the Pacific Ocean, along with 67 people on board.

30 July 1987 - After taking off, a C-97 operated by Belize Air International (a cargo airline) crashed onto the Mexico City-Toluca highway, killing 5 of the 12 people on board and 44 people on the ground.

Survivors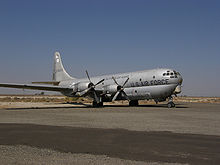 Picture - Former California Air National Guard C-97G at the Milestones of Flight Museum, Fox Field, Lancaster, California
Map of all coordinates from Bing
C-97G 52-898 is on display at the Chanute Aerospace Museum (former Chanute AFB) in Rantoul, Illinois.40°17′36.5″N 88°09′18.5″W / 40.293472°N 88.155139°W / 40.293472; -88.155139

C-97G 52-2626 is on display at the Pima Air & Space Museum, Tucson, Arizona.32°08′28″N 110°52′17″W / 32.14111°N 110.87139°W / 32.14111; -110.87139

C-97G 52-2718 "Angel of Deliverance" is under restoration to flight status by Berlin Airlift Historical Foundation at Hangar B of Floyd Bennett Field.40°35′42″N 73°52′58″W / 40.595°N 73.88278°W / 40.595; -73.88278

C-97G N227AR (the former USAF serial number 52-2764) is on display at the Don Q Inn, next to the (now closed) Dodgeville Municipal Airport outside Dodgeville, Wisconsin.42°59′32″N 90°08′26″W / 42.99222°N 90.14056°W / 42.99222; -90.14056

C-97G 53-0272 is on display at the Milestones of Flight Museum, Fox Field, Lancaster, California.34°44′32″N 118°12′22″W / 34.74222°N 118.20611°W / 34.74222; -118.20611

KC-97G N17KC is on display at the Minnesota Air Guard Museum in Minneapolis, Minnesota.44°53′32″N 93°12′19″W / 44.89222°N 93.20528°W / 44.89222; -93.20528

KC-97 Stratotanker Serial # 53-0335 (Cockpit Only) is on display at the Carolinas Aviation Museum in Charlotte, North Carolina35°13′10″N 80°55′48″W / 35.21944°N 80.93°W / 35.21944; -80.93

KC-97L Stratotanker Serial # 53-0354 is on display at Castle Air Museum in Atwater, California37°21′53″N 120°34′44″W / 37.36472°N 120.57889°W / 37.36472; -120.57889

KC-97L Stratotanker is on display at Rogue Valley International-Medford Airport in Medford, Oregon42°22′31″N 122°52′54″W / 42.37528°N 122.88167°W / 42.37528; -122.88167

KC-97L Stratotanker on display near Peterson Air Force Base in Colorado Springs, Colorado at the "Airplane Restaurant", where patrons can dine inside the converted fuselage. The aircraft itself extends into the restaurant proper.38°48′23.5″N 104°43′35″W / 38.806528°N 104.72639°W / 38.806528; -104.72639

Specifications (C-97)
Data from Boeing C-97 Stratofreighter
General characteristics
Crew: 4 (Pilot, Copilot, Navigator, Flight engineer)
Capacity:
96 troops or
69 stretchers or
tanker equipment
Length: 110 ft 4 in (33.7 m)
Wingspan: 141 ft 3 in (43.1 m)
Height: 38 ft 3 in (11.7 m)
Wing area: 1,734 ft² (161.1 m²)
Empty weight: 82,500 lb (37,410 kg)
Loaded weight: 120,000 lb (54,420 kg)
Useful load: 37,500 lb (17,010 kg)
Max takeoff weight: 175,000 lb (79,370 kg)
Powerplant: 4x— Pratt & Whitney R-4360B Wasp Major radial engines, 3,500 hp (2,610 kW) 28-cylinders each
Aircraft Model number: 367

Performance
Maximum speed: 375 mph (603 km/h)
Cruise speed: 260 knots (300 mph, 482 km/h)
Range: 4,949 nm (4,300 mi, 6,920 km)
Ferry range: 5,000 nm (5,760 mi, 9,270 km)
Service ceiling: 35,000 ft (10,670 m)
Wing loading: 69.2 lb/ft² (337.8 kg/m²)
Power/mass: 0.117 hp/lb (192 W/kg)

Related development
Aero Spacelines Mini Guppy
Aero Spacelines Pregnant Guppy
Aero Spacelines Super Guppy
B-50 Superfortress
Boeing 377 Stratocruiser
KC-97 Stratotanker

Comparable aircraft
Douglas C-124 Globemaster II
Lockheed C-130 Hercules

Bibliography
Rubinstein, Murray and Richard Goldman. The Israeli Air Force Story London: Arms & Armour Press, 1979. ISBN 0-85368-462-6.

Boeing C-97 Stratofreighter Pictures
Living Warbirds: The best warbirds DVD series.
Source: WikiPedia