Boeing KC-135 Stratotanker Videos
Boeing KC-135 Stratotanker Video - Overview
Boeing KC-135 Stratotanker Aircraft Information
Boeing KC-135 Stratotanker
KC-135 Stratotanker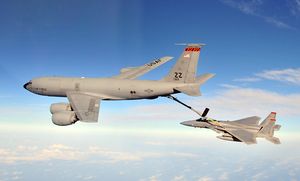 Picture - A KC-135R refuels an F-15 Eagle
Role: Aerial refuelling and transport
National origin: United States
Manufacturer: Boeing
First flight: 31 August 1956
Introduced: June 1957
Status: Active service
Primary users: United States Air Force French Air Force Republic of Singapore Air Force Turkish Air Force
Produced: 1954-1965
Number built: 803
Unit cost: US$39.6 million (FY98 constant dollars)
Developed from: C-135 Stratolifter

The Boeing KC-135 Stratotanker is an aerial refueling military aircraft. It and the Boeing 707 airliner were developed from the Boeing 367-80 prototype. The KC-135 was the US Air Force's first jet powered refueling tanker and replaced the KC-97 Stratotanker. The Stratotanker was initially tasked to refuel strategic bombers, but was used extensively in the Vietnam War and later conflicts such as Desert Storm to extend the range and endurance of Air Force, Navy and Marine tactical fighters and bombers.
Serving with the United States Air Force since 1957, it is one of just six military fixed wing aircraft with over 50 years of continuous service with its original operator. Supplemented by the larger KC-10, complete replacement is still under study by the Air Force. Despite increased maintenance costs, studies conclude many of the aircraft could be flown until 2040, with ages reaching 80 years before reaching lifetime flying hour limits.
Development
Like its sibling, the commercial Boeing 707 jetliner, the KC-135 was derived from the Boeing 367-80 jet transport "proof of concept" demonstrator, which was commonly called the "Dash-80". As such the KC-135 is similar, but has a narrower fuselage and is shorter than the 707. Boeing gave the future KC-135 tanker the initial designation Model 717.
In 1954 USAF's Strategic Air Command held a competition for a jet powered Aerial refueling Tanker. Lockheed's tanker version of the proposed Lockheed L-193 airliner with tail mounted engines was declared the winner in 1955. Since Boeing's proposal was already flying, the KC-135 could be delivered two years earlier and Air Force Secretary Harold E. Talbott ordered 250 KC-135 tankers until the Lockheed's design could be manufactured. In the end, orders for the Lockheed tanker were dropped rather than supporting two tanker designs. Lockheed never produced its jet airliner, while Boeing would eventually dominate the market with a family of airliners based on the 707.
In 1954 the Air Force ordered the first 29 of its future fleet of 732. The first aircraft flew in August 1956 and the initial production Stratotanker was delivered to Castle Air Force Base, California, in June 1957. The last KC-135 was delivered to the Air Force in 1965.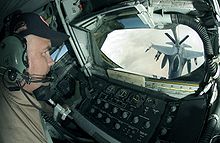 Picture - USAF KC-135R boom operator view
Developed in the early 1950s, the basic airframe is characterized by swept wings and tail, four underwing mounted engine pods, a horizontal stabilizer mounted on the fuselage near the bottom of the vertical stabilizer with positive dihedral on the two horizontal planes and a hi-frequency radio antenna which protrudes forward from the top of the vertical fin or stabilizer. These basic features make it strongly resemble the commercial Boeing 707 and 720 aircraft, although it is actually a different aircraft.
The Strategic Air Command (SAC) had the KC-135 Stratotanker in service with Regular Air Force SAC units from 1957 through 1992 and with SAC-gained Air National Guard (ANG) and Air Force Reserve (AFRES) units from 1975 through 1992.
Following a major USAF reorganization that resulted in the inactivation of SAC in 1992, most KC-135s were re-assigned to the newly-created Air Mobility Command (AMC). While AMC gained the preponderance of the aerial refueling mission, a small number of KC-135s were also assigned to directly United States Air Forces in Europe (USAFE), Pacific Air Forces (PACAF) and the Air Education and Training Command (AETC). All Air Force Reserve Command (AFRC) KC-135s and most of the Air National Guard (ANG) KC-135 fleet became operationally-gained by AMC, while Alaska Air National Guard and Hawaii Air National Guard KC-135s became operationally-gained by PACAF.
Reconnaissance and command post variants of the aircraft, including the RC-135 Rivet Joint and EC-135 Looking Glass Post Attack Command & Control Systems were operated by SAC from 1963 through 1992, when they were re-assigned to the Air Combat Command (ACC). The USAF EC-135 Looking Glass was subsequently replaced in its role by the U.S. Navy E-6 Mercury aircraft, a new build airframe based on the Boeing 707 and KC-135.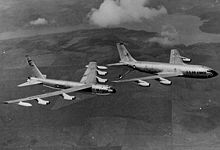 Picture - A Cold War-era image of B-52D tanking from a KC-135A
General upgrades
The KC-135Q variant was modified to carry JP-7 fuel necessary for the SR-71 Blackbird, segregating the JP-7 from the KC-135's own fuel supply (the body tanks carrying JP-7, and the wing tanks carrying JP-4 or JP-8). When the KC-135Q model received the CFM-56 engines, it was redesignated the KC-135T model, which was capable of separating the main body tanks from the wing tanks where the KC-135 draws its engine fuel. The only external difference between a KC-135R and a KC-135T is the presence of a clear window on the underside of the empennage of the KC-135T where a remote controlled searchlight is mounted. It also has two ground refueling ports, located in each rear wheel well so ground crews can fuel both the body tanks and wing tanks separately.
Eight KC-135R aircraft are receiver-capable tankers, commonly referred to as KC-135R(RT). All eight aircraft were with the 22d Air Refueling Wing at McConnell AFB, KS as of 1994. They are primarily used for force extension and Special Operations missions, and are crewed by highly qualified receiver capable crews. If not used for the receiver mission, these aircraft can be flown just like any other KC-135R.
In order to expand the KC-135's capabilities and improve its reliability, the aircraft has undergone a number of upgrades. Among these was the Pacer-CRAG program (CRAG=Compass, Radar And GPS) which ran from 1999 to 2002 and modified all the aircraft in the inventory to eliminate the Navigator position from the flight crew. The program development was done by Rockwell Collins in Iowa and installation was performed by BAE Systems at the Mojave Airport in California. The latest block upgrade to the KC-135 is Block 40.4 which allows the KC-135 to comply with CNS/ATM.
Re-engining
All KC-135s were originally equipped with Pratt & Whitney J-57-P-59W turbojet engines which produced 10,000 lbf (44 kN) of thrust dry, and approximately 13,000 lbf (58 kN) of thrust wet. Wet thrust is achieved through the use of water injection on takeoff. 670 gallons of water are injected into the engines over the course of two and a half minutes. This water allows a second set of fuel injectors to activate without melting the turbine buckets. The water turns to steam and is ejected out the rear of the engine, increasing the mass through the engine and increasing thrust. The engine runs a little hotter, with more engine noise.
In the 1980s the first modification program re-engined 157 Air Force Reserve (AFRES) and Air National Guard (ANG) tankers with the Pratt & Whitney TF-33-PW-102 engines from 707 airliners retired in the late 1970s and early 1980s. The re-engined tanker, designated the KC-135E, was 14% more fuel efficient than the KC-135A and could offload 20% more fuel on long duration flights. (The difference is that the A-model weighed only 104,000 lb (47,000 kg) empty, while the E-model weighed 115,000 lb (52,000 kg) empty. But the maximum takeoff weight was not increased for the E-model. Therefore, the A-model could takeoff with 200,000 lb (91,000 kg) of fuel, while the E-model could only takeoff with 190,000 lb (86,000 kg) of fuel.) Only the KC-135E aircraft were equipped with thrust-reversers for takeoff aborts and shorter landing roll-outs. The KC-135E fleet has since either been re-engined into the R-model configuration or placed into long term storage ("XJ"), as Congress has prevented the Air Force from formally retiring them. The final KC-135E, tail number 56-3630, was delivered by the 101st Air Refueling Wing of the Maine ANG to the 309th Aerospace Maintenance and Regeneration Group (AMARG) at Davis-Monthan AFB in September 2009.
The second modification program re-engined 500 aircraft with new CFM International CFM56 (military designation: F108) engines produced by General Electric and Snecma. The CFM-56 turbofans are capable of producing approximately 22,500 lbf (100 kN) of thrust, nearly a 100% increase in power compared to the original J-57 engines. The re-engined tanker, designated either the KC-135R or KC-135T, can offload up to 50% more fuel (on a long duration sortie), is 25% more fuel efficient, costs 25% less to operate and is 96% quieter than the KC-135A (sideline noise levels at takeoff were reduced from 126 to 99 decibels).
The KC-135R's operational range is 60% greater than the KC-135E for comparable fuel offloads, providing a wider range of basing options.
No longer in consideration, upgrading the remaining KC-135E into KC-135R would have cost about three billion dollars, about 24 million dollars per aircraft. According to Air Force data, the KC-135 fleet had a total operation and support cost in fiscal year 2001 of about $2.2 billion. The older E model aircraft averaged total costs of about $4.6 million per aircraft, while the R models averaged about $3.7 million per aircraft. Those costs include personnel, fuel, maintenance, modifications, and spare parts.
Multi-Point Refueling System program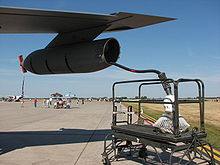 Picture - Multi-Point Refueling System paradrogue and hose. The hose is 74 feet long when fully trailed.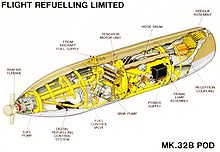 Picture - Cutaway of the Flight Refueling Limited Mk.32B Refueling Pod.
This program adds refueling pods to the KC-135's wings. The pods allow refueling of U.S. Navy, U.S. Marine Corps and most NATO tactical jet aircraft while keeping the tail-mounted refueling boom. The pods themselves are Flight Refueling Limited (FRL) MK.32B model pods. This allows the tanker to refuel two receivers at the same time, which increases throughput compared to the boom drogue adapter.
Research and development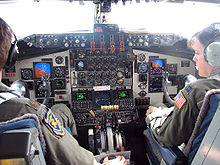 Picture - Flight deck of KC-135R; instrument panel has been modified under the Pacer-CRAG program
Besides its primary role as an inflight aircraft refueler, the KC-135, designated NKC-135, has assisted in several research projects at the NASA Dryden Flight Research Center at Edwards Air Force Base, California. One such project occurred between 1979 and 1980 when special wingtip "winglets", developed by Richard Whitcomb of the Langley Research Center, were tested at Dryden, using an NKC-135A tanker loaned to NASA by the Air Force. Winglets are small, nearly vertical fins installed on an aircraft's wing tips. The results of the research showed that drag was reduced and range could be increased by as much as 7 percent at cruise speeds. Winglets are now being incorporated into most new commercial and military transport jets, as well as business aviation jets.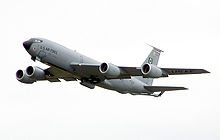 Picture - USAF KC-135R Stratotanker of the 100th Air Refueling Wing (USAFE) at RAF Mildenhall, UK.
NASA also has operated several KC-135 aircraft (without the tanker equipment installed) as their infamous Vomit Comet zero-gravity simulator aircraft. The longest-serving (1973 to 1995) version was KC-135A, AF Ser. No. 59-1481, named Weightless Wonder IV and registered as N930NA.
Electronic warfare
A number of KC-135A and KC-135B aircraft have been modified to EC-135, RC-135 and OC-135 configurations for use in several different roles.
Design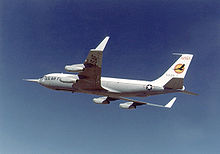 Picture - KC-135 winglet flight tests at Dryden Flight Research Center.
The KC-135R has four turbofan engines, mounted under 35-degree swept wings, which power it to takeoffs at gross weights up to 322,500 pounds (146,300 kg). Nearly all internal fuel can be pumped through the tanker's flying boom, the KC-135's primary fuel transfer method. A special shuttlecock-shaped drogue, attached to and trailing behind the flying boom, may be used to refuel aircraft fitted with probes. A boom operator stationed in the rear of the aircraft controls the boom while lying prone. A cargo deck above the refueling system can hold a mixed load of passengers and cargo. Depending on fuel storage configuration, the KC-135 can carry up to 83,000 pounds (38,000 kg) of cargo.
Operational history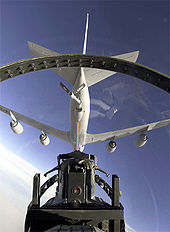 Picture - An F-15 backs out after refueling from a KC-135R.
The KC-135 was initially purchased to support bombers of the Strategic Air Command, but by the late 1960s, in the Southeast Asia the KC-135 Stratotanker's ability as a force multiplier came to the fore. Midair refueling of F-105 and F-4 fighter-bombers as well as B-52 bombers brought far-flung bombing targets within reach, and allowed fighter missions to spend hours at the front, rather than just a few minutes, due to their limited fuel reserves. KC-135 crews refueled both Air Force and Navy / Marine Corps aircraft, though they would have to change to probe and drogue adapters depending upon the mission. Crews also helped to bring in damaged aircraft which could fly while being fed by fuel to a landing site. KC-135s continued their tactical support role in later conflicts such as Desert Storm and current aerial strategy.
Air Mobility Command (AMC) manages more than 481 Stratotankers, of which the Air Force Reserve Command (AFRC) and Air National Guard (ANG) fly 292 in support of AMC's mission as on April 2008.
The KC-135 is joined by the Tupolev Tu-95, the C-130 Hercules, the B-52 Stratofortress, the English Electric Canberra and the Lockheed U-2 in having over 50 years of continuous service with its original operator.
Replacing the KC-135
As of 2006, the KC-135E fleet was flying an annual average of 350 hours per aircraft and the KC-135R fleet is flying an annual average of 710 hours per aircraft. The KC-135 fleet is currently flying double its planned yearly flying hour program to meet airborne refueling requirements, and has resulted in higher than forecast usage and sustainment costs.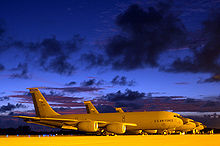 Picture - KC-135Rs at twilight on the flightline
The Air Force projects that E and R models have lifetime flying hour limits of 36,000 and 39,000 hours, respectively. According to the Air Force, only a few KC-135s would reach these limits before 2040, but at that time some of the aircraft would be about 80 years old. The Air Force estimates that their current fleet of KC-135s have between 12,000 to 14,000 flying hours on them-only 33 percent of the lifetime flying hour limit. Nevertheless these aircraft are over 40 years old and maintenance costs are increasing, with airframe corrosion being the worst problem.
Between 1993 and 2003, the amount of KC-135 depot maintenance work doubled, and the overhaul cost per aircraft tripled. In 1996 it cost $8,400 per flight hour for the KC-135, and in 2002 this had grown to $11,000. The Air Force's 15-year cost estimates project further significant growth through fiscal year 2017. For example, operations and support costs for the KC-135 fleet are estimated to grow from about $2.2 billion in fiscal year 2003 to $5.1 billion (2003 dollars) in fiscal year 2017, an increase of $2.9 billion, or over 130 percent, which represents an annual growth rate of about 6.2 percent.
The USAF has decided to replace the KC-135 fleet. However, since there are over 500 KC-135s, these aircraft will be replaced gradually, with the first batch of about 100 aircraft to be replaced in the current buy. The effort to replace the KC-135 has been marked by intense controversy.
Initially the first batch of replacement planes was to be an air tanker version of the Boeing 767, leased from Boeing. In 2003, this was changed to contract where the Air Force would purchase 80 KC-767 aircraft and lease 20 more. In December 2003, the Pentagon froze the contract and in January 2006, the KC-767 contract was canceled. This followed public revelations of corruption in how the contract was awarded, as well as controversy regarding the original leasing rather than outright purchase agreement. Then Secretary of Defense Rumsfeld stated that this move will in no way impair the Air Force's ability to deliver the mission of the KC-767, which will be accomplished by continuing upgrades to the KC-135 and KC-10 Extender fleet.
In January 2007, the U.S. Air Force formally launched the KC-X program with a request for proposal (RFP). KC-X is first phase of three acquisition programs to replace the KC-135 fleet. On 29 February 2008, the US Defense Department announced that it had selected the EADS/Northrop Grumman "KC-30" (to be designated the KC-45A) over the Boeing KC-767. On 18 June 2008, the US Government Accountability Office sustained Boeing's protest of the selection of the Northrop Grumman/EADS's tanker. The status of the KC-45A is in doubt and the Air Force may have to rebid the contract, potentially reversing their earlier decision.
In March 2009 the Air Force indicated that KC-135s would require additional skin replacement (lower wing skins were replaced by a newer alloy by Boeing in 1975-1988) to allow their continued use beyond 2018.
Variants
See Boeing C-135 Stratolifter for further details on the C-135 family.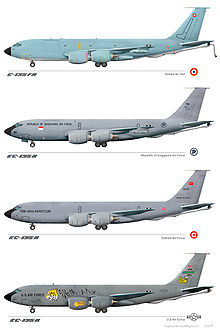 Picture - Active KC-135 paint schemes
KC-135A
Original production version powered by four Pratt & Whitney J57s, 732 built.
NKC-135A
Test-configured KC-135A
KC-135B
Airborne command post version with 17 built equipped with turbofan engines. Provided with in-flight refueling capability and redesignated EC-135C.
KC-135D
All four RC-135As were modified to partial KC-135A configuration in 1979. They were given a unique designation as they differed from the KC-135A in that they were built with a flight engineers position on the flight deck. The flight engineer's position was removed when the aircraft were modified to KC-135 standards but they retained their electrically-powered wing flap secondary (emergency) drive mechanism and second air conditioning pack which had been used to cool the RC-135As on-board photo-mapping systems. Later re-engined with Pratt & Whitney TF33 engines and a cockpit update to KC-135E standards in 1990.
KC-135E
Air National Guard and Air Force Reserve KC-135As re-engined with Pratt & Whitney TF-33-PW-102 engines from retired 707 airliners (161 modified). These aircraft are being retired to Davis-Monthan Air Force Base and replaced with R models.
NKC-135E
Test-configured KC-135E
KC-135Q
KC-135As modified to carry JP-7 fuel necessary for the SR-71 Blackbird, 56 modified, survivors to KC-135T.
KC-135R
KC-135As re-engined with CFM-56 engines.
KC-135R(RT)
Receiver-capable KC-135R Stratotanker, 8 modified with either a Boeing or LTV receiver system and a secure voice SATCOM radio.
KC-135T
KC-135Q re-engined with CFM-56 engines, 54 modified.
EC-135Y
An airborne command post modified in 1984 to support CINCCENT. Aircraft 55-3125 was the only EC-135Y. Unlike its sister EC-135N, it was a true tanker that could also receive in-flight refueling. Pratt & Whitney TF-33-PW-102. Currently retired at AMARC.
Operators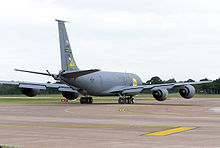 Picture - 916th Air Refueling Wing KC-135R of the Air Force Reserve Command (AFRC) taxis for take off
Chile
Chilean Air Force received its first KC-135E in February 2010.

France
French Air Force

Singapore
Republic of Singapore Air Force has 4 tankers.

Turkey
Turkish Air Force operates 7 KC-135s.

United States
NASA (until 2004)
United States Air Force operated 449 KC-135s (192 active duty, 64 reserve, and 173 guard) as of September 2009.


Air Education and Training Command
97th Air Mobility Wing - Altus AFB, Oklahoma
54th Air Refueling Squadron
Air Mobility Command
6th Air Mobility Wing - MacDill AFB, Florida
91st Air Refueling Squadron
99th Air Refueling Squadron - Birmingham IAP/ANGB (Active Associate unit)
911th Air Refueling Squadron - Seymour Johnson AFB, North Carolina
22d Air Refueling Wing - McConnell AFB, Kansas
344th Air Refueling Squadron
349th Air Refueling Squadron
350th Air Refueling Squadron
384th Air Refueling Squadron
92d Air Refueling Wing - Fairchild AFB, Washington
92d Air Refueling Squadron
93d Air Refueling Squadron
319th Air Refueling Wing- Grand Forks AFB, North Dakota
905th Air Refueling Squadron
375th Air Mobility Wing - Scott AFB, Illinois
906th Air Refueling Squadron


Pacific Air Forces
18th Wing - Kadena AB, Japan
909th Air Refueling Squadron
United States Air Forces in Europe
100th Air Refueling Wing - RAF Mildenhall, England
351st Air Refueling Squadron
Air Force Reserve Command
434th Air Refueling Wing - Grissom ARB, Indiana
72d Air Refueling Squadron
74th Air Refueling Squadron
452d Air Mobility Wing - March ARB, California
336th Air Refueling Squadron
459th Air Refueling Wing - Andrews AFB, Maryland
756th Air Refueling Squadron
507th Air Refueling Wing - Tinker AFB, Oklahoma
18th Air Refueling Squadron - McConnell AFB, Kansas
465th Air Refueling Squadron
916th Air Refueling Wing - Seymour Johnson AFB, North Carolina
77th Air Refueling Squadron
927th Air Refueling Wing - MacDill AFB, Florida
63d Air Refueling Squadron
940th Air Refueling Wing - Beale AFB, California
314th Air Refueling Squadron


Air National Guard
Alabama Air National Guard
117th Air Refueling Wing - Birmingham IAP/ANGB
106th Air Refueling Squadron
Alaska Air National Guard
168th Air Refueling Wing - Eielson AFB
168th Air Refueling Squadron
Arizona Air National Guard
161st Air Refueling Wing - Sky Harbor IAP/ANGB
197th Air Refueling Squadron
Hawaii Air National Guard
154th Wing - Hickam AFB
203d Air Refueling Squadron
Illinois Air National Guard
126th Air Refueling Wing - Scott AFB
108th Air Refueling Squadron
Iowa Air National Guard
185th Air Refueling Wing - Sioux Gateway ANGB
174th Air Refueling Squadron
Kansas Air National Guard
190th Air Refueling Wing - Forbes Field ANGB
117th Air Refueling Squadron
Maine Air National Guard
101st Air Refueling Wing - Bangor IAP/ANGB
132d Air Refueilng Squadron
Michigan Air National Guard
127th Wing - Selfridge ANGB
171st Air Refueling Squadron
Mississippi Air National Guard
186th Air Refueling Wing - Key Field ANGB
153d Air Refueling Squadron
Nebraska Air National Guard
155th Air Refueling Wing - Lincoln ANGB
173rd Air Refueling Squadron
New Hampshire Air National Guard
157th Air Refueling Wing - Pease ANGB
133d Air Refueling Squadron
New Jersey Air National Guard
108th Air Refueling Wing - McGuire AFB
141st Air Refueling Squadron
150th Air Refueling Squadron
Ohio Air National Guard
121st Air Refueling Wing - Rickenbacker ANGB
145th Air Refueling Squadron
166th Air Refueling Squadron
Pennsylvania Air National Guard
171st Air Refueling Wing- Pittsburgh International Airport/Pittsburgh ARS
146th Air Refueling Squadron
147th Air Refueling Squadron
Tennessee Air National Guard
134th Air Refueling Wing - McGhee Tyson ANGB
151st Air Refueling Squadron
Utah Air National Guard
151st Air Refueling Wing - Salt Lake International Airport/ANGB
Washington Air National Guard
141st Air Refueling Wing - Fairchild AFB
116th Air Refueling Squadron
Wisconsin Air National Guard - General Mitchell International Airport
128th Air Refueling Wing

Note Italy has been reported in some sources as operating several KC-135s, however these are actually Boeing 707-300s converted to tanker configuration.
Accidents
On 10 September 1962, KC-135 s/n 60-0352 on a flight from Ellsworth Air Force Base to Fairchild Air Force Base crashed into a mountain just 20 miles (32 km) northeast of Spokane, Washington. The flight hit fog on approach to the air base. The crash killed all 44 crew and passengers on board.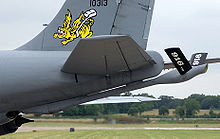 Picture - Tail of an Air Force Reserve Command KC-135R tanker showing refueling boom
On 16 January 1965, USAF KC-135A-BN Stratotanker, 57-1442, c/n 17513, crashed after an engine failure shortly after take off from McConnell Air Force Base, Kansas. The fuel laden plane crashed at a street intersection and caused a huge fire. 30 were killed, 23 on the ground and the 7 member crew.

On 17 January 1966, a fatal collision occurred between a B-52G and a KC-135 Stratotanker over Palomares, Spain causing severe radiological contamination.

On 4 October 1989, a KC-135 Stratotanker from Loring Air Force Base crashed into a hill along the west side of Trans-Canada Highway 2 2 mi (3.2 km) north of Perth-Andover, New Brunswick. in Carlingford, New Brunswick killing 4 crewmembers.

Specifications (KC-135R)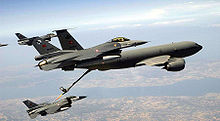 Picture - A KC-135R-CRAG of the Turkish Air Force refueling TAI-built F-16s
Data from USAF Fact Sheet
General characteristics
Crew: 3: pilot, co-pilot and boom operator. Some KC-135 missions require the addition of a navigator.
Capacity: 37 passengers
Payload: 83,000 lb (37,600 kg)
Length: 136 ft 3 in (41.53 m)
Wingspan: 130 ft 10 in (39.88 m)
Height: 41 ft 8 in (12.70 m)
Wing area: 2,433 ft² (226 m²)
Empty weight: 98,466 lb (44,663 kg)
Loaded weight: 297,000 lb (135,000 kg)
Useful load: 200,000 lb (90,700 kg)
Max takeoff weight: 322,500 lb (146,000 kg)
Powerplant: 4x— CFM International CFM56 (F108-CF-100) turbofan, 21,634 lbf () each
Maximum Fuel Load: 31,275 US gal (118 kL)

Performance
Maximum speed: 580 mph (933 km/h)
Cruise speed: 530 mph
Range: 1,500 mi (2,419 km) with 150,000 lb (68,039 kg) of transfer fuel
Ferry range: 11,015 mi (17,766 km)
Service ceiling: 50,000 ft (15,200 m)
Rate of climb: 4,900 ft/min (1,490 m/min)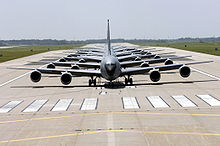 Picture - Six KC-135 Stratotankers demonstrate the elephant walk formation.
Vomit Comet
1966 Palomares B-52 crash

Related development
Boeing 367-80
C-135 Stratolifter
C-137 Stratoliner
Boeing 707

Comparable aircraft
Boeing KC-767
CC-150 Polaris
KC-10 Extender
Airbus A310 MRTT
Airbus A330 MRTT/Northrop Grumman KC-45
Ilyushin Il-78
Lockheed Martin KC-130

Tony Pither, The Boeing 707 720 and C-135, Air-Britain (Historians) Ltd, England, 1998, ISBN 0 85130 236 X.
Hopkins, III, Robert S. (1997). Boeing KC-135 Stratotanker: More Than Just a Tanker. Leicester, England: Midland Publishing Limited. ISBN 1 85780 069 9.

Boeing KC-135 Stratotanker Pictures
Living Warbirds: The best warbirds DVD series.
Source: WikiPedia