Boeing P-12 Video - Picture
Boeing P-12 Aircraft Information
Boeing P-12
P-12 / F4B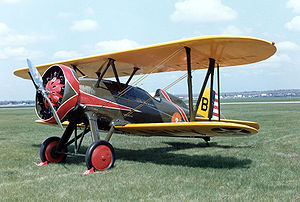 Picture - Boeing P-12E at the National Museum of the United States Air Force, in markings of 6th Pursuit Squadron, 18th PG, Wheeler Field, Hawaii
Role: Fighter aircraft
Manufacturer: Boeing Aircraft Company
First flight: June 25, 1928
Introduced: 1930
Retired: 1941
Primary users: United States Army Air Corps United States Navy Philippine Army Air Corps Royal Thai Air Force
Produced: 1929-1932
Number built: 586
*366 P-12
*187 F4B
*33 demonstrators and exports

The Boeing P-12 or F4B was an American pursuit aircraft that was operated by the United States Army Air Corps and United States Navy.
Design and development
Boeing developed the aircraft as a private venture to replace the Boeing F3B and Boeing F2B with the United States Navythat was the first flight of the P-12 took place on June 25, 1928. The new aircraft was smaller, lighter and more agile than the ones it replaced but still used the Wasp engine of the F3B. This resulted in a higher top speed and overall better performance. As result of Navy evaluation 27 were ordered as the F4B-1, later evaluation by the United States Army Air Corps resulted in orders with the designation P-12. Boeing supplied the USAAC with 366 P-12's between 1929 and 1932. Production of all variants totalled 586.
Operational history
P-12s were flown by the 17th Pursuit Group (34th, 73rd, and 95th Pursuit Squadrons) at March Field, California, and the 20th Pursuit Group (55th, 77th and 79th Pursuit Squadrons) at Barksdale Field, Louisiana. Older P-12s were used by groups overseas: the 4th Composite Group (3rd Pursuit Squadron) in the Philippines, the 16th Pursuit Group (24th, 29th , 74th, and 79th Pursuit Squadrons) in the Canal Zone, and the 18th Pursuit Group (6th and 19th Pursuit Squadrons) in Hawaii.
The P-12 remained in service with first-line pursuit groups until replaced by Boeing P-26s in 1934-35. Survivors were relegated to training duties until 1941, when most were grounded and assigned to mechanics's schools.
Variants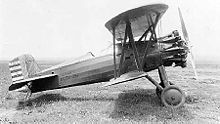 Picture - Boeing P-12
Model 83
One prototype with spreader bar landing gear and 425hp Pratt & Whitney R-1340-8 engine, later designated XF4B-1 for Navy evaluation. Model 89
One prototype with split-axle undercarriage and provision for a 500lb bomb on ventral rack, later designated XF4B-1 for Navy evaluation. P-12
Model 102, Army version of the F4B-1 with a 450 hp R-1340-7 engine, 9 built. XP-12A
10th built P-12 with NACA cowl a 525hp R-1340-9 engine and shorter undercarriage, one built. P-12B
Model 102B, as P-12 with larger mainwheels and improvements tested on XP-12A, 90 built. P-12C
Model 222, as P-12B with ring cowl and spread-bar undercarriage, 96 built. P-12D
Model 234, as P-12C with a 525 hp R-1340-17 engine, 35 built. P-12E
Model 234, as P-12D with semi-monocoque metal fuselage, redesigned vertical tail surfaces, some were later fitted with tailwheels instead of skids, 110 built. P-12F
Model 251, as P-12E with a 600 hp R-1340-19 engine, 25 built. XP-12G
P-12B modified with a R-1340-15 engine with side-type supercharger, 1 converted. XP-12H
P-12D modified with a GISR-1340E experimental engine, 1 converted. P-12J
P-12E modified with a 575 hp R-1340-23 engine, and special bomb sight, 1 conversion. YP-12K
P-12E and P-12J re-engined with a fuel injected SR-1340E engine, seven temporary conversions. XP-12L
YP-12K temporary fitted with a F-2 supercharger, 1 converted. A-5
designation for proposed use of P-12 as a radio-controlled target drone (cancelled) XF4B-1
Designation given to two prototypes for Navy evaluation, the former Model 83 and the former Model 89. F4B-1
Boeing Model 99 for the United States Navy, split axle landing gear and ventral bomb rack, 27 built. F4B-1A
One F-4B-1 converted to unarmed executive transport for the Assistant Secretary of the Navy, fuel tank moved to upper wing centre section. F4B-2
Boeing Model 223, spreader bar landing gear, frise ailerons, tailwheel replacing skid, 46 built. F4B-3
Boeing Model 235, as F4B-2 but with semi-monocoque metal fuselage and equipment changes, 21 built. F4B-4
Boeing Model 235, as F4B-3 but with redesigned vertical tail surfaces, 550 hp R-1340-16 engine, underwing racks for two 116lb bombs, last 45 built had an enlarged headrest housing a life raft, 92 built and one built from spares. F4B-4A
23 assorted P-12 aircraft transferred from USAAC for use as a radio-controlled target aircraft. Model 100
Civil version of the F4B-1, four built. Model 100A
Two-seat civil version for Howard Hughes, later converted to a single-seater, one built. Model 100D
One Model 100 temporary used as a P-12 demonstrator. Model 100E
Export version of the P-12E for the Siamese Air Force, two built, one later transferred to the Japanese Navy under the designation AXB. Model 100F
One civil variant of the P-12F sold to Pratt & Whitney as an engine test bed. Model 218
Prototype of the F-12E/F4B-3 variant, after evaluation sold to the Chinese Air Force. Model 256
Export version of the F4B-4 for Brazilian Navy, 14 built. Model 267
Export version for Brazil with an F4B-3 fuselage and P-12E wings, 9 built.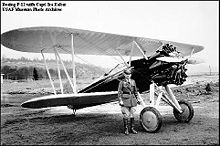 Picture - Boeing P-12 with Captain Ira Eaker
Aircraft on display
A surviving P-12E is on display at the National Museum of the United States Air Force at Wright-Patterson AFB near Dayton, Ohio.
One of the four Model 100s is displayed at Museum of Flight, Seattle, Washington, United States
A replica P-12B is on display at the Tennessee Museum of Aviation in Sevierville, Tennessee
An F4B-4 "Felix the cat" is displayed in the entrance hall of the Honolulu International Airport
A P-12F converted to specifications of an F4B-4 and painted with the markings of Fighting Squadron 6B "Felix the Cat" is on display at the National Museum of Naval Aviation in Pensacola, FL
A Model 100E on display at Royal Thai Air Force Museum, Don Muang Royal Thai Air Force Base.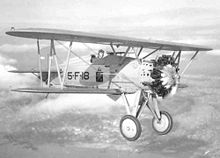 Picture - Boeing F4B of VF-5 squadron (Navy version of P-12)
Specifications (P-12E)
Data from Bowers, 1989. pg.
General characteristics
Crew: 1
Length: 20 ft 4 in (6.19 m)
Wingspan: 30 ft (9.14 m)
Height: 9 ft (2.74 m)
Loaded weight: 2,690 lb (1,220 kg)
Powerplant: 1x— Pratt & Whitney R-1340-17 Radial engine, 500 hp (373 kW)

Performance
Maximum speed: 189 mph (304 km/h)
Cruise speed: 160 mph (257 km/h)
Range: 570 miles (917 km)

Armament
Guns: Two .30 inch (7.62 mm) machine guns or one .30 inch (7.62 mm) and one .50 inch (12.7 mm) machine guns
Bombs: 244 lb (111 kg) of bombs carried externally.

Bowers, Peter M. Boeing aircraft since 1916. London: Putnam Aeronautical Books, 1989. ISBN 0-85177-804-6.

Living Warbirds: The best warbirds DVD series.
Source: WikiPedia