Boeing Phantom Ray Video - Debut
Boeing Phantom Ray Video - First Flight
Boeing Phantom Ray Aircraft Information
Boeing Phantom Ray
Phantom Ray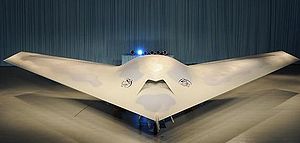 Role: Unmanned Combat Air Vehicle
Manufacturer: Boeing Integrated Defense Systems
First flight: 27 April 2011
Status: Under development
Number built: 1
Developed from: Boeing X-45C

The Boeing Phantom Ray is a stealthy unmanned combat air vehicle being developed by Boeing using company funds. The Phantom Ray is a demonstrator aircraft, about the size of a fighter that will conduct a program of test flights involving surveillance, ground attack and autonomous aerial refueling missions.
Design and development
The Phantom Ray project, called "Project Reblue" internally at Boeing, was first conceptualized in mid-2007, and started in earnest in June 2008. The project was kept secret even within the company, except for a handful of executives and engineers, until May 2009.
Developed by the Boeing Phantom Works, the Phantom Ray is based on the X-45C prototype aircraft that Boeing originally developed for the Defense Advanced Research Projects Agency (DARPA)/U.S. Air Force/U.S. Navy Joint-Unmanned Combat Air System (J-UCAS) program. However, Phantom Ray is not aimed at any particular program or competition.
The Phantom Ray was unveiled on May 10, 2010 in St. Louis, Missouri. In late November 2010 low-speed taxi tests were carried out in St. Louis. The demonstrator aircraft is to perform 10 test flights over six months, supporting missions such as intelligence, surveillance and reconnaissance; suppression of enemy air defenses; electronic attack; hunter/killer; and autonomous aerial refueling. Boeing anticipates that the Phantom Ray will be the first of a series of new prototype aircraft.
The Phantom Ray was scheduled to make its first flight in December 2010 from NASA Dryden Flight Research Center, but this has been rescheduled to 2011. It was carried on a 747 Shuttle Carrier Aircraft from St. Louis on December 13, 2010 during a test flight. The 747 later carried the Phantom Ray to Edwards Air Force Base in preparation for its first flight. The UAV took its maiden flight on April 27, 2011 from Edwards AFB.
Specifications
Values for X-45 marked with an *.
Data from Debut, Boeing backgrounder, Airforce Technology X-45, Boeing X-45 page
General characteristics
Crew: None (UCAV)
Length: 36 ft (11 m)
Wingspan: 50 ft (15 m)
Max takeoff weight: 36,500 lb (16,556 kg)
Powerplant: 1 x— General Electric F404-GE-102D

Performance
Maximum speed: Mach 0.85
Cruise speed: 614 mph (534 kn; 988 km/h) ; Mach 0.8
Range: 1,500 mi (1,303 nmi; 2,414 km) *
Service ceiling: 40,000 ft (12,192 m) *

Related development
Boeing X-45

Comparable aircraft
BAE Taranis
Dassault nEUROn
EADS Barracuda
MiG Skat
Northrop Grumman X-47B

Related lists
List of unmanned aerial vehicles

PW-9/FB · F2B · F3B · F4B · XF6B · P-29/XF7B · XF8B · P-12 · P-26 · F-15C/D · F-22 · AV-8B+ · F-15E · F-15SE · F/A-18C/D · F/A-18E/F · EA-18G
Y1B-9 · XB-15 · B-17 · B-29 · B-47 · B-50 · B-52 · B-1B
C-73 · C-75 · C-97 · C-98
C-135 · C-137 · CC-137 · YC-14 · C-17 · C-22 · VC-25A · C-32 · C-40
KB-29 · KB-50 · KC-97 · KC-135 · KC-137 · KC-10 · KC-46 · KC-767
PT-13 · PT-17 · PT-18 · PT-27 · XAT-15 · T-43 · T-45
XPBB · P-8 · EC-135 · EC-18 · E-3 · E-4 · E-6 · E-8 · E-10 · E-767 · 737 AEW&C
NC-135 · OC-135B · RC-135 · WC-135
MQ-18 · ScanEagle · Bird of Prey · X-20 · X-32 · X-36 · X-37 · X-40 · X-45 · X-50 · YAL-1
Boeing Phantom Ray Pictures
More aircraft.
Source: WikiPedia