Boeing X-40 Video - Drop tests
Boeing X-40 Aircraft Information
Boeing X-40
X-40A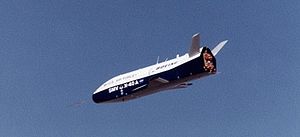 Role: Glide test vehicle
National origin: United States
Manufacturer: Boeing Phantom Works
First flight: August 11 1998 (dropped by UH-60 Black Hawk)
Retired: May 2001
Status: Retired
Primary users: AFRL NASA
Number built: 1

The Boeing X-40A Space Maneuver Vehicle is a test platform for the X-37 Future-X Reusable Launch Vehicle project.
History
The unpiloted X-40 was built to 85 percent scale to test aerodynamics and navigation of the X-37 Future-X Reusable Launch Vehicle project. In 2001 it successfully demonstrated the glide capabilities of the X-37's fat-bodied, short-winged design and validated the proposed guidance system.
Testing
The first X-40 drop test occurred at Holloman AFB, New Mexico on 11 August 1998 at 06:59. This was a joint Air Force/Boeing project known as Space Maneuver Vehicle. It was reported to be the first ever test of a fully autonomous space vehicle. It was released from an altitude of approximately 9,200 feet (2,800 m) and 2.5 miles (4.0 km) away from the end of Runway 04 by an UH-60 Black Hawk helicopter (later tests used the CH-47 Chinook helicopter). The vehicle dove to the runway in an approach similar to the Space Shuttle's, flared, and landed left of the runway centerline. Its drag chutes successfully deployed, and the vehicle tracked to within seven feet of centerline and stopped in a distance of just over 7,000 feet (2,100 m).
Specifications (X-40)
General characteristics
Crew: None
Length: 6.5 m (21 ft)
Wingspan: 3.5 m (11 ft)
Height: 2.3 m (7.5 ft)
Empty weight: 2,500 lbs (1,100 kg)
Useful load: 1,200 lbs (540 kg)

Performance
Maximum speed: 480 km/h (300 mph)

Avionics Honeywell 12-channel Space Integrated GPS/INS (SIGI) system
Boeing X-40 Pictures
Living Warbirds: The best warbirds DVD series.
Source: WikiPedia