Boeing X-51 Video - Record Breaking Hypersonic Mach 5 Flight
Boeing X-51 Video - Scramjet Engine Demonstrator
Boeing X-51 Aircraft Information
Boeing X-51
X-51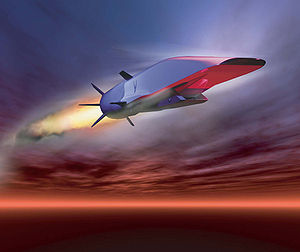 Picture - Artist's concept of X-51A
Role: Robotic flight demonstrator
Manufacturer: Boeing
First flight: 26 May 2010
Status: Flight testing
Primary user: United States Air Force

The Boeing X-51 is an unmanned scramjet demonstration aircraft for hypersonic (Mach 6, approximately 4,000 miles per hour (6,400 km/h) at altitude) flight testing. It successfully completed its first free-flight on 26 May 2010 and also achieved the longest duration flight at speeds over Mach 5.
The X-51 WaveRider program is run as a cooperative effort of the United States Air Force, DARPA, NASA, Boeing and Pratt & Whitney Rocketdyne. The program is managed by the Propulsion Directorate within the United States Air Force Research Laboratory (AFRL). The X-51 had its first captive flight attached to a B-52 in December 2009.
Design and development
In the 1990s the Air Force Research Laboratory (AFRL) began the HyTech program for hypersonic propulsion. Pratt & Whitney received a contract from the AFRL to develop a hydrocarbon-fueled scramjet engine which led to the development of the SJX61 engine. The SJX61 engine was originally meant for NASA's X-43C, which was eventually canceled. The engine was applied to the AFRL's Scramjet Engine Demonstrator program in late 2003. The scramjet flight test vehicle was designated X-51 on 27 September 2005.
In flight demonstrations, the X-51 is carried by a B-52 to an altitude of about 50,000 feet (15.2 kilometers) and then released over the Pacific Ocean. The X-51 is initially propelled by an MGM-140 ATACMS solid rocket booster to approximately Mach 4.5, before it is jettisoned. Then the vehicle's Pratt & Whitney Rocketdyne SJY61 scramjet takes over and accelerates it to a top flight speed near Mach 6.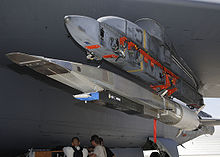 Picture - X-51A under the wing of a B-52 at Edwards AFB, July 2009
Previously DARPA viewed X-51 as a stepping stone to Blackswift, a planned hypersonic demonstrator which was canceled in October 2008.
Testing
Ground tests of the X-51A began in late 2006. A preliminary version of the X-51, the "Ground Demonstrator Engine No. 2", completed wind tunnel tests at the Langley Research Center on 27 July 2006. In April 2007, an entire flight was simulated with positive results.
The testing is intended to observe acceleration between Mach 4 and Mach 6 and to demonstrate that hypersonic thrust "isn't just luck". Four test flights were initially planned for 2009, but the first captive flight of the X-51A on a B-52 was not conducted until 9 December 2009, with further captive flights in early 2010.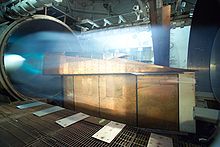 Picture - Test of SJY61 scramjet engine transitioning to JP-7 fuel
The first powered flight of the X-51 was planned for 25 May 2010, but the presence of a freighter transiting a portion of the Point Mugu Naval Air Warfare Center Sea Range caused a 24 hour postponement. The X-51 completed its first powered flight successfully on 26 May 2010 by flying for over 200 seconds and reaching a speed of Mach 5; it did not meet the planned 300 second flight duration, however. The flight had the longest scramjet burn time of 140 seconds. The X-43 had the previous longest flight burn time of 12 seconds, while setting a new speed record of Mach 9.8 (12,144 km/h, 7,546 mph).
Three more test flights are planned and will use the same flight trajectory. Boeing proposed to the Air Force Research Laboratory that two test flights be added in order to increase the total to six, with flights taking place at four to six week intervals, assuming there are no failures.
Specifications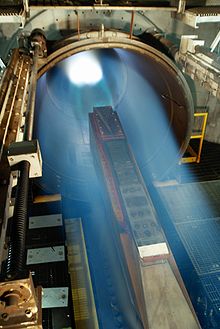 Picture - SJX61-2 engine successfully completes ground tests simulating Mach 5 flight conditions.
Data from Global Security
Crew: Not applicable
Length: 26 ft in (7.9 m)
Empty weight: 4,000 lb (1,814 kg)

Maximum speed: Mach 7+

Waverider
Flight airspeed record

Related development
NASA X-43

Boeing X-51 Pictures
Living Warbirds: The best warbirds DVD series.
Source: WikiPedia