Boeing XB-44 Superfortress Video - Picture
Boeing XB-44 Superfortress Aircraft Information
Boeing XB-44 Superfortress
XB-44 Superfortress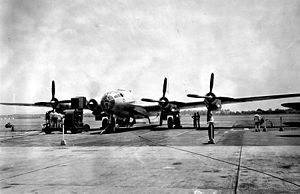 Picture - Boeing XB-44
Role: Engine testbed
Manufacturer: Boeing
First flight: May 1945
Developed from: B-29 Superfortress
Developed into: B-50 Superfortress

The Boeing XB-44 Superfortress was a United States B-29 Superfortress bomber aircraft upgraded with Pratt & Whitney R-4360-33 Wasp Major radial engines of 3,000 horsepower (2,200 kW) takeoff rating, in place of the production engines rated at 2,200 hp (1,600 kW) takeoff rating.
Development
The program began in mid-1943, when Pratt & Whitney proposed to the United States Army Air Forces (USAAF) that the B-29 be modified with larger engines. In July 1944, a contract was signed and one B-29A-5-BN (s/n 42-93845) was made available to P & W for developmental work. Modification involved complete redesign of the four engine nacelles, including the addition of a large airscoop below each cowling.
Because the aircraft was intended to be only a testbed for the engine installation, most of its defensive equipment was removed before testing. Two machine guns in the rear fuselage were left in place.
Only the one aircraft was used in the B-44 flight test program.
First flying in May 1945, the XB-44 proved 50-60 mph faster than the B-29 (available sources do not indicate how much of this increased speed was due to differing aircraft weight or to deleted armament).
Production of the re-engined bomber was initially planned as the B-29D, but it was decided to change the aircraft designation in military inventory because of the extensive airframe changes that would be required (this design work would have to be performed by the aircraft manufacturer, Boeing; it was not performed on the B-44 prototype except for the engine nacelle rework). The upgrade program became the B-50 Superfortress in December 1945. Officially, the aircraft's new designation was justified by the changes separating the proposed B-29D from its predecessors:
New engines
New engine nacelles and engine mounts
Larger vertical tail required for engine-out stability
Wing reinforcing due to greater engine weight
Revised routing for combustion and exhaust gases
Upgraded armament-control equipment
Increases in landing gear capability
Added fuel capacity

However, according to Peter M. Bowers, a long-time Boeing employee and small aircraft designer, and a well-known authority on Boeing aircraft, "the redesignation was an outright military ruse to win appropriations for the procurement of an aeroplane that by its designation appeared to be merely a later version of an existing model that was being canceled wholesale, with many existing examples being put into dead storage."
Engine power
When the R-4360 was first developed, its takeoff power rating was 3000 horsepower. By the time it was incorporated into the B-50, its MTO rating was 3,500 horsepower (2,600 kW), and even higher when used in other aircraft (e.g., 3800 in the Convair B-36). Much of the difference is due to differing turbochargers installed in the different aircraft (the engine also contains a supercharger, gear-driven by the crankshaft).
Aircraft specification
General characteristics
Length: ()
Wingspan: ()
Height: ()

Performance
Related development
B-29 Superfortress
XB-39 Superfortress
B-50 Superfortress

Comparable aircraft
XB-38 Flying Fortress

Bibliography
Jones, Lloyd S. U.S. Bombers, B-1 1928 to B-1 1980s. Fallbrook, CA: Aero Publishers, 1962, second edition 1974. ISBN 0-8168-9126-5.

Boeing XB-44 Superfortress Pictures
Living Warbirds: The best warbirds DVD series.
Source: WikiPedia