Boulton Paul Balliol Video - Picture
Boulton Paul Balliol Warbird Information
Boulton Paul Balliol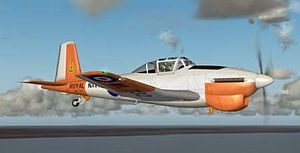 Aircraft Picture - Sea Balliol
Role: Two-seat Trainer
Manufacturer: Boulton Paul Aircraft
Designer: John Dudley North
First flight: 30 May 1947
Introduction: 1950
Status: Retired
Primary users: Royal Air Force Royal Navy Fleet Air Arm Royal Ceylon Air Force
Number built: 229

The Boulton Paul Balliol and Sea Balliol were monoplane military advanced trainer aircraft built for the United Kingdom's Royal Air Force (RAF) and the Royal Navy Fleet Air Arm (FAA) by Boulton Paul Aircraft. Developed in the late 1940s the Balliol was designed to replace the North American Harvard trainer and used the Rolls-Royce Merlin engine, with the Sea Balliol a naval version for deck landing training.
Design and development
The Balliol was developed to meet Air Ministry Specification T.7/45 for a three-seat advanced trainer powered by a turboprop engine, competing against the Avro Athena. It was a conventional low-wing monoplane with a retractable main undercarriage and a fixed tailwheel. Pilot and instructor sat side-by-side ahead of the observer. The first prototype first flew on 30 May 1947, being temporarily powered by an 820 hp (611 kW) Bristol Mercury 30 radial engine. The second prototype, powered by the intended Armstrong Siddeley Mamba turboprop, first flew on 17 May 1948, the world's first single-engined turboprop aircraft to fly. The Air Ministry had second thoughts about its training requirements, and issued a new specification, T.14/47, requiring a two seat trainer, powered by a Rolls-Royce Merlin piston engine.
The Merlin powered Balliol, designated Balliol T.2, first flew on 10 July 1948, and after extensive evaluation, it was chosen over the Athena, with large orders being placed to replace some of the Harvards in RAF service. The observer's seat of the Mk 1 was removed, the side-by-side seats remaining.
The Sea Balliol T.21 had folding wings and arrestor hook for deck landings.
By 1951, however, the Air Ministry changed its mind about its training requirements yet again and decided to introduce a jet-powered advanced trainer, the de Havilland Vampire T.Mk11.
Operational history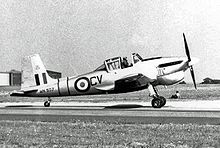 Airplane Picture - Balliol T.2 of The Royal Air Force College at a display at Hooton Park in 1955
Pre-production Balliols were delivered to the RAF's Central Flying School in 1950, but with the change in air-training policy, the Balliol was only delivered to one Flying Training School, - No. 7 at RAF Cottesmore, replacing their Harvards. The Balliol later served at the RAF College, Cranwell until replaced there by the de Havilland Vampire T.Mk 11 in 1956. The Balliol also saw limited squadron service from 1953 with No. 288 Squadron RAF based at RAF Middle Wallop. Operations continued until the squadron was disbanded in September 1957.
The Sea Balliols served with 781 squadron at Lee-on-Solent and 1843 Squadron RNVR at Abbotsinch. The last one was delivered in December 1954. Some remained active at Abbotsinch until September 1963.
Two Balliols were used for the testing of radar absorbing coatings.
The only Balliols exported were 12 Mk.2s to the Royal Ceylon Air Force.
Variants
P.108 Balliol T.Mk 1 Prototypes, 3 built, powered by the Armstrong Siddeley Mamba
Balliol T.Mk 2 Two-seat advanced training aircraft for the RAF; 196 built, (166 built by Boulton Paul, and 30 built by Blackburn Aircraft).
Sea Balliol T.Mk 21 Two-seat advanced training aircraft for FAA. A total of 30 built by Boulton Paul.
Operators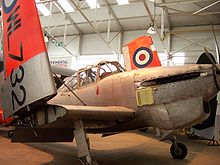 Airplane Picture - A Boulton Paul Sea Balliol T.21 on display at the RAF Museum Cosford
Ceylon
Royal Ceylon Air Force

United Kingdom
Aeroplane and Armament Experimental Establishment
Empire Test Pilot's School
Royal Air Force
No. 288 Squadron RAF
No. 238 Operational Conversion Unit.
No. 7 Flying Training School (RAF Cottesmore)
Central Flying School
RAF College Cranwell
Royal Navy, Fleet Air Arm
702 Naval Air Squadron
750 Naval Air Squadron
781 Naval Air Squadron
1843 Naval Air Squadron (Royal Naval Volunteer Reserve)

Survivors
Sri Lanka
On display
Balliol T2 CA310 on display on the parade ground at SLAF Ground Combat Training Unit at Diyatalawa.

Stored or under restoration
Balliol T2 CA303 stored by the Sri Lankan Air Force Museum, Ratmalana Air Base.

United Kingdom
On display
Sea Balliol T21 WL732 former Royal Navy and A&AEE aircraft on display in Hangar 1 as part of the transport and training collection at the Royal Air Force Museum Cosford.

Stored or under restoration
Balliol T2 WN149 under restoration to display standard by the Boulton Paul Association at Wolverhampton, West Midlands.

Specifications (T.2)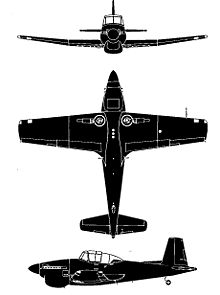 Airplane Picture - Boulton & Paul Balliol T.2
Data from Aircraft of the Royal Air Force
General characteristics
Crew: 2
Length: 35 ft 1½ in (10.71 m)
Wingspan: 39 ft 4 in (11.99 m)
Height: 12 ft 6 in (3.81 m)
Wing area: 250 ft² (24.2 m²)
Empty weight: 6,730 lb (3,059 kg)
Loaded weight: 8,410 lb (3,823 kg)
Powerplant: 1 x— Rolls-Royce Merlin 35 V-12 piston, 1,245 hp (929 kW)

Performance
Maximum speed: 250 kn (288 mph, 464 km/h) at 9,000 ft
Range: 574 nmi (660 mi, 1,063 km)
Service ceiling: 32,500 ft (9,909 m)
Rate of climb: 1,790 ft/min (9.1 m/s)
Wing loading: 33.6 lb/ft² (158 kg/m²)
Power/mass: 0.148 hp/lb (0.243 kW/kg)
Endurance 3 hours at 220 mph (355 km/h)
Climb to 10,000 ft 6 minutes

Armament
Rockets: Provision for 4 x— "60-lb" rockets.

Comparable aircraft
Avro Athena

Bibliography
Donald, David, ed. The Encyclopedia of World Aircraft. London: Aerospace Publishing, 1997. ISBN 1-85605-375-X.
Ellis, Ken. Wrecks & Relics, 21st edition. Manchester, UK: Crécy Publishing, 2008. ISBN 9-780859-791342.
Jefford, Wing Commander C.G., MBE,BA,RAF (Retd). RAF Squadrons, a Comprehensive Record of the Movement and Equipment of all RAF Squadrons and their Antecedents since 1912. Shrewsbury, Shropshire, UK: Airlife Publishing, 2001. ISBN 1-84037-141-2.
Thetford, Owen. Aircraft of the Royal Air Force 1918-57. London: Putnam, First Edition 1957.
Thetford, Owen. British Naval Aircraft since 1912, Fourth Edition. London: Putnam, 1994. ISBN 0-85177-861-5.

Boulton Paul Balliol Pictures
More airplane video.
Source: WikiPedia