Boulton & Paul Overstrand Video - Picture
Boulton & Paul Overstrand Warbird Information
Boulton & Paul Overstrand
Overstrand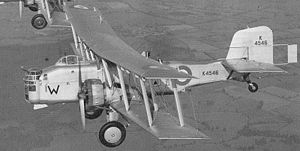 Role: Bomber
Manufacturer: Boulton Paul
Designer: H.A. Hughes
First flight: 1933
Introduction: 1934
Retired: 1941
Primary user: Royal Air Force
Number built: 28 (four converted Sidestrands)
Developed from: Boulton Paul Sidestrand

The Boulton Paul P.75 Overstrand was the last of the twin-engine biplane medium bombers of the Royal Air Force, a series that had begun during the First World War with the likes of the Vickers Vimy and Handley Page Type O. The Overstrand only saw brief service in the late 1930s and by the outbreak of the Second World War only a few surviving aircraft remained in operation with training units.
Design and development
The Overstrand was essentially an upgrade of Boulton & Paul's Sidestrand which had first flown in 1928 and like the Sidestrand was named for a village in Norfolk, home also of Boulton Paul's Norwich factory. The Sidestrand was similar to its First World War predecessors in that it had open cockpits and hand-operated defensive machine guns. However, unlike its predecessors, the Sidestrand could fly at 140 mph (225 km/h) making operating the exposed gun positions difficult, particularly in the aircraft's nose.
To overcome this problem, the Overstrand was fitted with an enclosed and powered nose turret mounting a single Lewis gun. As such the Overstrand was the first RAF aircraft to have a power-operated turret. Rotation was handled by pneumatic motors while elevation and depression of the gun used hydraulic rams. The pilot's cockpit was also enclosed but the dorsal and ventral gun positions remained open, though shielded.
Operational history
The first Overstrand, at the time designated the Sidestrand Mk IV, flew in 1933, powered by two 580 hp (430 kW) Bristol Pegasus IM.3 engines, instead of the Sidestrand's 460 hp (340 kW) Bristol Jupiters, and was capable of 153 mph (246 km/h). The bombload was also increased to 1,500 lb (680 kg). The conversion was a success and three more Sidestrands were modified using the 580 hp (430 kW) Bristol Pegasus II.M3.
24 Overstrands were produced and in 1936 began replacing the Sidestrand in service. The Overstrand was operated by No. 101 Squadron RAF (which had been the sole Sidestrand squadron) and briefly by No. 144 Squadron RAF (though they were replaced by Bristol Blenheims in 1938).
At the outbreak of the Second World War, 11 Overstrands remained in service and six of these were used for gunnery training. They remained in operation until May 1941 though flying was limited following the mid-air breakup of Overstrand K8173 on 22 April 1940.
There were plans to develop a version with retractable undercarriage, dubbed the P.80 "Superstrand", but the project was abandoned.
Operators
United Kingdom
Royal Air Force
No. 101 Squadron RAF
No. 144 Squadron RAF
RAF Second line units
No. 2 Air Observer School RAF
No. 10 Bombing and Gunnery School RAF
Balloon Development Unit RAF
Army Co-operation Development Unit RAF

Accidents and incidents
A number of Overstrands were destroyed or beyond economic repair in accidents, the type had only two fatal accidents:
11 January 1937 K4564 of 101 Squadron flew into ground in fog at Swanbourne, Buckinghamshire, three crew killed.
22 April 1940 K8173 of 101 Squadron crashed off Chesil Beach, Dorset following an engine fire, three crew killed.

Specifications
Data from the British Bomber since 1914
General characteristics
Crew: three or four; pilot and two-three gunners
Length: 46 ft 0 in (14.02 m)
Wingspan: 72 ft 0 in (21.95 m)
Height: 15 ft 6 in (4.73 m)
Wing area: 980 ft² (91.1 m²)
Empty weight: 7,936 lb (3,607 kg)
Max takeoff weight: 11,923 lb (5,420 kg)
Powerplant: 2 x— Bristol Pegasus II.M3 9 cylinder radial engine, 580 hp (433 kW) each

Performance
Maximum speed: 148 mph (129 knots, 238 km/h) at 6,500 ft (1,980 m)
Range: 545 mi (474 nmi, 872 km)
Service ceiling: 21,300 ft (6,490 m)
Wing loading: 12.2 lb/ft² (59.4 kg/m²)
Power/mass: 0.097 hp/lb (0.16 kW/kg)
Climb to 6,500 ft (1,980 m): 5 min 24 sec

Armament
Guns: 3 x— .303 in (7.7 mm) Lewis guns in nose turret, dorsal and ventral gun positions
Bombs: 1,500 lb (680 kg) bombs (2 x— 500 lb/227 kg and 2 x— 250 lb/113 kg) and 4 x— 20 lb (9 kg) bombs could be carried on fuselage racks by the cockpit and dorsal gun position

Related development
Boulton Paul Sidestrand

Related lists
List of bomber aircraft

Bibliography
Brew, Alec. Boulton Paul Aircraft since 1915. London: Putnam, 1993. ISBN 0-85177-860-7.
Halley, James J. Royal Air Force Aircraft: K1000 to K9999. Tonbridge, Kent, UK: Air-Britain (Historians) Ltd., 1976. ISBN 0-851330-048-0.
Lewis, Peter. The British Bomber since 1914: Fifty Years of Design and Development. London: Putnam & Company Ltd./Fallbrook, California: Aero Publishers Inc., 1967.
March, Daniel J. 'British Warplanes of World War II. Rochester, Kent, UK: Grange Books, 2000. ISBN 1-84013-391-0.
Mason, Francis K. The British Bomber since 1912. London: Putnam, 1994. ISBN 0-85177-861-5.
Taylor, John W.R. "Boulton and Paul Overstrand". Combat Aircraft of the World from 1909 to the Present. New York: G.P. Putnam's Sons, 1969. ISBN 0-425-03633-2.
Taylor, Michael J.H., ed. "Boulton Paul Overstrand".Jane's Encyclopedia of Aviation, Vol. 2. Danbury, Connecticut: Grolier Educational Corporation, 1980. ISBN 0-7106-0710-5.
Winchester, Jim. Bombers of the 20th Century. London: Airlife Publishing Ltd., 2003. ISBN 1-84037-386-5.

Boulton & Paul Overstrand Pictures
More airplane video.
Source: WikiPedia