Boulton Paul P.120 Video - Picture
Boulton Paul P.120 Warbird Information
Boulton Paul P.120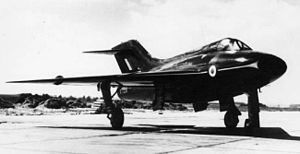 Aircraft Picture - Boulton Paul P.120 VT 951 in its "black" paint scheme
Role: research aircraft
Manufacturer: Boulton Paul
First flight: 6 August 1952
Retired: 1952
Status: Cancelled
Number built: 1
Developed from: Boulton Paul P.111

The Boulton Paul P.120 was a British research aircraft produced to investigate delta-wing aerodynamics in the early 1950s. It was very similar to the tailless Boulton Paul P.111 apart from having a horizontal tailplane.
Design and development
The P.120 followed the earlier Boulton Paul P.111 delta-wing experimental aircraft. It was produced for the Air Ministry to specification E.27/49 and differed from the P.111 in having a swept fin and rudder with horizontal tail surfaces high on the fin to improve longitudinal and directional stability. It had essentially the same wing as the P.111 in the latter's greatest span configuration, an unclipped delta; the wing tips of the P.120 were not removable or replaceable, but they could be rotated differentially or together for lateral or longitudinal trim. Just inboard of these tips the P.120 gained a pair of wingfences. The fuselages of the two aircraft were also identical, except towards the rear.
Testing and evaluation
Test flying took place at Boscombe Down. Although there had been a problem on its first test flight on 6 August 1952 test pilot "Ben" Gunn when the tailplane incidence required for takeoff in the available distance was misjudged, the P.120 had exhibited pleasant flying characteristics over 11 hours of flight time. Shortly before the Farnborough Air Show of September 1952 the previously unpainted P.120 received a gloss black (with yellow trim) finish and immediately gained the nickname "Black-Widowmaker." On 28 August Gunn encountered severe flutter which led to the loss of the whole port elevon. Unable to keep the aircraft flying and despite the dramatic nickname he ejected safely, making the first ejection from a delta winged aircraft though the P.120 was lost.
Although plans were made to convert the earlier P.111 to the P.120 configuration, a decision was made to suspend further development, making the P.120 the last Boulton Paul design to fly.
Specifications (P.120)
Data from Brew 1993, p. 307. The performance figures are those of the P.111, based on the similarity of the two aircraft. The P.120 never exceeded about 450 kn in its 11 hrs of flying.
General characteristics
Crew: 1
Length: 29 ft 7½ in (9.03 m)
Wingspan: 33 ft 5½ in (10.20 m)
Height: 9 ft 6.5 in (2.91 m)
Wing area: 290.13 ft² (26.96 m²)
Empty weight: 10,656 lb (4,844 kg)
Loaded weight: 12,580 lb (5,718 kg)
Powerplant: 1 x— Rolls-Royce Nene RN.2 , 5,100 lb static thrust (22.7 kN)

Performance
Maximum speed: ~450kn

Bibliography
Brew, Alec. Boulton Paul Aircraft since 1915. London: Putnam, 1993. ISBN 0-85177-860-7.
Jones, Barry. British Experimental Turbojet Aircraft. London: Crowood, 2007. ISBN 978-1861268600.

Boulton Paul P.120 Pictures
More airplane video.
Source: WikiPedia