Boulton Paul P.9 Video - Picture
Boulton Paul P.9 Warbird Information
Boulton Paul P.9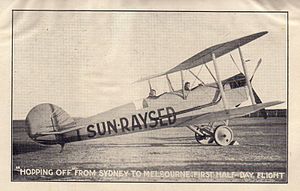 Role: Light utility aircraft
Manufacturer: Boulton & Paul Ltd
First flight: May 1919
Number built: 8

The Boulton & Paul P.9 was a British single-engined twin-seat aircraft. The wings and fuselage were constructed of wood with fabric covering. It was built by Boulton & Paul Ltd.
Design and development
The P.9 was designed as a larger version of the companies P.6 single-engined biplane design, it was 6ft longer with a 2ft 6in increase in wing span. It had the same 90 hp (67 kW) RAF 1 V-8 engine as the P.6 but had an increased fuel capacity. The first order was from L.L Long for use on a sheep station in Australia and the first aircraft was delivered to Australia and it was soon used on newspaper delivery flights. On 17 December 1919 it made the first flight across the Bass Strait between Tasmania and the mainland.
With the success of the first aircraft in Australia, minor changes were made to production aircraft, including a compartment behind the cockpit to carry two specially built suitcase. Although the aircraft was for sale at a modest £700, mainly due to the use of an old but standard engine, it failed to compete with war-surplus sales of converted military aircraft and only eight aircraft were built in total, including a further three to Australia.
Specifications
Data from British Civil Aircraft since 1919
General characteristics
Crew: 2
Length: 24 ft 8 in (7.52 m)
Wingspan: 27 ft 6 in (8.38 m)
Height: 10 ft 0 in (3.05 m)
Wing area: 323 ft² (30.0 m²)
Empty weight: 1,244 lb (565 kg)
Loaded weight: 1,770 lb (805 kg)
Powerplant: 1 x— RAF 1a air-cooled V8 engine, 90 hp (67 kW)

Performance
Maximum speed: 104 mph (90 kn, 167 km/h)
Cruise speed: 85 mph (74 kn, 136 km/h)
Range: 300 mi (261 nmi, 483 km)
Service ceiling: 14,000 ft (4,267 m)
Rate of climb: 650 ft/min (3.30 ft/s)
Wing loading: 5.48 lb/ft² (26.8 kg/m²)
Power/mass: 0.051 hp/lb (0.083 kW/kg)

Bibliography
"The Boulton And Paul P.9 Biplane". Flight (21 September 1921): 541-544. http://www.flightglobal.com/pdfarchive/view/1922/1922%20-%200541.html.
Jackson, A.J. (1974). British Civil Aircraft since 1973. London: Putnam. ISBN 0 370 10006 9.
"Boulton & Paul P.9". British Aircraft Directory. http://www.britishaircraft.co.uk/aircraftpage.php?ID=618. Retrieved 2008-07-23.

Boulton Paul P.9 Pictures
More airplane video.
Source: WikiPedia