Boulton Paul Sidestrand Video - Picture
Boulton Paul Sidestrand Warbird Information
Boulton Paul Sidestrand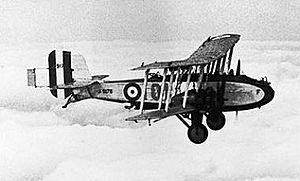 Role: Bomber
Manufacturer: Boulton Paul
Designer: H.A. Hughes
First flight: 1926
Introduction: 1928
Retired: 1936
Primary user: Royal Air Force
Number built: 20 (four Sidestrands were converted into the Boulton Paul Overstrand)
Variants: Boulton Paul Overstrand

The Boulton Paul P.29 Sidestrand was a twin-engine biplane medium bomber of the Royal Air Force. Named after a village on the Norfolk coast near Boulton & Paul's factory in Norwich, the Sidestrand first flew in 1926 and entered service in 1928. It remained in service until 1936, only ever equipping one squadron; No. 101 Squadron RAF. It was an agile and relatively fast aircraft that was capable of aerobatic manoeuvres such as loops, rolls and spins.
Design and development
Boulton & Paul Ltd of Norwich built a series of twin-engined biplanes starting with the Bourges of 1918, which although not ordered into production, had demonstrated excellent performance and manoeuvrability, followed by the all-metal Bolton of 1922 and the smaller Bugle of 1923. In 1924, the Air Ministry issued Specification 9/24 for an all-metal, twin engined medium bomber, with an order for two prototypes following early in 1925.
The village of Sidestrand, chosen for the aircraft name, was the home of the then Secretary of State for Air, Samuel Hoare
Only 20 Sidestrands were ever built. The first two, essentially prototypes, were designated the Sidestrand Mk I. Originally intended to be powered by two Napier Lion inline engines, the Mk I was eventually fitted with 425 hp (317 kW) Bristol Jupiter VI radial engines which also powered the first six production Sidestrands, designated the Sidestrand Mk II. The remaining 12 aircraft were powered by 460 hp (343 kW) Jupiter VIIFs and were designated the Sidestrand Mk III. The six Mk IIs were also re-engined to bring them up to the Mk III specification.
The Sidestrand had three open defensive gun positions; nose, dorsal and ventral. The crew usually consisted of three personnel; pilot, nose gunner and a single gunner for the dorsal or ventral positions, the choice depending on where each individual aircraft was intended to fly in a formation. Armament for each position was a single .303 in (7.7 mm) Lewis gun. The Sidestrand's bombload was limited to 1,050 lb (476 kg) which did not compare favourably with its contemporaries such as the Martin B-10.
Operational history
Deliveries to the newly re-formed No. 101 Squadron at Bircham Newton began in 1928, the first batch of six aircraft being the Sidestrand Mk II with ungeared Bristol Jupiter VI engines. These were followed by nine of the Sidestrand Mk III variants with geared Jupiter VIII Fs, and the final three production aircraft were replacement Mk IIs. The squadron then moved to RAF Andover in 1929.
The Sidestrand inherited the good manoeuvrability of the Boulton Paul P. 7 Bourges, but despite proving to be an excellent aircraft for bombing and gunnery, only No. 101 Squadron was equipped. In the early 1930s a Sidestrand Mk III was fitted with Bristol Pegasus IM3 engines. This was intended to become the Sidestrand Mk IV, but eventually became the prototype for the redeveloped Boulton Paul Overstrand which would begin replacing the Sidestrand in service in 1936. Four Sidestrands were eventually converted to Overstrand standard and essentially are considered Overstrands.
Variants
Sidestrand I
Two prototypes.
Sidestrand II
Production variant, six built converted to Sidestrand III.
Sidestrand III
Improved production variant, 12 built, four converted to Boulton Paul Overstrands.
Sidestrand V
Improved variant modified from a Mark III with more powerful engines, an enclosed cockpit and nose-mounted power-operated turret, renamed Overstrand
Operators
United Kingdom
Royal Air Force
No. 101 Squadron RAF

Specifications (Mk III)
Data from The British Bomber since 1914
General characteristics
Crew: three or four (pilot and 2-3 gunners)
Length: 46 ft 0 in (14.02 m)
Wingspan: 71 ft 11 in (21.93 m)
Height: 14 ft 9½ in (4.51 m)
Wing area: 979.5 ft² (90.3 m²)
Empty weight: 6,370 lb (2,895 kg)
Loaded weight: 10,200 lb (4,636 kg)
Powerplant: 2 x— Bristol Jupiter VIIIF 9-cylinder air-cooled radial engine, 460 hp (343 kW) each

Performance
Maximum speed: 139 mph (121 kn, 224 km/h) at 6,500 ft (1,980 m)
Range: 520 mi (452 nmi, 873 km)
Service ceiling: 20,800 ft (6,300 m)
Wing loading: 10.4 lb/ft² (50.3 kg/m²)
Power/mass: 0.090 hp/lb (148 W/kg)
Climb to 6,500 ft (1,980 m): 6 min 42 sec

Armament
Guns: 3 x— .303 in (7.7 mm) Lewis guns in nose, dorsal and ventral gun positions
Bombs: 1,040 lb (473 kg) total

Related development
Boulton Paul Overstrand

Bibliography
Brew, Alec. Boulton Paul Aircraft since 1915. London: Putnam, 1993. ISBN 0-85177-860-7.
Jarrett, Philip. "By Day and By Night: Sidestrand and Overstrand, Part 1." Aeroplane Monthly, Vol. 22, No. 11, Issue 259, November 1994, pp. 18-23. London: IPC. ISSN 0143-7240. .
Jarrett, Philip. "By Day and By Night: Sidestrand and Overstrand, Part 2." Aeroplane Monthly, Vol. 22, No. 12. Issue 260, December 1994, pp. 18-23. London: IPC. ISSN 0143-7240.
Mason, Francis K. The British Bomber since 1912. London: Putnam, 1994. ISBN 0-85177-861-5.
Taylor, John W.R. "Boulton and Paul Sidestrand". Combat Aircraft of the World from 1909 to the Present. New York: G.P. Putnam's Sons, 1969. ISBN 0-425-03633-2.
Taylor, Michael J.H., ed. "Boulton Paul Sidestrand".Janes's Encyclopedia of Aviation, Vol. 2. Danbury, Connecticut: Grolier Educational Corporation, 1980. ISBN 0-7106-0710-5.
Thetford, Owen. "By Day and By Night: Sidestrand and Overstrand, Part 3 Service History." Aeroplane Monthly, Vol. 23, No. 1, Issue 261, January 1995, pp. 32-39. ISSN 0143-7240.
Winchester, Jim. Bombers of the 20th Century. London: Airlife Publishing Ltd., 2003. ISBN 1-84037-386-5.

Boulton Paul Sidestrand Pictures
More airplane video.
Source: WikiPedia