Breguet 17 Video - Picture
Breguet 17 Aircraft Information
Breguet 17
17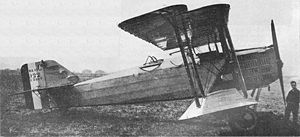 Role: Heavy fighter
Manufacturer: Breguet
First flight: 1918
Primary user: French Army
Number built: ca. 100

The Breguet 17 was a fighter biplane developed in France towards the end of World War I and operated by that country during the 1920s.
Design and development
The Breguet 17 was a derivative of the highly-successful 14 bomber, but somewhat scaled down and carrying a more powerful engine and heavier machine gun armament in place of a bomb load. The French Army was impressed enough to place orders for 1,000 of these aircraft during 1918, to be delivered the following year. The end of World War I also ended these plans, but some limited production did take place into the early 1920s.
Operational history
The type was operated as the Bre.17C.2 with several escadrilles as a supplement to existing aircraft, but never formed the basis of any one unit on its own. A single example was converted into a prototype night fighter, but no production ensued.
Variants
Bre.17C.2 Main production version. Bre.17 Night fighter prototype.
Operators
France
French Army

Specifications
General characteristics
Crew: Two, pilot and gunner
Length: 8.10 m (26 ft 7 in)
Wingspan: 14.28 m (16 ft 10 in)
Height: 3.42 m (11 ft 3 in)
Wing area: 43.3 m² (466 ft²)
Gross weight: 1,840 kg (4,056 lb)
Powerplant: 1 x— Renault 12K1, 336 kW (450 hp)

Performance
Maximum speed: 218 km/h (135 mph)
Service ceiling: 7,500 m (24,610 ft)
Rate of climb: 5.8 m/s (1,140 ft/min)

Armament
2 x— fixed, forward-firing 7.7 mm (.303 in) Vickers machine guns
2 x— trainable, rearward-firing 7.7 mm (.303 in) Lewis Guns in ring mount in rear cockpit
1 x— trainable, downward-firing 7.7 mm (.303 in) Lewis gun through trap door in rear cockpit

Taylor, Michael J. H. (1989). Jane's Encyclopedia of Aviation. London: Studio Editions. pp. 198.
World Aircraft Information Files. London: Bright Star Publishing. pp. File 890 Sheet 80.

Breguet 17 Pictures and Breguet 17 for Sale.
Living Warbirds: The best warbirds DVD series.
Source: WikiPedia