Breguet 941 Video - Picture
Breguet 941 Aircraft Information
Breguet 941
941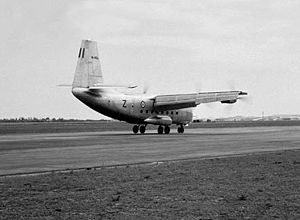 Picture - Breguet 941
Role: STOL Transport
Manufacturer: Breguet
First flight: 21 May 1958 (Breguet 940) 1 June 1961 (Breguet 941)
Introduction: 1967
Retired: 1974
Primary user: French Air Force
Number built: 1 + 5

The Breguet 941 was a French four-engine STOL transport aircraft developed by Breguet in the 1960s. Although widely evaluated, it was not built in large numbers, with only one prototype and four production aircraft being built.
Design and development
In the late 1940s and early 1950s, the French aviation pioneer Louis Charles Breguet developed a concept for a Short Take Off and Landing (STOL) aircraft using four "Free Turbine" turboshaft engines to drive a common power shaft, which, in turn drove four oversize propellers, which were evenly spaced along the leading edge of the wing with large, full-span, slotted flaps, with the arrangement known as "l'aile soufflée" or blown wing .
An initial, experimental prototype, powered by four Turbomeca Turmo II engines, the Breguet 940, first flew on 21 May 1958 , and was used to prove the concept, demonstrating excellent short field performance. This led to an order being placed in February 1960 for a prototype of an aircraft employing the same concept, but capable of carrying useful loads. This aircraft, the Breguet 941, first flew on 1 June 1961.
Testing of this prototype resulted in an order for four improved production aircraft, the Breguet 941S for the French Air Force, first flying on 19 April 1967. These were fitted with more powerful engines and a modified rear cargo door to allow for air-dropping of stores .
Operational history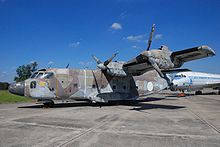 Picture - Breguet 941S preserved at the Musée de l'Air et de l'Espace
The 941 prototype was tested extensively by both France, and the United States, where a license agreement had been made with McDonnell Aircraft. The prototype, known as the McDonnell 188 in the USA, was evaluated by both NASA and the US Military, but no orders were placed. The second Br 941S also carried out a tour of the United States, being evaluated as a STOL passenger airliner for operation from small city airports , although, again, no orders resulted.
The four Breguet 941S entered service with the French Air Force in 1967, continuing in service until 1974 .
Variants
Breguet 940 Experimental prototype for concept demonstration, one built.
Breguet 941 Prototype transport, one built.
Breguet 941S Production version for the French Air Force, an enlarged version of the 941, 4 built.
Operators
France
Armée de l'Air

Survivors
The fourth and last Breguet 941S is on display at the Musée de l'Air et de l'Espace in Paris.

Specifications (941S)
Data from The Encyclopedia of World Aircraft
General characteristics
Crew: Two
Capacity: 57 civil passengers or 40 fully loaded troops or 24 stretchers
Length: 23.75 m (77 ft 11 in)
Wingspan: 23.40 m (76 ft 9¼ in)
Height: 9.65 m (31 ft 8 in)
Wing area: 83.8 m² (902 ft²)
Empty weight: 13,460 kg (29,610 lb)
Max takeoff weight: 26,500 kg (58,422 lb)
Powerplant: 4x— Turbomeca Turmo IIID3 turboprop, 1,119 kW (1,500 hp) each

Performance
Maximum speed: 450 km/h (240 kn, 280 mph)
Cruise speed: 400 km/h (220 kn, 250 mph)
Range: 1,000 km (540 nmi, 620 mi)
Service ceiling: 9,500 m (31,200 ft)
Take-off run (at 22,000 kg (48,500 lb)): 185 m (607 ft)

Breguet 941 Pictures and Breguet 941 for Sale.
Living Warbirds: The best warbirds DVD series.
Source: WikiPedia