Breguet Aerhydroplane Video - Picture
Breguet Aerhydroplane Aircraft Information
Breguet Aerhydroplane
Aerhydroplane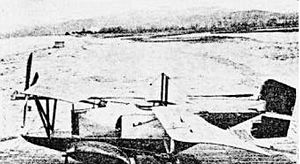 Picture - Low-quality contemporary left-hand-side view. The aircraft's four-bladed propeller is to the left, its tailfin to the right.
Role: Experimental flying boat
Manufacturer: Breguet
Designed by: Louis Breguet and Alphonse Tellier
First flight: 1913 (Water taxiing)
Number built: 1

The Breguet Aerhydroplane was a large experimental flying boat developed in France in 1912.
Huge for its day, it was a parasol-wing monoplane of canard configuration (described in some sources as a tandem wing design on account of the wide span of the foreplane relative to the mainplane) with a single tractor propeller turned by a chain drive to an engine located within the hull. The hull was designed for Breguet by Alphonse Tellier and featured wide sponsons. The empennage was the cruciform tail common to early Breguet designs. Christened La Marsellaise, it was displayed at the Salon de l'Aéronautique in 1912 and demonstrated at Monaco by Breguet in 1913 along with his more conventional H-U2 and H-U3 seaplanes. Here, it proved itself capable of maneuvering on water, but incapable of actually taking off, its 97 kW (130 hp) engine incapable of making its 2,000 kg (4,410 lb) airborne. All development was abandoned at this point.
Specifications
General characteristics
Empty weight: 1,400 kg (3,090 lb)
Gross weight: 2,000 kg (4,400 lb)
Powerplant: 1 x— Salmson, 97 kW (130 hp)

Performance
Bibliography
Taylor, Michael J. H. (1989). Jane's Encyclopedia of Aviation. London: Studio Editions. pp. 197.
Hartmann, Gérard. Les premiers appareils Breguet.
Hartmann, Gérard. Les hydravions d'Alphonse Tellier.
Hartmann, Gérard. Les premiers hydravions géants franx§ais.

Breguet Aerhydroplane Pictures and Breguet Aerhydroplane for Sale.
Living Warbirds: The best warbirds DVD series.
Source: WikiPedia