Breguet Atlantic Video - Pictures
Breguet Atlantic Video - Takeoff
Breguet Atlantic Aircraft Information
Breguet Atlantic
Br.1150 Atlantic Atlantique 2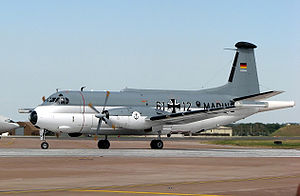 Picture - Breguet Atlantic of the German Navy.
Role: Patrol aircraft
Manufacturer: Breguet Aviation
First flight: 21 October 1961
Status: Active service
Primary users: French Navy German Navy Italian Navy Royal Netherlands Navy
Produced: 1961 - 1987
Number built: 87 Atlantique 1 28 Atlantique 2
Unit cost: ;$35 Million

The Breguet Br.1150 Atlantic is a long-range reconnaissance aircraft, primarily designed for use over the sea. It is used in several NATO countries as a reconnaissance and patrol aircraft as well as anti-submarine aircraft. The Atlantic is also capable of carrying air-to-ground missiles. The Atlantique 2 is an updated version produced for the French Navy in the 1980s.
Design and development
In 1958 NATO produced a specification for a long range maritime patrol aircraft to replace the Lockheed Neptune, with Breguet's design, the Br 1150, chosen as the winner of the competition at the end of the year, and a multi-national consortium, Société d'x‰tude et de Construction de Breguet Atlantic (SECBAT) set up to develop and build the Atlantic.
The first prototype made its maiden flight at Tolouse on 21 October 1961, with the second prototype flying on 25 February 1962, followed by two pre-production aircraft, with a longer fuselage in February 1963 and September 1964.
The Atlantic is a twin-engined, mid-winged monoplane with a "double-bubble" fuselage, with the upper lobe comprising a pressurised crew compartment, and the lower lobe housing a 9 m (27 ft 6 in) long weapons bay, with sonobuoy tubes aft of the weapons bay. A radar scanner is housed in a retractable underfuselage radome, while a magnetic anomaly detector is housed in a tail boom. Power is by two Rolls-Royce Tyne turboprop engines.
The Breguet Br.1150 Atlantic has been designed for its purpose, instead of refitting or modifying existing designs. Though the primary mission of the Atlantic is anti-submarine and anti-surface warfare, its secondary role includes search and rescue, mine laying and detection, and long-range maritime surveillance.
The Atlantic can carry either eight guided ASW torpedoes such as Mk 46 Torpedo or 12 depth charges or two AM.39 Exocet Anti-Ship missiles in its internal bomb bay. German Atlantic usually carried Mk 46s only and flew unarmed during the last years of their service.
An initial order for 60 Atlantics, 40 for France and 20 for Germany, was placed in 1963, with deliveries starting in 1965 and continuing to 1968. The production line had shut down by the time that the Netherlands placed an order for nine Atlantics and Italy ordered 18. Aircraft from this second production batch were delivered from 1972 to 1974.
In 1978, the French Government authorised development of a new, updated version of the Atlantic, the Atlantic Nouvelle Generation (later known as the Atlantique 2 when orders from other nations did not occur). While airframe and engines of the new aircraft changed little, other equipment and avionics were considerably revised, with a new radar, a new sonar processor and tactical computer, with a FLIR turret under the nose. The ability to carry Exocet missiles was also added. Two prototype Atlantique 2s were produced by converting existing Atlantics, with the first flying on 8 May 1981, with production being authorised on 24 May 1984. Deliveries started in 1989, with 28 eventually built, from an original requirement for 42.
Operational history
The Royal Netherlands Navy lost three Atlantics out of nine aircraft in a series of failures over the Atlantic Ocean, resulting in the grounding of the type in 1981 and its eventual replacement by the P-3 Orion. The German Marineflieger never lost a single plane from 1963 to 2005, altough one was written-off in an accident. The German Atlantics were replaced by the same P-3 Orion airframes the Netherlands had bought in the 1980s to replace the Atlantic, however meanwhile these aircraft were significantly modernized and upgraded, making them state-of-art maritime patrol aircraft.
In 1999, a Pakistan Navy Atlantic was shot down by Indian Air Force MiG-21s after they failed to force it to land at an Indian base, raising tensions in the region, in what was dubbed the Atlantique Incident. Disobeying instructions from the MiG pilots, the Atlantic maneuvered to escape from them and was shot down by a heat-seeking air-to-air missile over the Rann of Kutch region.
Several German Atlantics have been donated to museums, including the Luftwaffenmuseum and the Dutch Air Force Museum, Soesterberg, Netherlands.
A Breguet Atlantic, referred to in news reports as an Atlantic Model 2, was used by the French Army in the search for parts of Air France Flight 447.
Accidents and incidents
May 18, 1986 - While flying through a cloud-covered sky, a French Navy Atlantic crashed into a mountain in Djibouti, killing all 19 people on board.

August 10 1999 - At the Pakistani-Indian border, 16 Pakistani Naval airmen were killed in the Atlantique Incident, just a month after the Kargil War.

Variants
Br.1150 Atlantic Atlantique 2
Operators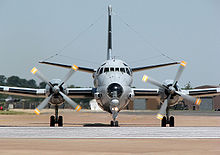 France
French Navy
French Naval Aviation - The original model was retired in 1996. Second generation Atlantique 2 in service.

Germany
German Navy - Received 20 Atlantics, with five converted as ELINT aircraft. Replaced all ASW aircraft by ex-Dutch P-3 Orion in 2005, while the remaining ELINT version will be replaced by the EuroHawks.

Picture - Another view of the above Breguet Atlantic Br.1150 of the German Navy.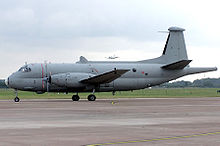 Picture - Breguet Atlantic Br.1150 of the Italian Navy
Italy
Italian Navy - Flown by pilots from the Italian Air Force) and navy, but commanded by the navy.

Netherlands
Royal Netherlands Navy
Dutch Naval Aviation Service - Replaced by the P-3 Orion.

Pakistan
Pakistan Navy
Pakistan Naval Air Arm

Specifications (Atlantique 2)
Data from Jane's All The World's Aircraft 1988-89
General characteristics
Crew: 12
Capacity: 12 passengers or relief crew
Length: 31.62 m (103 ft 9 in)
Wingspan: 37.42 m (122 ft 9¼ in )
Height: 10.89 m (35 ft 8¾ in)
Wing area: 120.34 m² (1,295.3 sq ft)
Empty weight: 25,700 kg (56,659 lb)
Loaded weight: 45,000 kg (99,200 lb)
Max takeoff weight: 46,200 kg (101,850 lb)
Powerplant: 2x— Rolls-Royce Tyne RTy.20 Mk 21 2-shaft turboprops, 6,100 ehp (4,549 kW) each

Performance
Maximum speed: 648 km/h (350 knots, 402 mph)
Cruise speed: 315 km/h (170 knots, 195 mph) (patrol speed)
Stall speed: 167 km/h (90 knots, 104 mph) flaps down
Ferry range: 9,075 km (4,900 nmi, 5,635 mi)
Endurance: 18 hours
Service ceiling: 9,145 m (30,000 ft)
Rate of climb: 14.7 m/s (2,900 ft/min) at 30,000 kg (66,140 lb)

Armament
Up to 3,500 kg (7,700 lb), including torpedoes, depth charges, mines, anti-ship missiles, bombs and/or buoys

Comparable aircraft
Avro Shackleton
Hawker Siddeley Nimrod
Lockheed P-3 Orion

Donald, David and Jon Lake. (editors). Encyclopedia of World Military Aircraft. London:Aerospace Publishing, Single Volume edition, 1996. ISBN 1 874023 95 6.
Lambert, Mark. (editor). Jane's All The World's Aircraft 1993-94. Coulsdon, UK:Jane's Data Division, 1993. ISBN 0 7106 1066 1.
"The New Generation Atlantics". Air International, November 1981, Vol. 21 No. 5. pp. 213-218, 252-253.
Taylor, John W. R. (editor). Jane's All the Worlds Aircraft 1988-89. Coulsdon, Surrey, UK: Jane's Information Group, 1988. ISBN 0 7106-0867-5.

Breguet Atlantic Pictures and Breguet Atlantic for Sale.
Living Warbirds: The best warbirds DVD series.
Source: WikiPedia