Bristol Boxkite Video - Shuttleworth
Bristol Boxkite Video - Old Warden
Bristol Boxkite Aircraft Information
Bristol Boxkite
Bristol Boxkite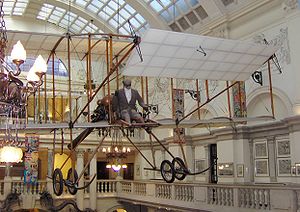 Picture - 1963 Replica of the Bristol Boxkite, now hanging in the Bristol City Museum and Art Gallery
Role: two-seat trainer
Manufacturer: British and Colonial Aeroplane Company
First flight: 29 July 1910
Introduced: 1911
Primary users: Royal Flying Corps Royal Naval Air Service South African Army Australian Flying Corps
Number built: 78
Developed from: Henri Farman biplane

The Bristol Boxkite was an improved version of the early Henri Farman biplane, built in 1910 by the British and Colonial Aeroplane Company (later to be known as the Bristol Aeroplane Company).
History
The Boxkite was developed in 1910 at Britain's first aircraft factory in Filton, Bristol . In spite of its name, it owed no more to the box kite principles developed by Lawrence Hargrave than other biplanes. It was powered by a 70 horsepower "Le Rhone" rotary engine. The aircraft first flew on the 29 July 1910 and went on to become Bristol's first successful production aeroplane. 76 were built, 61 of which were the extended military version, in the years building up to the First World War. Four of these planes constituted the first order placed by the British War Office when it was set up in 1911. Production was at the Filton factory, which was set up within a tramworks.
Being such an early aeroplane, it holds a number of "first" records:
First plane to fly into RAF Bicester
Australia's first passenger flight took place at Altona in February 1911, when Joseph (John) Hammond took his mechanic Frank Coles on a 7½ minute flight. Later that same day he took his wife for a 12½ minute flight for her to become the first woman to fly in Australia.
First plane to fly into RAAF Williams, in Point Cook, Victoria
First aeroplane to fly into Perth Airport
First aeroplane to fly in Singapore (16 March 1911)
No's 27/28/29 were sold by visiting Belgian Joseph Christiaens to the South African Army

Flight Lieutenant Pizey (born 1 April 1883 Clevedon, Bristol; died 11 June 1915 Athens, Greece) was one of the early pioneers of British flying, having gained his certificate No 61 in a Bristol Boxkite on Salisbury Plain on 14 February 1911 - he also took place in the Daily Mail Air Race that year
It was also the first aeroplane to land upside down in Brooklands Sewage farm - Flight Lieutenant Frederick Warren Merriam was the first to enact the scene from the film Those Magnificent Men in Their Flying Machines
Surviving Aircraft
No original Bristol Boxkites aeroplanes survive today, although three authentic flyable reproductions were created for the film Those Magnificent Men in Their Flying Machines. One was sent to Australia, one to the Bristol City Museum and Art Gallery, and one to the Shuttleworth Collection in Bedfordshire which is still flown during their flying displays whenever the weather permits.
Specifications
General characteristics
Crew: 2
Length: 38 ft 6 in (11.73 m)
Wingspan: 46 ft 6 in (14.17 m)
Height: 11 ft 0 in (3.61 m)
Wing area: 517.0 ft² (48.03 m²)
Empty weight: 900 lb (408 kg)
Max takeoff weight: 1150 lb (522 kg)
Powerplant: 1x— Gnome rotary piston engine, 50 hp (37 kW)

Performance
Maximum speed: 40 mph (64 km/h)
Wing loading: 2.22 lb/ft² (10.9 kg/m²)
Power/mass: 0.043 hp/lb (70.9 W/kg)

Military operators
Australia
Australian Flying Corps
Central Flying School AFC at Point Cook, Victoria.

Bulgaria Russia South Africa
Union Defence Forces - South African Air Force

Kingdom of Spain United Kingdom
Royal Flying Corps
Royal Naval Air Service
No. 3 Squadron RFC

Bristol Boxkite Pictures
Living Warbirds: The best warbirds DVD series.
Source: WikiPedia