Bristol Buckmaster Video - Picture
Bristol Buckmaster Aircraft Information
Bristol Buckmaster
Type 166 Buckmaster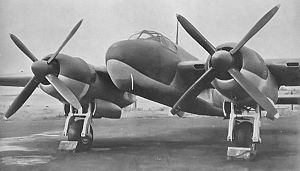 Role: Advanced trainer aircraft
Manufacturer: Bristol Aeroplane Company
First flight: 1944-10-27
Introduced: 1945
Primary user: Royal Air Force
Number built: 112

The Bristol Buckmaster was an advanced British training aircraft operated by the Royal Air Force during the 1950s.
Design and development
By 1945, there was a serious gap in performance between the so-called advanced trainers in use - such as the Avro Anson, Airspeed Oxford, dual-control Bristol Blenheim and Lockheed Hudson - and the combat aircraft which the pilots would be expected to fly on graduation.
The Bristol response to Air Ministry Specification T.13/43 was to make further use of the Buckingham wing, with another new fuselage, in an aircraft developed as the Type 166. The trainee and instructor were seated side-by-side with a wireless operator seated behind.
The Buckmaster was a propeller-driven, twin-engine mid-wing aircraft. The retractable undercarriage was of conventional (tailwheel) configuration. The radial engines were equipped with four-blade propellers.
Operators
United Kingdom
Royal Air Force

Specifications
Data from Jane's Fighting Aircraft of World War II
General characteristics
Crew: 3 (student pilot, instructor pilot, radio operator)
Length: 46 ft 5 in (14.2 m)
Wingspan: 71 ft 10 in (21.9 m)
Height: 17 ft 6 in (5.3 m)
Wing area: 708 ft² (65.8 m²)
Empty weight: 24,042 lb (10,900 kg)
Loaded weight: 33,700 lb (15,280 kg)
Powerplant: 2x— Bristol Centaurus VII 18-cylinder radial engines, 2,585 hp (1,880 kW) each

Performance
Maximum speed: 352 mph (306 kn, 566 km/h) at 12,000 ft (3,700 m)
Cruise speed: 325 mph (282 kn, 530 km/h) at 18,000 ft (5,500 m)
Range: 2,000 mi (1,700 nmi, 3,200 km)
Service ceiling: 30,000 ft (9,000 m)
Rate of climb: 2,245 ft/min (11.3 m/s)
Wing loading: 47.6 lb/ft² (232 kg/m²)
Power/mass: 0.153 hp/lb (252 W/kg)

Related development
Bristol Buckingham

Comparable aircraft
Avro Anson
Airspeed Oxford
Bristol Blenheim
Lockheed Hudson

Bristol Buckmaster Pictures
Living Warbirds: The best warbirds DVD series.
Source: WikiPedia