Bristol Bullpup Video - Picture
Bristol Bullpup Aircraft Information
Bristol Bullpup
Bullpup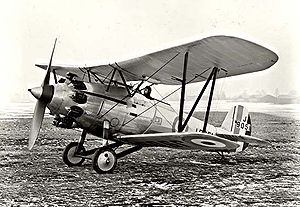 Picture - Bristol Bullpup c.1929
Role: Interceptor
National origin: United Kingdom
Manufacturer: Bristol Aeroplane Company
First flight: 28 April 1928
Number built: 1
Developed from: Bristol Bulldog

The Bristol Bullpup, also known as the Bristol Type 107 was a British fighter prototype in the 1920s.
Design and development
With a construction based on that of the Bristol Bulldog (Type 105), the Bullpup had been ordered in prototype to participate in the Air Ministry's F.20/27 contest in 1928. Its engine was the Bristol Mercury IIA, with 480 hp (360 kW), and it was evaluated in the spring of 1929. The Bullpup prototype was subsequently fitted with a Jupiter F type head with twin compensator rods for the penthouse heads. Trials with this engine were carried out at Martlesham in 1929.
Operational history
During its evaluation period, it was found to be smaller, faster and more maneuverable than the Bulldog. However, it was nevertheless deemed to afford an insufficient advance from the Bulldog design to warrant series production and the sole prototype was used as an engine test aircraft until it was scrapped in 1935.
Specifications
General characteristics
Crew: 1
Length: 23 ft 6 in (7.16 m)
Wingspan: 30 ft 0 in (9.14 m)
Height: 9 ft 5 in (2.87 m)
Wing area: 230.00 ft² (21.37 m²)
Empty weight: 1,910 lb (866 kg)
Gross weight: 2,850 lb (1,293 kg)
Powerplant: 1 x— Bristol Mercury, 480 hp (358 kW)

Performance
Maximum speed: 190 mph (306 km/h)

Armament
2 x— .303 in (7.7 mm) Lewis Guns

Bibliography
Barnes, C.H. Bristol Aircraft Since 1910. London: Putnam, 1964. ISBN 0-370-00015-3.
Green, William and Gordon Swanborough. The Complete Book of Fighters. Godalming, UK: Salamander, 2001. ISBN 1-84065-269-1.

Bristol Bullpup Pictures
Living Warbirds: The best warbirds DVD series.
Source: WikiPedia