Bristol Freighter Video - Overview
Bristol Freighter Video - First taxi in 20 years - ZK-CPT - "Merchant Courier" - Blenheim, New Zealand
Bristol Freighter Aircraft Information
Bristol Freighter
Type 170 Freighter / Wayfarer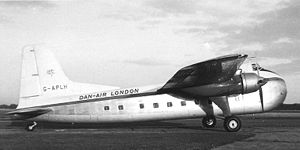 Picture - Bristol Freighter 31 of Dan-Air operating a passenger flight at Manchester in 1958
Role: Cargo aircraft
Manufacturer: Bristol Aeroplane Company
First flight: December 1945
Introduced: 1946
Primary user: Silver City Airways
Produced: 1945 - 1958
Number built: 214
Variants: Bristol Superfreighter

The Bristol Type 170 Freighter was a British twin-engine aircraft designed and built by the Bristol Aeroplane Company as both a freighter and airliner, although its best known use is as an air ferry to carry cars and their passengers over relatively short distances.
Design and development
The Bristol Type 170 was designed originally as a rugged, heavy-duty transport to operate from unimproved airstrips. After the end of the Second World War the design was adapted by the Bristol Chief Designer A.E. Russell and his design team as a rugged, heavy-duty aircraft. It was an all-metal, twin-engine high-wing monoplane and built without the use of expensive alloys and with a minimum of machined parts. The square-sectioned fuselage was designed to be clear of internal obstructions. The flight deck was high in the fuselage nose, accessed via a ladder.
The Freighter is a somewhat bulbous and cumbersome-looking aircraft. Like the more slender prewar Bombay, it is a high-wing monoplane with fixed undercarriage, the main gear legs supported by substantial vertical struts beneath the Bristol Hercules radial engines and horizontally from the lower edge of the (slab-sided) fuselage. The cockpit sits atop the forward fuselage with two large clam shell doors at the nose, making the unpressurised fuselage somewhat breezy; one Kiwi pilot claimed his charge was "40 thousand rivets flying in close formation."
The prototype, registered G-AGPV, first flew at Filton on 2 December 1945, it was an empty shell without nose doors.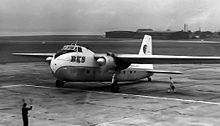 Picture - Bristol Freighter, Liverpool 1961
Operational history
The second prototype and the first 34-seat Wayfarer, registered G-AGVB, first flew on 30 April 1946. The second prototype began proving flights in the colours of Channel Islands Airways. It carried over 10,000 passengers in under six months. The third aircraft, registered G-AGVC, was the first Freighter I and had fully operating nose doors. After a number of demonstration flights around world the Bristol 170 entered full production. One of the first sales was to the Argentine Air Force which ordered 15 aircraft.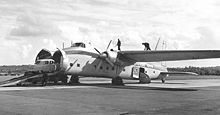 Picture - Silver City Airways Freighter 32 loading a car for Cherbourg at Southampton in September 1954
The managing director of Silver City Airways was Wing Commander Griffith James Powell, who realised that he could adapt the Bristol Freighter to fly passengers with their cars from Britain to Continental Europe and Jersey. This "air ferry" would allow Britons on holiday to avoid lengthy waits for the sea ferries. On the 14 July 1948, the airline made the first flight with a car, from Lympne Airport in Kent to Le Touquet on the northern coast of France.
In 1953, production of the freighter was moved to Weston-super-Mare and an elongated version to carry three cars, the Freighter 32 entered service. Silver City Airways dubbed these variants Superfreighters. Silver City Airways subsequently built an airport named "Ferryfield" at Lydd in Kent, beginning air ferry service in 1955. In the same year Channel Air Bridge started operations from Southend, with four Bristol Freighters, flying to Calais.
The last two freighters of the 214 built were delivered in 1958, one to New Zealand in February and the last aircraft to Dan-Air in March 1958. The New Zealand aircraft was delivered to SAFE who eventually operated one of the largest fleets of Freighters. One of the elongated aircraft, registered G-AMWA, had 60 seats fitted and was known as a Super Wayfarer.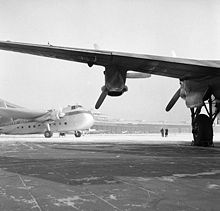 Picture - A Silver City Airways Bristol Freighter viewed from under the wing of an Avro York at Berlin-Tempelhof, 1954.
Other civil uses
In New Zealand SAFE Air (Straits Air Freight Express) moved rail freight from Wellington (the North Island) to Blenheim (the South Island) and back, using Bristol Freighters reconfigured to accept palletised cargo loaded on patented cargons. This was a first anywhere in the aviation world.
Cargons were loaded near the rail yards and their load was calculated and arranged to remain within the aircraft's load and centre of gravity limits. They were then trucked to the airport and mechanically loaded as a unit from devices that were electric-motor powered via screw-jacks. The loader accepted pallets from horizontal-tray road vehicles and then raised them to allow loading into the nose of the tail-wheeled aircraft. Other adaptations allowed the carrying of horses and other high-value large animals.
Freighters were the major link between the Chatham Islands and the rest of the world until Armstrong Whitworth Argosys replaced them. SAFE Air developed a 'container' for the half of the aircraft given over to passengers on these flights.
Military uses
In military service Bristol Freighters were operated by the air forces of Argentina, Australia, Burma, Canada, Iraq, Pakistan and New Zealand. Bristol Freighters were operated briefly by the Pakistan Air Force. Some of their aircraft were bought by SAFE Air and used in New Zealand.
The Royal New Zealand Air Force ordered 12 Mk 31M Freighters in the late 1940s. RNZAF Freighters ranged as far as supplying the New Zealand Army in Malaya, the British High Commissions (and other support staff) in the Maldives, Ceylon, India and Nepal, performing FEAF tasks in Malaya (often when other aircraft types were unservicable due to maintenance problems) and Hong Kong. They ran a highly reliable military shuttle service for allies in Thailand during the Vietnam War and served several other roles, being adapted for - amongst other things - aerial top dressing experiments, although, to avoid competition with private enterprise, the NZ government did not use them in that role.
Accidents
On 27 February 1958, when a Silver City Bristol Freighter on a charter flight from the Isle of Man to Manchester crashed due to navigation error on Winter Hill, Lancashire; 35 passengers were killed.
Final days
The New Zealand Freighters were retired from military use when replaced by Hawker Siddeley Andovers in the 1970s. After retirement a number of smaller local operators briefly flew Freighters. Some were exported to Canada. A SAFE Air Freighter is preserved in taxiable condition at Blenheim and another at the Royal New Zealand Air Force Museum in Christchurch. A third is on display at Founders Historical Park in Nelson, and a fourth is being restored at Ardmore near Auckland. Other Freighter airframes around New Zealand now serve as novelty tea-rooms, backpacker hostels, and motel rooms, such as ex NZ5906 (c/n 13059) in Otorohanga.
One Freighter was in service in turn with British Ministry of Supply (G-AIMI then WB482), the RAAF (A81-1) and subsequently went into commercial use in Australia until 1978 after which it went on to become a museum exhibit and was given over to the RAAF museum at Point Cook, Victoria, Australia in 1988.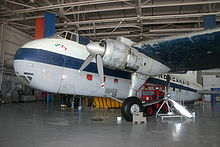 Picture - Bristol Freighter 31M in Norcanair markings at the Western Canada Aviation Museum in Winnipeg, Manitoba. 2007
Bristol freighter Mk 31M G-BISU (c/n 13218) was operated by Instone Airline at Stansted, Essex, UK, for a number of years. This was an ex-RNZAF aircraft and left Ardmore on 2 March 1981 for its 86-hour ferry flight to the UK, it subsequently flew its first charter flight on 3 August 1981 delivering two racehorses to Deauville. This role of flying livestock was to take up half a year while other work included carriage of oil drilling machinery, car parts, newspapers and mail. Re-registered as C-FDFC, in 1996 it crashed on takeoff with the crew escaping but was essentially a write-off. The captain - John Duncan - and co-pilot - Malcolm Cutter - reported that the aircraft entered a severe yaw after takeoff which was uncontrollable despite use of full opposite aileron and rudder control.
The last Freighter in service, which flew for Instone Airline then later returned to New Zealand, was bought from surplus by Hawkair in Terrace, British Columbia, Canada. In 2004, this aircraft undertook its final flight to the Reynolds-Alberta Museum in Wetaskiwin, Alberta.
An example of the Mark 31M, CF-WAE, ex Royal Canadian Air Force 9699, is displayed at the Western Canada Aviation Museum. It was last flown by Norcanair.
Variants
Freighter Mk I Utility transport Series I or Freighter with a strengthened floor and hydraulically operated nose doors.
Freighter Mk IA Mixed-traffic variant with 16-passenger seats
Freighter Mk IB Variant of Mk I for British European Airways
Freighter Mk IC Variant of Mk IA for British European Airways
Freighter Mk ID Variant of Mk IA for British South American Airways
Wayfarer Mk II Airliner (passenger variant) Series II or Wayfarer. Nose doors were omitted and additional windows were added.
Wayfarer Mk IIA Variant of Mk II with 32 seats
Wayfarer Mk IIB Variant of Mk IIA for British European Airways
Wayfarer Mk IIC Variant of Mk II with 20 seats and baggage hold
Freighter Mk XI Variant of Mk I with 108 ft (32.92 m) wing and extra tankage
Freighter Mk XIA Mixed-traffic version of Mk IX
Freighter Mk 21 More powerful engined version
Freighter Mk 21E Convertible version of Mk 21 with 32 removable seats
Freighter Mk 31 Variant of Mk 21 with larger fin
Freighter Mk 31E Convertible version of Mk 31
Freighter Mk 31M Military version of Mk 31 with provision for supply dropping
Freighter Mk 32 Higher capacity version with fuselage lengthened by 5 ft (1.52 m)
Type 179 Freighter Unbuilt project. Twin-boom version. Not built
Type 179A Freighter Unbuilt project. The aircraft was intended to have an unswept tail and a ramp-loading door.
Type 216 Freighter Unbuilt project. Car ferry version. It was intended to be powered by two Roll-Royce Dart turboprop engines.
Operators
Civil operators
Argentina
Argentine Civil Aeronautics Board

Australia
Air Express
Ansett-ANA
Ansett-MAL
Australian National Airways
Brain & Brown Airfreighters
Jetair Australia
Trans Australia Airlines

Belgium
Avions Fairey
SABENA

Brazil
Real Transportes Aéreos

Canada
Associated Airways
Central Northern Airways
Hawkair
Lambair
Maritime Central Airways
North Canada Air
Norcanair
Pacific Western Airlines
Trans Canada Airlines
Trans Provincial Airlines
Wardair

Ecuador
Shell Company of Ecuador

Ireland
Aer Lingus
Aer Turas

France
Air Atlas
Air Fret
Air Outremer
Cie Air Transport
Cie des Transportes Aeriens Intercontinentaux
Corse Air
Societe Aerienne du Littoral
Societe Indo Chinoise des Transportes Aeriens
Transportes Aeriens Reunis

Germany
LTU
Panavia Ltd

India
Bharat Airways
Dalmia Jain Airways
Indian National Airways

Italy
Societe Avio Transporti Torino

Laos
Air Laos

Lebanon
Middle East Airlines

New Zealand
SAFE Air

Nigeria
West African Airways Corporation

Rhodesia
Central African Airways

Saudi Arabia
Saudi Arabian Airlines

Spain
Aviaco
Iberia

South Africa
Suidair operated one Bristol Wayfarer.

Sweden
Trafik-Turist-Transportflyg

United Kingdom
Air Charter
Air Ferry
Air Kruise
Airwork
Autair
Aviation Traders
BKS Air Transport
Britavia
British Air Ferries
British European Airways
British United Air Ferries
Channel Air Bridge
Channel Airways
Channel Island Airways
Dan-Air
Hunting Aerosurveys
Instone Airlines
Manx Airlines 1947-1958
Midland Air Cargo
Ministry of Civil Aviation
Silver City Airways
Trans European Aviation

Vietnam
Air Vietnam

Military operators
Argentina
Argentine Air Force

Australia
Royal Australian Air Force - Four in service from 1949 to 1967. They were used for transport duties in support of the Weapons Research Establishment, Woomera, South Australia.
No. 34 Squadron RAAF
No. 1 Air Trials Unit
No. 2 Air Trials Unit

Burma
Burmese Air Force

Canada
Royal Canadian Air Force

Iraq
Iraqi Air Force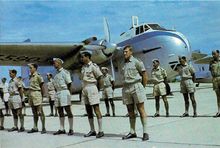 Picture - A 41 Squadron RNZAF Bristol Freighter in Thailand, 1962.
New Zealand
Royal New Zealand Air Force
No. 1 Squadron RNZAF
No. 3 Squadron RNZAF
No. 41 Squadron RNZAF
Transport Support Unit RNZAF

Pakistan
Royal Pakistan Air Force

United Kingdom
A&AEE Boscombe Down
Telecommunications Research Establishment

Specifications (Freighter Mk 32)
Data from
General characteristics
Crew: 2
Length: 73 ft 4 in (22.4 m)
Wingspan: 108 ft 0 in (32.92 m)
Height: 25 ft 0 in (7.62 m)
Wing area: 1487 ft² (138.13 m²)
Empty weight: 29,950 lb (13,404 kg)
Gross weight: 44,000 lb (19,958 kg)
Powerplant: 2 x— Bristol Hercules 734 14-cylinder sleeve-valve radial piston engine, 1,980 hp (1,476 kW) each each

Performance
Maximum speed: 225 mph (362 km/h)
Range: 820 miles (1,320 km)
Service ceiling: 24,500 ft (7,470 m)

Comparable aircraft
Blackburn Beverley
Armstrong Whitworth AW.650 Argosy
Aviation Traders Carvair

Bibliography
The Illustrated Encyclopedia of Aircraft (Part Work 1982-1985). London: Orbis Publishing, 1985.
Jackson, A.J. British Civil Aircraft Since 1919, Volume 1. London: Putnam, 1974. ISBN 0-370-10006-9.

Bristol Freighter Pictures
Living Warbirds: The best warbirds DVD series.
Source: WikiPedia