Bristol M.1 Video - RC Scale Model
Bristol M.1 Aircraft Information
Bristol M.1
M.1 Bullet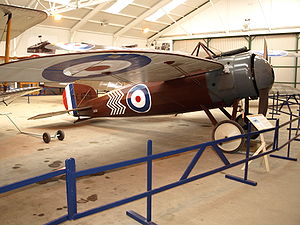 Picture - Bristol M.1C at the Shuttleworth Collection
Role: Fighter
Manufacturer: Bristol Aeroplane Company
Designed by: Frank Barnwell
First flight: 14 July 1916
Introduction: 1917
Primary users: Royal Flying Corps Chile
Number built: 130

The Bristol M.1 Bullet was a British monoplane fighter of the First World War.
Development
The M.1A prototype was designed by Frank Barnwell in 1916 and built as a private venture by the Bristol Aeroplane Corporation. The War Office ordered four aircraft for evaluation - designated M.1B - which had a single .303 in (7.7 mm) Vickers machine gun mounted on the port wing and a clear-view cut-out in the starboard wing to give the pilot more downward visibility.
Despite excellent performance - it had a maximum speed some 30-50 mph (50-80 km/h) higher than any of the contemporary German Fokker Eindecker monoplanes - it was rejected by the Air Ministry for service on the Western Front, ostensibly because its landing speed was considered too high for small French airfields, but more likely because of a widespread belief that monoplane aircraft were inherently unsafe in combat.
Nevertheless, a production order for 125 aircraft was placed on 3 August 1917. Designated M.1C, this version was fitted with a Le Rhx´ne rotary engine and had a Vickers machine gun centrally-mounted in front of the pilot.
A single M.1, registered G-EAVP was rebuilt as a high-speed testbed for the Bristol Lucifer three cylinder radial engine. This aircraft was designated the M.1D.
Operational history
33 M.1Cs served in the Middle East and the Balkans in 1917-18, while the rest were used by UK-based training units, where they were popular as personal mounts for senior officers.
Twelve were sent to Chile on second half of 1918 in part payment for the battleships Almirante Latorre and Almirante Cochrane being built for Chile in Britain, but commandeered for the Royal Navy before completion. One of these, flown by Lt. Godoy, was used to fly from Santiago to Mendoza, Argentina and back on 12 December 1918, the first flight across the Andes mountain chain.
Variants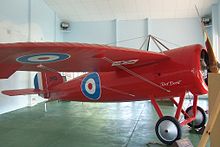 Picture - Captain Harry Butler's Bristol monoplane on display in Minlaton, South Australia
M.1A Single prototype with 110 hp (80 kW) Clerget rotary engine.
M.1B Four evaluation models.
M.1C Series production model, 125 built.
M.1D Single M.1C rebuilt as testbed for Bristol Lucifer engine.
Operators
Chile
Chilean Air Force

United Kingdom
Royal Flying Corps / Royal Air Force
No. 14 Squadron RAF
No. 47 Squadron RAF
No. 72 Squadron RAF
No. 111 Squadron RAF
No. 150 Squadron RAF

Specifications (M.1C)
Data from Encyclopedia of Military Aircraft
General characteristics
Crew: one, pilot
Length: 20 ft 5 in (6.24 m)
Wingspan: 30 ft 9 in (9.37 m)
Height: 7 ft 9 in (2.37 m)
Wing area: 145 ft² (13.6 m²)
Empty weight: 900 lb (409 kg)
Loaded weight: 1,348 lb (611 kg)
Powerplant: 1x— Le Rhx´ne 9J rotary engine, 110 hp (82 kW)

Performance
Maximum speed: 113 knots (130 mph, 209 km/h) at sea level
Service ceiling: 20,000 ft (6,096 m)
Endurance: 1 hr 45 mins

Armament
Guns: 1 x— fixed-forward .303 in (7.7 mm) Vickers machine gun

Bristol M.1 Pictures
Living Warbirds: The best warbirds DVD series.
Source: WikiPedia