Bristol Prier monoplane Video - Picture
Bristol Prier monoplane Aircraft Information
Bristol Prier monoplane
Prier monoplane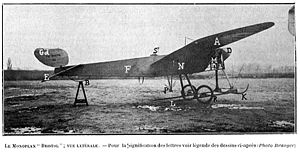 Role: Sports aircraft
Manufacturer: Bristol Aeroplane Company
Designed by: Pierre Prier
First flight: 1911
Number built: 34

The Bristol Prier monoplane was an early British aircraft produced in a number of one- and two-seat versions. It was a high-wing, wire-braced monoplane that used wing warping for lateral control and had all-moving tail surfaces. The Prier monoplanes were mostly used for training and racing, and some were purchased for military use. Two of the two-seaters were sold and delivered to the Turkish Government. One of the two-seaters was sold to the Bulgarian government and delivered 16 September 1912. It flew during the Balkan War and once carried Hubert Wilkins who was taking films for a London newspaper.
Operators
Turkey Bulgaria
Specifications (P-1)
General characteristics
Crew: One pilot
Length: 24 ft 6 in (7.47 m)
Wingspan: 30 ft 2 in (9.2 m)
Height: 9 ft 9 in (2.97 m)
Wing area: 166 ft² (15.4 m²)
Empty weight: 640 lb (290 kg)
Gross weight: 820 lb (372 kg)
Powerplant: 1 x— Gnome rotary engine, 50 hp (37 kW)

Performance
Maximum speed: 68 mph (109 km/h)

Taylor, Michael J. H. (1989). Jane's Encyclopedia of Aviation. London: Studio Editions. pp. 204.
Barnes, C. H. (1964). Bristol Aircraft since 1910. London: Putnam and Company Ltd. pp. 415.
britishaircraft.co.uk

Bristol Prier monoplane Pictures
Living Warbirds: The best warbirds DVD series.
Source: WikiPedia