Bristol Scout Video - Picture
Bristol Scout Aircraft Information
Bristol Scout
Bristol Scout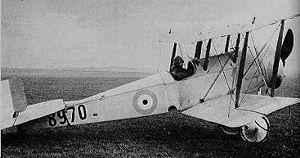 Role: single-seat scout/fighter
Manufacturer: British and Colonial Aeroplane Company
Designed by: Frank Barnwell
First flight: 23 February 1914
Status: Retired
Primary users: Royal Flying Corps Royal Naval Air Service Australian Flying Corps
Produced: 1914-1916
Number built: 374

For the later monoplane, see Bristol M.1 Monoplane Scout
The Bristol Scout was a simple, single seat, rotary-engined biplane originally intended as a civilian racing aircraft. Like other similar fast, light aircraft of the period - it was acquired by the RNAS and the RFC as a "scout", or fast reconnaissance type. In the event it was one of the first single-seaters to be used as fighter aircraft, although it was not possible to fit it with an effective armament until the first British synchronisation gears became available, by which time it was outmoded by later types. Single seat fighters continued to be called "scouts" in British usage into the early 1920s.
Development
The prototype for the Bristol Scout was designed in the second half of 1913 by Frank Barnwell and Harry Busteed. The first flight was first on 23 February 1914 by Busteed, and it was first shown to the public at the March 1914 London Olympia exhibition centre's Aero Show event. It had the "racing" lines fashionable in light single seaters of the 1913-1914 period, with characteristics such as a main landing gear wheel track measured at only 39 inches (99 cm) that was barely wider than the fuselage, only about a one half degree dihedral angle on the wing panels, making them look almost totally "flat" across from a nose-on view, and an engine cowl that had no open frontal area, even though the extreme bottom was sliced away horizontally to allow cooling air to get to its seven cylinder 80 hp Gnome Lambda rotary engine. It was fitted with a squared-planform "all-flying" rudder with no fixed vertical fin, similar to that used on contemporary Nieuport, Morane, and Fokker types.
Operational history
The period of service of the Bristol Scout (1914 to 1916) marked the genesis of the fighter aircraft as a distinct type, and many of the earliest attempts to arm British "tractor" aircraft with weaponry were tested in action using Bristol Scouts.
These began with the arming of the second Scout B, RFC number 648, with two rifles, one per side, aimed outwards and forwards to clear the propeller arc.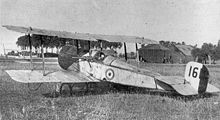 Picture - The actual Scout C, RFC serial no. 1611, flown by Lanoe Hawker on July 25, 1915 in his Victoria Cross-earning engagement.
Two of the Royal Flying Corps' early Bristol Scout C aircraft, numbers 1609 and 1611, flown by Captain Lanoe Hawker with the RFC's No. 6 Squadron, were each in their turn armed with a single Lewis machine gun on the left side of the fuselage, within a mount that Capt. Hawker had designed himself, almost identically in the manner of the rifles tried on the second Scout B. When Hawker's No.1611 aircraft was used by him to down two German aircraft and force off a third on 25 July 1915 over Passchendaele and Zillebeke he was awarded the first Victoria Cross ever given for a British military pilot's actions in aerial combat.
A number of the 24 initial production RNAS' Scout C aircraft were armed with single Lewis machine guns, sometimes with the Lewis gun mounted atop the upper wing centre section in the manner of the Nieuport 11, and even more common was an apparently very dubious choice of placement by some RNAS pilots, in mounting the Lewis gun on the forward fuselage of their Scout Cs, just as if it were a synchronized weapon (which it was not) firing directly forward and through the propeller arc; an action likely to result in serious propeller damage. The type of bullet-deflecting wedges as Roland Garros had tried on his Morane-Saulnier Type N monoplane were also tried on one of the RFC's last Scout Cs, No. 5303, but since this seemed, in this instance, to have also required the use of the Morane Type N's immense "casserole" spinner, which almost totally blocked cooling air from reaching this particular Scout C's 80-hp Le Rhx´ne rotary engine, the deflecting-wedge concept for propeller protection from bullets was not pursued further with Bristol Scouts.
In the early part of the war, in attempts to down German Zeppelin airships, one unusual weapon tried from a RNAS Scout D was the Ranken Dart, a type of droppable, explosive-laden flechette with 1 lb (0.45 kg) of explosive per projectile. Scout D No. 8953, flown by Flt. Lt. C. T. Freeman, flew from the deck of the flight-deck-converted Isle of Man packet steamer HMS Vindex (formerly with the civilian name Viking), which possessed a takeoff deck on its forward half, and on 2 August 1916, Flt Lt. Freeman tried to down the Zeppelin L.17 with Ranken Darts, released from two vertically-oriented internal cylindrical containers located just behind his feet, in the belly of his Scout D. None of the darts did any damage to the Zeppelin, and since Freeman's aircraft could not land back on the Vindex, and was too far from land for a safe return, he had to ditch his Scout D in the ocean after the unsuccessful attack.
One attempt to arm RFC Bristol Scouts with a synchronizable machine gun, like the air-cooled version of the Maxim-type Vickers machine gun that would later be used with great success on the contemporary Sopwith Pup fighter, was first tried with the late production RFC Scout C No.5313 in March 1916, and even though six other Scouts, both late Scout Cs and early Scout Ds, were tried out with the same setup as No. 5313 had used, the bulky Vickers-Challenger synchronizing gear used on all these Scouts seemed to have trouble in safely firing the Vickers guns; in May 1916 one of these Scouts fired every bullet from its Vickers gun through the propeller in testing.
Not one of the RFC or RNAS squadrons that ever received Bristol Scout aircraft was ever equipped "entirely" with the aircraft, and by the end of the summer of 1916 no new Bristol Scout aircraft were being supplied to the British squadrons of either service, often being replaced in RFC service with the Airco DH.2 single seat "pusher" fighter. A small number of Bristol Scouts did end up being based in the Middle East (in Egypt, Macedonia, Mesopotamia, and Palestine) in 1916 with the last known Bristol Scout in military service being the former RNAS Scout D No. 8978 in Australia, which was based at Point Cook, near Melbourne, as late as October 1926.
Once the Bristol Scouts were no longer required for front line service they were officially classed as "trainers". In fact most were not sent to training units, however, but retained by senior officers as personal "run-abouts" - their delightful flying characteristics making them very popular for this purpose.
Variants
Scout A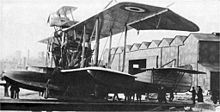 Picture - Bristol Scout parasite fighter atop the Felixstowe Porte Baby, 1916.
After its first public appearance, by May 1914 what would later become known as the "Bristol Scout A" had been refitted with a longer span - at 24 ft 7 in (7.49 m) compared to the initial 22 ft (6.71 m) - set of wing panels that were rigged with 1-3/4º of dihedral, a larger surface area rudder, and a much more conventional open-front, ring-style, "six segment" cowl to house the 80 hp Gnx´me Lambda rotary engine. The British military first evaluated the Scout A aircraft on 14 May 1914, at Farnborough when the aircraft achieved a top airspeed of 97.5 mph (157 km/h).
The Scout A also entered two air races in the summer of 1914 after being purchased by British Lord Carbery for £400 without its engine. Flying with an 80 hp Le Rhx´ne 9C nine cylinder rotary installed by its purchaser it was ditched in the English Channel during the second air race it participated in; a round trip from Hendon in the UK to the French Buc aerodrome (near Versailles) and back, due to its running out of fuel. While in France, the tanks had been only half-filled by mistake.
Scout B
Two Scout B aircraft, identical to the modified Scout A aircraft with the 80 hp Le Rhone rotary for power, except for having half-hoop-style underwing skids mounted on them, and a widened rudder surface, were built for military evaluation just as the Austro-Hungarian Archduke Franz Ferdinand was shot in Sarajevo Bosnia. The outbreak of the First World War followed shortly. These two Scout B aircraft, bearing Royal Flying Corps serial numbers 644 and 648, first saw evaluational service from 20 September 1914, with the first one,serial number 644, being damaged beyond repair on 12 November of that year in a crash landing.
Type 1 Scout C
The Type 1 Scout C aircraft, very similar to the previous Scout B, was first ordered by the British government on 5 November 1914, in a 12 aircraft production batch for the Royal Flying Corps, and on 7 December 1914 by the competing Royal Naval Air Service (RNAS) in a 24-aircraft batch. Both these first two production batches of the Scout C aircraft were powered by the 80 hp Gnx´me Lambda rotary, just as the Scout A had been, and when compared to the Scout B before it, these first 36 Scout C aircraft were fitted out with unusual "dome-front" cowls with much smaller frontal openings than the Scout B's six segment cowl had possessed. These early Scout C aircraft also had their main oil tank moved to a position directly behind the pilot's shoulders, requiring a raised rear dorsal fairing immediately behind the pilot's seat, to accommodate the oil tank and its filler cap.
Later Scout C production batches, comprising 50 aircraft built for the RNAS and 75 for the RFC, changed the cowl to a flat-fronted, and longer-depth version more able to house the alternate choice of an 80 hp Le Rhone 9C rotary engine when the Gnx´me Lambda was not used, and moved the oil tank forward to a position in front of the pilot, for better weight distribution and more reliable engine operation. The later cowl for the remaining Scout C aircraft still had the small opening of the domed unit, but often had a small cutaway made to the lower rear edge of the cowl to increase the cooling effect.
Types 2, 3, 4 and 5 Scout D
The last, and most numerous production version, the Scout D, gradually came about as a series of further improvements to the Scout C design. One of the earliest changes that marked the change to the Scout D version showed up on seventeen of the 75 naval Scout Cs with an increase in the wing dihedral angle from 1-3/4º to 3º, and other aircraft in the 75-plane naval Scouts production run introduced larger tail surfaces, shorter-span ailerons, and a large front opening for the cowl, much like the Scout B had used, but made as a "one-piece" ring cowl, sometimes with a blister on the starboard lower side, when it was meant to house the eventual choice of the more powerful, nine cylinder 100 hp Gnx´me Monosoupape rotary engine in later production batches, to improve its performance. Some 210 examples of the Scout D version were produced, with 80 of these being ordered by the RNAS, and the other 130 being ordered by the Royal Flying Corps.
Other variants
S.S.A. : Designed as a single-seat armoured biplane for the French government. One Built.
G.B.1 : Single-seat racing aircraft. Not built or never completed.
S.2A : Two-seat fighter version of the Scout D. Two were built as advanced training aircraft.

Operators
United Kingdom
Royal Flying Corps


No. 1 Squadron RFC
No. 2 Squadron RFC
No. 3 Squadron RFC
No. 4 Squadron RFC
No. 5 Squadron RFC
No. 6 Squadron RFC
No. 7 Squadron RFC
No. 8 Squadron RFC
No. 9 Squadron RFC
No. 10 Squadron RFC
No. 11 Squadron RFC
No. 12 Squadron RFC
No. 13 Squadron RFC
No. 14 Squadron RFC


No. 15 Squadron RFC
No. 16 Squadron RFC
No. 17 Sqaudron RFC
No. 18 Squadron RFC
No. 21 Squadron RFC
No. 24 Squadron RFC
No. 25 Squadron RFC
No. 30 Squadron RFC
No. 36 Squadron RFC
No. 47 Squadron RFC
No. 63 Squadron RFC
No. 65 Squadron RAF
No. 111 Squadron RFC

Royal Naval Air Service

Australia
Australian Flying Corps
No. 1 Squadron AFC in Egypt and Palestine.
No. 6 (Training) Squadron AFC in the United Kingdom.
Central Flying School AFC at Point Cook, Victoria.

Specifications (Bristol Scout D)
General characteristics
Crew: One, pilot
Length: 20 ft 8 in (6.30 m)
Wingspan: 24 ft 7 in (7.49 m)
Height: 8 ft 6 in (2.59 m)
Wing area: 198 ft² (18.40 m²)
Empty weight: 789 lb (358 kg)
Loaded weight: 1,195 lb (542 kg)
Powerplant: 1x— Le Rhx´ne 9C rotary piston engine, 80 hp (60 kW)

Performance
Maximum speed: 94 mph (151 km/h)
Service ceiling: 16,000 ft (4,900 m)
Rate of climb: 18 min 30 sec to 10,000 ft (18 min 30 sec to 3,048 m)
Power/mass: 0.067 hp/lb (0.11 kW/kg)
Combat endurance: 2½ hours

Armament
1 x— Lewis or Vickers machine gun

Comparable aircraft
Sopwith Pup

Bruce, J.M. The Bristol Scouts (Windsock Datafile No.44). Berkhamsted, Herts, UK: Albatros Publications, 1994. ISBN 0-948414-59-6.

Bristol Scout Pictures
Living Warbirds: The best warbirds DVD series.
Source: WikiPedia