Bristol Superfreighter Video - Animation
Bristol Superfreighter Aircraft Information
Bristol Superfreighter
Bristol Type 170 Series 32 Superfreighter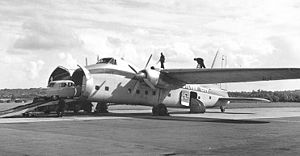 Role: Cargo aircraft Passenger aircraft
Manufacturer: Bristol Aeroplane Company
First flight: 16 January 1953
Status: Retired
Primary user: British United Air Ferries British United Airways
Variants: Bristol Freighter

The Bristol Superfreighter was a larger, stretched version of the Bristol Freighter, still using two propeller engines. It could carry 20 passengers instead of the 12 of the smaller Freighter, and three cars instead of two in its air ferry role.
The Superfreighter was distinguishable from the earlier Freighter by having a longer nose, in which the extra car was carried, and a fin fillet as well as rounded wingtips.
A 1:72 scale model Superfreighter in British United Air Ferries (BUAF) livery is available from the British plastic kit manufacturer Airfix.
Operators
Air Charter
Air Ferry
British Air Ferries (BAF)
British United Air Ferries (BUAF)
Channel Air Bridge
Compagnie Air Transport
Lambair
Midland Air Cargo
SABENA
Silver City Airways

Specifications (Freighter Mk 32)
Data from Macdonald Aircraft Handbook.
General characteristics
Crew: 2
Length: 73 ft 4 in (22.4 m)
Wingspan: 108 ft 0 in (32.92 m)
Height: 25 ft 0 in (7.62 m)
Wing area: 1487 ft² (138.13 m²)
Empty weight: 29,950 lb (13,404 kg)
Gross weight: 44,000 lb (19,958 kg)
Powerplant: 2 x— Bristol Hercules 734 14-cylinder sleeve-valve radial piston engine, 1,980 hp (1,476 kW) each each

Performance
Maximum speed: 225 mph (362 km/h)
Range: 820 miles (1,320 km)
Service ceiling: 24,500 ft (7,470 m)

Bibliography
Green, William. Macdonald Aircraft Handbook. London. Macdonald & Co. (Publishers) Ltd., 1964.

Bristol Superfreighter Pictures
Living Warbirds: The best warbirds DVD series.
Source: WikiPedia