Bristol Sycamore Video - Wings - Classic British Aircraft: Helicopters - Part 1
Bristol Sycamore Video - Wings - Classic British Aircraft: Helicopters - Part 2
Bristol Sycamore Aircraft Information
Bristol Sycamore
Type 171 Sycamore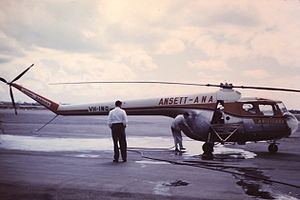 Picture - Bristol 171 Sycamore in Ansett-ANA service in Australia around 1960. Note possible spraying arm attachments.
Role: Rescue and Anti-Submarine Helicopter
National origin: United Kingdom
Manufacturer: Bristol Aeroplane Company
Designed by: Raoul Hafner
First flight: 27 July 1947
Introduced: 1953
Primary users: Royal Air Force Royal Australian Navy German Army
Produced: 1947 - 1955
Number built: 180

The Bristol Type 171 Sycamore was the first British-designed helicopter to fly and serve with the Royal Air Force. Created by the Bristol Aeroplane Company, it was used for search and rescue and anti-submarine warfare.
The name refers to the seeds of the Sycamore tree, Acer pseudoplatanus, which fall with a rotating motion.
Design and development
Bristol set up its Helicopter Department after the Allied invasion of Europe in 1944, when engineers from the Airborne Forces Experimental Establishment at Beaulieu became available. The AFEE had been working on the development of helicopter designs under helicopter pioneer Raoul Hafner, but the success of Horsa and Hamilcar gliders during Operation Overlord led to helicopter research being given a priority at AFEE.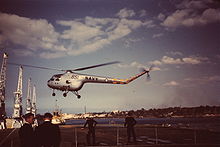 Picture - Bristol 171 Sycamore in Royal Australian Navy service around 1960 taking off from the flight deck of HMAS Melbourne.
The design of the Sycamore commenced in June 1944, and extended over more than two years, with especial emphasis being given to the endurance of the mechanical components. The maiden flight took place on 27 July 1947, with the prototype VL958 powered by a 450 hp (340 kW) Pratt & Whitney Wasp Junior (there being no suitable engine in the Bristol range). The prototype Sycamore Mk.2 was completed in the summer of 1948, powered by a 550 hp 410 kW) Alvis Leonides; this became the standard engine for all subsequent Sycamore production.
Versions of the Sycamore up to and including the Mk.3A kept to the standard two-seat aircraft layout of having the pilot in the left-hand seat and co-pilot in the right. The main production, the Mk.4, switched to the American standard practice of having the pilot's seat on the right. There were also a number of other developments from earlier versions, such as a four-door design, that were standardized for the Mk.4. This version entered RAF service as the H.R.14.
Civil versions did not use the name Sycamore, and were known simply as Bristol Type 171.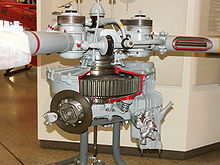 Picture - Main Gearbox of the Bristol 171 Sycamore as displayed in the Deutsches Museum in Munich (Germany)
Operational history
The Sycamore H.R.14 entered service with 275 Squadron of the RAF in April 1953, and went on to serve with nine squadrons in total. It was used during the Malayan Emergency (1948-1960) for deploying Army foot patrols into the jungle.
A total of 50 Sycamores were delivered to the German Federal Government, and three to the Belgian Government.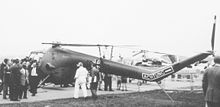 Picture - West German air force Sycamore Mk.14 at Farnborough show in 1958
The Sycamore also has the distinction of being the second helicopter type to be used by the Australian Defence Force, when seven were delivered to the Royal Australian Navy.
Variants
Type 171
Mk 1 Prototype; two built. Mk 2 Second prototype; one built.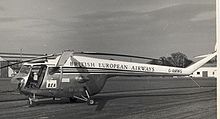 Picture - British European Airways Bristol 171 Mk 3A at London Gatwick on the scheduled passenger service from Birmingham in 1955
Mk 3 Production model with five-seats in a widened fuselages and a shortened nose to improve visibility. Fifteen built. Mk 3A Civilian version with additional freight hold, two built for British European Airways. Mk 4 This was the main production model and similar to the military version called Sycamore with a more powerful engine.
Sycamore
Sycamore HC10
(=Mk.3) 1 built for evaluation by the Army Air Corps as an air ambulance.
Sycamore HC11
(=Mk.3) 4 built for evaluation by the Army Air Corps, as communications aircraft.
Sycamore HR12
(=Mk.3A) 4 built for the RAF for evaluation as search and rescue aircraft.
Sycamore HR13
(=Mk.3A) 2 built with rescue winches for the RAF for evaluation as search and rescue aircraft.
Sycamore HR14
(=Mk.4) 85 built for the RAF, as search and rescue aircraft.
Sycamore Mk 14
3 built for the Belgian Air Force, for use in the Belgian Congo.
Sycamore Mk 50
3 built for the Royal Australian Navy, for search and rescue, and plane guard duties.
Sycamore HC51
7 built for the Royal Australian Navy, for search and rescue, and plane guard duties.
Sycamore Mk 52
50 built for the German Army and Navy.
Operators
Civil operators
United Kingdom
British European Airways

Australia
Australian National Airways/Ansett-ANA
Jayrow Helicopters

Military operators
Australia
Royal Australian Air Force - Only two Sycamores were in service with the RAAF from 1951 to 1965. The two helicopters were used for general support duties at the Woomeria Rocket Range in South Australia.
Aircraft Research and Development Unit
No. 1 Air Trials unit
Royal Australian Navy
723 Squadron RAN
724 Squadron RAN

Belgium
Belgian Air Force

Germany
Luftwaffe
German Navy

United Kingdom
Royal Air Force
No. 32 Squadron RAF
No. 103 Squadron RAF
No. 110 Squadron RAF
No. 115 Squadron RAF
No. 118 Squadron RAF
No. 155 Squadron RAF
No. 194 Squadron RAF
No. 225 Squadron RAF
No. 228 Squadron RAF
No. 275 Squadron RAF
No. 284 Squadron RAF
No. 651 Squadron RAF
No. 657 Squadron RAF
Army Air Corps (United Kingdom)

Specifications (Mk.4 / HR14)
Data from
General characteristics
Crew: Two
Capacity: accommodation for three passengers
Payload: 1,000 lb (454 kg)
Length: 61 ft 1¼ in (18.62 m)
Rotor diameter: 48 ft 7 in (14.8 m)
Height: 13 ft 10.6 in (4.23 m)
Empty weight: 3,810 lb (1,728 kg)
Loaded weight: 5,600 lb (2,540 kg)
Powerplant: 1x— Alvis Leonides piston engine, 550 hp (410 kW)

Performance
Maximum speed: 132 mph (212 km/h)
Range: 330 mi (531 km)
Endurance: 3½ hours

Comparable aircraft
H-5 Dragonfly
Westland Dragonfly

Bibliography
Barnes, C. H. (1964). Bristol aircraft since 1910. Putnam. ISBN 0-85177-823-2.
Bowyer, Chaz. The Encyclopedia of British Military Aircraft. Bison Books Limited. ISBN 0-86124-258-0.
Bridgman, Leonard, ed. Jane's All The World's Aircraft 1951-1952. London: Samson Low, Marston & Company, Ltd 1951.

Bristol Sycamore Pictures
Living Warbirds: The best warbirds DVD series.
Source: WikiPedia