British Aerospace BAe 125 Videos
British Aerospace BAe 125 Aircraft Information
British Aerospace BAe 125
BAe 125/Dominie Hawker 1000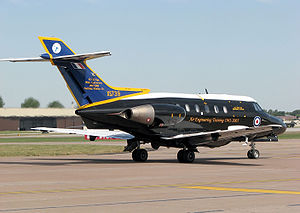 Picture - A Dominie navigation trainer of the Royal Air Force
Role: Mid-size business jet
Manufacturer: de Havilland (design) Hawker Siddeley (to 1977) British Aerospace (1977-1993) Raytheon (1993- 2007) Hawker Beechcraft (Since 2007)
First flight: 13 August 1962
Primaryusers: Royal Air Force South African Air Force United States Air Force
Number built: 1,000+
Variants: Hawker 800

Hawker Beechcraft (Since 2007)
The British Aerospace BAe 125 is a twin-engined mid-size corporate jet, with newer variants now marketed as the Hawker 800. It was known as the Hawker Siddeley HS.125 until 1977. It is also used by the British Royal Air Force as a navigation trainer (as the Hawker Siddeley Dominie T1), and was used by the United States Air Force as a calibration aircraft (as the C-29).
Development
In 1961, de Havilland began working on a revolutionary small business jet, the DH.125 Jet Dragon, intended to replace the piston engined de Havilland Dove business aircraft and light transport. The DH.125 design was for a low-winged monoplane with a pressurised fuselage accommodating two pilots and six passengers. It was powered by two Bristol Siddeley Viper turbojets mounted on the rear fuselage. The slightly swept wing employed large slotted flaps and airbrakes to allow operation from small airfields. The first of two prototypes flew on 13 August 1962, with the second following on 12 December that year. The first production aircraft, longer and with a greater wingspan than the two prototypes, flew on 12 February 1963, with the first delivery to a customer on 10 September 1964.
The aircraft went through many designation changes during its service life. Hawker Siddeley had bought de Havilland the year before project start, but the old legacy brand and the "DH" designation was used throughout development. After the jet achieved full production, the name was finally changed to "HS.125". When Hawker Siddeley Aircraft merged with the British Aircraft Corporation to form British Aerospace in 1977, the name changed to BAe 125. Then, when British Aerospace sold its Business Jets Division to Raytheon in 1993, the jet acquired the name Raytheon Hawker. The fuselage, wings and tail-fin are to this day fully assembled and partially equipped (primary and secondary flight controls) in Airbus UK's Broughton plant, on the outskirts of Chester, sub-assemblies are produced in Airbus UK's Buckley (Bwcle in Welsh) site. All these assembled components are then shipped to Wichita, Kansas in the United States, to where final assembly was transferred in 1996.
Over 1,000 aircraft have been built.
Variants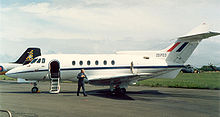 Picture - BAe 125 CC3 of No. 32 Squadron, RAF.
DH.125 Series 1 - first version, powered by 3,000lbf (13 kN) Viper 20 or 520 engines. Nine built, including two prototypes (43ft 6 in (13.26 m) long, 44ft (13.41 m) span) and seven production aircraft (47ft 5in (14.56m) long, 47ft (14.33m) long.
DH.125 Series 1A/1B - upgraded Bristol Siddeley Viper 521 or 522 engines with 3,100lbf (14 kN) of thrust each, and five cabin windows instead of six. Series 1A for US FAA certification (62 built), Series 1B for sale elsewhere (13 built).
HS.125 Series 2 - navigation trainer for Royal Air Force, known in service as the Dominie T.Mk.1 - (Rolls Royce Viper 301)
HS.125 Series 3 - upgraded engines
HS.125 Series 400 - upgraded engines
HS.125 CC1 - Series 400 liaison aircraft for Royal Air Force
HS.125 Series 600 - 3ft 1 in (0.94 m) fuselage stretch to increase capacity to 14 passengers
HS.125 CC2 - Series 600 liaison aircraft for Royal Air Force
HS.125 Series 700 - Honeywell TFE731-3RH turbofan engines with 3,720lbf (16.5 kN) of thrust each, first flight 19 June 1976
BAe 125 CC3 - Series 700 liaison aircraft for Royal Air Force
HS.125 Protector - Series 700-based maritime patrol aircraft with a search radar and cameras
BAe 125 Series 800 - increased wingspan, streamlined nose, tail fin extension, increased fuel capacity, first corporate jet to feature an EFIS cockpit, upgraded engines, first flight 26 May 1983
Hawker 800 - BAe 125-800 after 1993
Hawker 800XP - TFE731-5BR1H turbofan engines with 4,660lbf (20.7 kN) of thrust each
Hawker 800SP and 800XP2 - New designation for 800A/B and 800XP aircraft when upgraded with aftermarket winglets
Hawker 850XP - 800XP with factory installed winglets and interior updates
Hawker 900XP - 850XP with Honeywell TFE731-50R turbofan engines for increased hot/high performance and longer range
Hawker 750 - 800XP with a light-weight interior and heated baggage compartment in place of the ventral fuel tank
C-29A - Series 800 for US military designed to replace the Lockheed C-140A, used by the Air Force to accomplish the combat flight inspection and navigation mission (C-FIN) at US airbases around the world, participated in Operation Desert Shield and Operation Desert Storm during the First Persian Gulf War.
U-125 - Series 800-based flight inspection aircraft for Japan (similar to C-29A)
U-125A - Series 800-based search and rescue aircraft for Japan
BAe 125 Series 1000 - intercontinental version of the Series 800, 2ft 9 in (0.84 m) fuselage stretch to increase capacity to 15, increased fuel capacity, Pratt & Whitney Canada PW-305 turbofans with 5,200lbf (23 kN) thrust each, first flight 16 June 1990, 52 built
Hawker 1000 - BAe 125-1000 after 1993
Handley Page HP.130 - A 1965 proposal with boundary layer control wings (not built). It was to be powered by two Bristol Siddeley Viper 520s of 3,000lbf (13 kN) thrust with a projected Maximum speed of Mach 0.8. This conversion was for laminar-flow research purposes.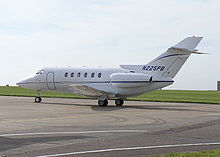 Picture - Raytheon Hawker 800
Operators
Civil operators
Private operators, air taxi, shared ownership and corporate charter operators worldwide.
Australia
Qantas - Two HS.125 Series 3s were used for crew training. The aircraft were in service from 1965 to 1972.

Canada
Air Georgian - 1 HS.125 in service operated on behalf of Air Canada

Nigeria
Associated Aviation - 2 HS. 125 Series 700 are in use.

China
Deerjet, Hainan Airlines - 4 Hawker 800XP, 2 Hawker 850XP and 1 Hawker 900XP are in service in Deerjet based at Beijing. Deerjet is a branch of Hainan Airlines(HNA)
Shanghai Airlines - 1 Hawker 800XP is in service in Shanghai Airlines based at Shanghai.

Pakistan
Royal Airlines - 1 Hawker Siddeley HS 125 (Passenger) V.I.P

Military operators
Argentina
Argentine Naval Aviation operated one VIP. See also Escuadrx³n Fénix

Biafra
Biafran Air Force operated one aircraft.

Brazil
Brazilian Air Force

Botswana
Botswana Defence Force Air Wing

Ireland
Irish Air Corps

Japan
Japan Air Self-Defense Force

Malawi
Military of Malawi

Malaysia
Royal Malaysian Air Force

Nicaragua
National Guard (Nicaragua)

Nigeria
Nigerian Air Force

Saudi Arabia
Royal Saudi Air Force

South Africa
South African Air Force
No. 21 Squadron SAAF

United Kingdom
Royal Air Force
No. 32 Squadron RAF
No. 55(R) Squadron RAF (Dominie T1)

United States
United States Air Force

Accidents and incidents
On 22 November 1966, de Havilland DH.125 N235KC of Florida Commuter Airlines crashed into the sea 7.3kilometres (3.9 nmi) off Grand Bahama International Airport, Freeport, Bahamas during an illegal flight from Miami, Florida.
On 26 May 1971, three Mercurius HS-125 aircraft belonging to the South African Air Force flew into Devil's Peak, Cape Town, while practising for a flypast for the 10th anniversary of the republic.
On 20 November 1975, a British Aerospace BAe 125 overran the runway at Dunsfold Aerodrome after a bird strike on take off. The aircraft hit a car and stopped in a field, killing six people in the car and one crew member out of nine passengers and crew.
On 3 January 2006, Russian aircraft (AVCOM - Moscow) crashed in Kharkiv, Ukraine into the Komsomolsk lake, 3 people died (crew).
On 31 July 2008, East Coast Jets Flight 81 crashed on approach to an airport in Owatonna, Minnesota killing all 8 passengers and crew. [1]
On 26 October 2009, S-Air Flight 9607, operated by BAe 125 RA-02807 crashed on approach to Minsk International Airport. All three crew and both passengers were killed.

Specifications (HS 125 Series 600)
Data from Jane's All The World's Aircraft 1976-77
General characteristics
Crew: 2
Capacity: 8 passengers (normal layout), 14 passengers in high density layout
Length: 50 ft 6 in (15.39 m)
Wingspan: 47 ft 0 in (14.33 m)
Height: 17 ft 3 in (5.26 m)
Wing area: 353.0 ft² (32.8 m²)
Empty weight: 12,530 lb (5,683 kg)
Max takeoff weight: 25,000 lb (11,340 kg)
Powerplant: 2x— Rolls-Royce Viper 601-22 turbojets, 3,750 lbf (16.7 kN) each

Performance
Maximum speed: 522 mph (454 knot, 840 km/h) at 28,000 ft (8,500 m) (Max cruise)
Cruise speed: 464 mph (403 knot, 747 km/h) at 39,000 ft (11,900 m) (Econ cruise)
Stall speed: 96 mph (83 knots, 155 km/h) (flaps down)
Range: 1,796 mi (1,560 nmi, 2,891 km) max fuel and payload
Service ceiling: 41,000 ft (12,500 m)
Rate of climb: 4,900 ft/min (24.9 m/s)

Related development
Hawker 800
Hawker 4000

Comparable aircraft
Bombardier Challenger 600
Cessna Citation
Dassault Falcon
Learjet 25

Donald, D.; Lake, J. (editors) (1996). Encyclopedia of world military aircraft.. AIRtime Publishing. ISBN1-880588-24-2.
Jackson, A. J. (1973). British Civil Aircraft since 1919: Volume Two (Second ed.). London: Putnam. ISBN0 370 10010 7.
Jackson, A. J. (1987). De Havilland Aircraft since 1909 (Third ed.). London: Putnam. ISBN0 85177 802 X.
Taylor, John W. R. (1965). Jane's All The World's Aircraft 1965-66. London: Sampson Low, Marston & Company.
Taylor, John W. R. (1976). Jane's All The World's Aircraft 1976-77. London: Jane's Yearbooks. ISBN0 354 00538 3.

Living Warbirds: The best warbirds DVD series.
Source: WikiPedia