British Aerospace Harrier II Video - Picture
British Aerospace Harrier II Aircraft Information
British Aerospace Harrier II
Harrier GR5 / GR7 / GR9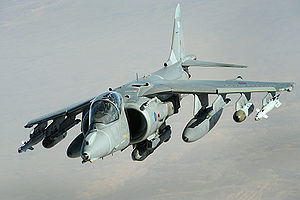 Picture - An RAF Harrier GR9 over Afghanistan, 2008
Role: V/STOL strike aircraft
Manufacturer: British Aerospace / McDonnell Douglas BAE Systems / Boeing
First flight: 30 April 1985
Introduced: December 1989
Retired: March 2011
Status: Phased out of service
Primary users: Royal Air Force Royal Navy
Number built: 143 Harrier GR5/5A, GR7, and T10s total
Developed from: Hawker Siddeley Harrier McDonnell Douglas AV-8B Harrier II

The British Aerospace/McDonnell Douglas Harrier II is a second generation vertical/short takeoff and landing (V/STOL) jet aircraft used previously by the UK's Royal Air Force (RAF) and, between 2006-2010, the Royal Navy. Developed from the earlier Hawker Siddeley Harrier, it was produced as the Harrier GR5/GR7/GR9, and is closely related to the U.S.-built AV-8B Harrier II. Both are primarily used for light attack or multi-role tasks, and are often operated from small aircraft carriers. The Harrier II fell victim to a UK defence review which saw all its operational airframes retired from service in December 2010.
Design and development
Development of a much more powerful successor to the first Harrier began in 1973 as a cooperative effort between McDonnell Douglas in the US and Hawker Siddeley (in 1977, its aviation interests were nationalised to form part of British Aerospace) in the UK. Lack of backing from the government for the necessary engine (Pegasus 15) led Hawker to withdraw from that project in 1975. Work continued on a less ambitious successor due to US interest in developing the aircraft. This led to a development of the first Harrier with a larger wing and composite materials in the fuselage. Two prototypes were built from existing aircraft and flew in 1978. The American government was content to continue if a major foreign buyer was found.
Britain had their own development plan to improve the current Harrier with a new larger metal wing. In 1980, the British considered if the American development would meet their needs - their opinion was that it required modification. The MDD wing was then modified to incorporate the leading edge root extensions of the British design. The agreement between the US and the UK was a British contribution of $280 million USD to cover general and specific development costs for their own needs and a purchase of at least 60 aircraft. Airframe construction would be divided up between MDD and BAE with no overlap. For UK variants, BAE Systems is the prime contractor and Boeing a sub-contractor.
The first new prototype flew in 1981 with production aircraft flying in 1983.
The Harrier II is an extensively modified version of the first generation Harrier GR1/GR3 series which first flew in December 1967. The original aluminium alloy fuselage was replaced by a fuselage which makes extensive use of composites, providing significant weight reduction and increased payload or range. An all-new one-piece wing provides around 14 per cent more area and increased thickness. The UK's version of the Harrier II uses different avionic systems, an additional missile pylon in front of each wing landing gear, and strengthened leading edges of the wings to meet higher bird strike requirements.
Cockpit
The cockpit has day and night operability and is equipped with Head-up display (HUD), two head-down displays known as Multi Purpose Colour Displays (MPCDs), a digital moving map, an Inertial Navigation System (INS), and a hands-on throttle and stick system (HOTAS). The pilot flies the aircraft by means of a conventional centre stick and left-hand throttle.
Operational history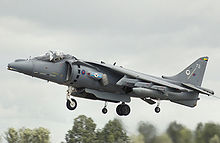 Picture - RAF Harrier GR9 arrives at RIAT 2008
In RAF service, Harriers are used in the ground attack and reconnaissance roles. Unlike the AV-8B+ upgrade, the RAF have not installed a radar into its aircraft, although the aircraft retains an Inertial Navigation System. The primary air-to-air missile (AAM) of the Harrier is the infrared-homing AIM-9 Sidewinder (the combination of Harrier and Sidewinder proved effective against Argentinian Mirages in the Falklands conflict), but it does not carry the medium range AIM-120 AMRAAM missile.
With the retirement of the Sea Harrier, it was suggested that its Blue Vixen radar could be transferred to the GR9 fleet. However, the Ministry of Defence rejected this as risky and too expensive. The Armed Forces Minister Adam Ingram estimated that the cost would be in excess of £600 million.
The Harrier GR7 formed the spearhead of the RAF's contribution to Operation Allied Force, the NATO mission in Kosovo. During this campaign the RAF identified significant shortcomings in its arsenal. As a result the service ordered the AGM-65 Maverick stand-off missile and the Enhanced Paveway which incorporates GPS guidance which would negate the effects of smoke and bad weather. Using updated ordnance as well as unguided iron and cluster munitions, RAF Harrier GR7s played a prominent role in Operation Telic, the UK contribution to the U.S.-led war against Iraq in 2003. RAF GR7s participated in strike and close air support missions throughout the conflict.
On 14 October 2005 a RAF Harrier GR7A was destroyed and another was damaged in a rocket attack by Taliban forces while parked on the tarmac at Kandahar in Afghanistan. No one was injured in the attack. The damaged Harrier was repaired, while the destroyed one was replaced by another aircraft.
The first operational deployment of the Harrier GR9 was in January 2007 at Kandahar in Afghanistan as part of the NATO International Security Assistance Force (ISAF). Harrier GR7s were deployed to Afghanistan in 2006 as part of the expanded ISAF mission in the south of Afghanistan. Reflecting the increased pace of operations, RAF Harrier GR7As saw a large increase in munitions used, mainly CRV7 rockets and laser guided bombs, used in supporting ground forces since July 2006. Between July and September, the theatre total for munitions deployed by British Harriers on planned operations and close air support to ground forces rose from 179 to 539.[2]
On one occasion, a Parachute Regiment major commanding an isolated outpost described the Harrier's gun-less air support as "utterly, utterly useless".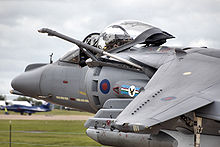 Picture - British Aerospace Harrier GR9 taxis at RIAT 2008
In 2006, the Sea Harrier was retired from Fleet Air Arm service and the Harrier GR7/9 fleet was tasked with the missions that it used to share with those aircraft. The former Sea Harrier squadron 800 Naval Air Squadron reformed with ex-RAF Harrier GR7/9s, later expanding and becoming the Naval Strike Wing.
Retirement
On 31 March 2010, the Harrier force was reduced by one squadron with the disbandment of No. 20 Squadron RAF, the Harrier Operational Conversion Unit (OCU). No. 4 Squadron also disbanded and reformed as No. 4 (Reserve) Squadron at RAF Wittering, taking over as the OCU. At the same time, all remaining Harrier GR7 aircraft were retired.
The GR9 was expected to stay in service at least until 2018, when the first F-35B Lightning II Joint Strike Fighter (JSF) was due. However, on 19 October 2010, as part of the UK government's Strategic Defence and Security Review, it was announced that the Harrier was to be retired by April 2011. It is now expected to be replaced by a smaller number of non-STOVL F-35C Lightning IIs. These are scheduled to be introduced by 2020, when a CATOBAR-capable CVF aircraft carrier enters service.
On 24 November 2010, the Harrier made its last ever flight from a carrier, incidentally also the last flight from the carrier HMS Ark Royal (R07) before retirement. The fleet's farewell operational flights occurred on 15 December 2010 with fly pasts over numerous military bases.
Variants
GR5
The GR5 was the RAF's first second-generation Harrier, with development beginning in 1976. Two AV-8As were modified to Harrier II standard in 1979 and operated as development aircraft. The first BAE built development GR5 flew for the first time on 30 April 1985 and the aircraft entered service in July 1987. The GR5 differed from the USMC AV-8B in many ways, for example avionics fit, weapons and countermeasures. Forty one GR5s were built.
GR5A
The GR5A was a minor variant of the Harrier which incorporated changes in the design in anticipation of the GR7 upgrade. Twenty-one GR5As were built.
GR7
The GR7 had its maiden flight in May 1990 and made its first operational deployment in August 1995 over the former Yugoslavia. While the GR7 deployed on Invincible class aircraft carriers during testing as early as June 1994, the first operational deployments at sea began in 1997. This arrangement was formalised with the Joint Force Harrier, operating with the Royal Navy's Sea Harrier.
GR7A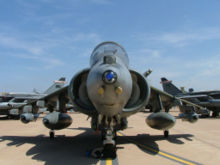 Picture - An RAF Harrier GR7A at RIAT 2005
The GR7A is the first stage in an upgrade to the Harrier GR9 standard. The GR7A is the GR7 with an uprated Rolls-Royce Pegasus 107 engine. When upgraded to GR9 standard the uprated engine variants will retain the A designation, becoming GR9As. Forty GR7s are due to receive this upgrade (all GR7 aircraft are to be made capable of using the Mk 107 engine when converted to GR9 standard). The Mk 107 engine provides around 3,000 lbf (13 kN) extra thrust than the Mk 105's 21,750 lbf (98 kN) thrust, increasing aircraft performance during "hot and high" and carrier-borne operations.
The last Harrier GR7 was retired from service on 31 March 2010; only GR9s and GR9As remained in service after this date.
GR9
The Harrier GR9 is an avionics and weapons upgrade of the standard GR7. This upgrade, known as the Integrated Weapons Programme (IWP), allows the carriage of the latest smart weapons, new inertial navigation and Global Positioning systems (INS/GPS). The new weapons being integrated are the Brimstone, Maverick, Paveway III LGB and Paveway IV PGB missiles.
The aircraft will also be fitted with Sniper targeting pods. In July 2007, BAE Systems completed the final of seven Harrier GR9 replacement rear fuselages for the UK MoD. The fuselage components were designed and built as part of a three year £20 million programme.
GR9A
The Harrier GR9A is an avionics and weapons upgrade of the uprated engined GR7As. All GR9s are capable of accepting the Mk 107 Pegasus engine to become GR9As. Due to a lack of available Mk 107 engines the Harrier II will continue use the Mk 105 engine to ensure fleet availability.
T10
The Harrier T10 is the original two seat training variant of the second-generation RAF Harrier. The RAF considered upgrading the first-generation Harrier trainer, the T4, to Harrier II standard. However due to the age of the airframes and the level of modification required, the service decided to order new build Harrier II trainers. The RAF used the USMC trainer, the TAV-8B, as the basis for the design. Unlike their American counterparts the T10s are fully combat capable. Thirteen aircraft were built.
T12
With the upgrades bringing the GR7s to GR9 standard, the RAF requires representative trainers. These aircraft will be the T12, the T10s with the IWP upgrade.
Operators
United Kingdom
Royal Air Force
No. 1 Squadron
No. 3 Squadron (until 2006)
No. 4 Squadron
No. 20 Squadron (until 2010)
RAF Strike Attack Operational Evaluation Unit
Royal Navy Fleet Air Arm
800 Naval Air Squadron (2006-2007)
Naval Strike Wing (2007-2010)

Specifications (Harrier GR7)
Data from Norden
General characteristics
Crew: 1
Length: 46 ft 4 in (14.12 m)
Wingspan: 30 ft 4 in (9.25 m)
Height: 11 ft 8 in (3.56 m)
Wing area: 343 ft² (22.6 m²)
Empty weight: 12,500 lb (5,700 kg)
Loaded weight: 15,703 lb (7,123 kg)
Max takeoff weight: 18,950 lb VTO, 31,000 lb STO (8,595 kg VTO, 14,061 kg STO)
Powerplant: 1x— Rolls-Royce Pegasus Mk. 105 vectored thrust turbofan, 21,750 lb (96.7 kN)

Performance
Maximum speed: 662 mph (1,065 km/h)
Combat radius: 300 nmi (556 km)
Ferry range: 2,015 mi ()
Service ceiling: 50,000 ft (15,000 m)
Rate of climb: 14,715 ft/min (74.8 m/s)

Armament
Guns: 2x— 30 mm (1.18 in) ADEN cannon pods under the fuselage (no longer fitted)
Hardpoints: 8 (under-wing pylon stations 1A & 7A are intended for air-to-air missiles only) with a capacity of 8,000 lb (3,650 kg) of payload and provisions to carry combinations of:
Rockets: 4x— LAU-5003 rocket pods (19x— CRV7 70 mm rockets each) or 4x— Matra rocket pods (18x— SNEB 68 mm rockets each)
Missiles: 6x— AIM-9 Sidewinders; or 6x— AIM-132 ASRAAM air-to-air missiles or 4x— AGM-65 Maverick or 6x— Brimstone air-to-ground missiles
Bombs: ordnance such as Paveway series of laser-guided bombs, unguided iron bombs (including 3 kg and 14 kg practice bombs)
Other: 2x— auxiliary drop tanks or reconnaissance pods (such as the Joint Reconnaissance Pod)

Popular culture
The Harrier's special characteristics have led to it being featured in films and video games.
Harrier Jump Jet, an overview of the Harrier family
Harrier Jump Jet family losses

Related development
Hawker Siddeley Harrier
BAE Sea Harrier
AV-8B Harrier II

Comparable aircraft
Boeing X-32
F-35 Lightning II
Yakovlev Yak-38

Note
Bibliography
Jenkins, Dennis R. Boeing / BAe Harrier, Specialty Press, 1998. ISBN 1-58007-014-0.
Nordeen, Lon O. Harrier II, Validating V/STOL. Annapolis: Naval Institute Press, 2006. ISBN 1-59114-536-8.

Online
Greg Goebel Harriers

British Aerospace Harrier II Pictures
More aircraft.
Source: WikiPedia