CAC Boomerang Video - Restored
CAC Boomerang Video - RAAF Williamtown
CAC Boomerang Aircraft Information
CAC Boomerang
Boomerang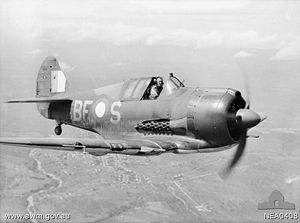 Picture - Boomerang from No. 5 Squadron RAAF
Role: Fighter aircraft
National origin: Australia
Manufacturer: Commonwealth Aircraft Corporation
First flight: 29 May 1942
Introduced: 1943
Status: Retired
Primary user: Royal Australian Air Force
Produced: 1942-1945
Number built: 250

The CAC Boomerang was a World War II fighter aircraft designed and manufactured in Australia between 1942 and 1945. The Commonwealth Aircraft Corporation produced Boomerangs under the production contract numbers CA-12, CA-13, CA-14 and CA-19, with aircraft supplied under each subsequent contract incorporating modifications and improvements. The Boomerang is significant as the first combat aircraft designed and built in Australia.
Development
Background
The Pacific War began on 7 December 1941 with surprise attacks by the Empire of Japan on Pearl Harbor, Thailand, Malaya, and the Philippines. Within a few months, Japanese forces had conquered vast areas of the Pacific and South East Asia. During these campaigns, the ill-prepared Allied air forces in the Pacific suffered devastating losses.
Because of political and cultural ties between the United Kingdom and Australia, British manufacturers were the main source of RAAF aircraft. However, the British aircraft industry had long been hard-pressed to meet the needs of the RAF. Although United States companies had enormous aircraft manufacturing capacity, their output was now intended first and foremost for US air units. Even if aircraft built overseas did become available, they would be shipped long distances in wartime conditions, with consequent delays and losses. CAC came into its own: work re-commenced on an existing bomber design, the Woomera, and CAC also examined the possibility of designing and building fighters.
The main challenge was the fact that fighter aircraft had never been built in Australia. Only two military aircraft were in production at the time: the Bristol Beaufort twin-engined bomber and the CAC Wirraway, a single-engined armed trainer. While it was not a suitable basis for a fighter design, the Beaufort used 1,200 horsepower (890 kW) Pratt & Whitney Twin Wasp engines, made under license at the CAC plant in Lidcombe, Sydney. As this was the engine that powered the Grumman Wildcats used by the US Navy, the Twin Wasp was a logical choice for an Australian design. The Wirraway provided a starting point for the Boomerang's airframe.
Like the latest fighters at the time, planning for the Boomerang included automatic cannons. As no such weapons were manufactured locally, a British-made Hispano-Suiza 20 mm which an Australian airman had collected as a souvenir in the Middle East was reverse engineered.
Development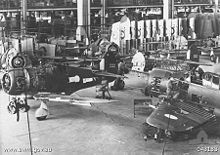 Picture - Boomerangs under construction at CAC's factory at Fisherman's Bend
Lawrence Wackett, general manager and former chief designer of CAC, recruited designer Fred David, a recently-arrived Austrian Jewish refugee. As he was technically an enemy alien, David had been interned by Australian immigration officials. He was well-suited to the CAC project, since he had previously worked for Heinkel in pre-Nazi Germany, as well as Mitsubishi and Aichi in Japan. As a result, David had an excellent understanding of advanced fighter designs, including the Mitsubishi A6M ("Zero") and the Heinkel He 112. Design work began on 21 December 1941, at the CAC factory in Fishermans Bend, Melbourne.
The Boomerang was a small fighter, designed with an emphasis on manoeuvrability. It had an overall length of just 7.7 metres (25.5 ft) and an 11 m (36 ft) wingspan. Although the original intention had been to use as many Wirraway components as possible, the final design was quite different, with shorter wings, a shorter, wood-sheathed, aluminium-framed fuselage, increased strength for combat stresses and a new centre section.
On 2 February 1942, before the debut flight of the Boomerangs prototype, the RAAF ordered 105 CA-12 (Mark I) variants. The prototype took to the air on 29 May.
Test flights found that the CA-12 handled well. It was very well-armed, with two 20 mm cannon and four .303 calibre (7.7 mm) machine guns, all mounted in the short, thick wings. The Boomerang was also generously equipped with armour plating to protect the pilot. However, general performance was mediocre. Although lively at low level, performance fell away rapidly over 15,000 ft (4,600 m), and at the maximum speed of 265 knots (490 km/h) was not sufficient to make it an effective counter to the Zero. In addition, the best European fighters were reaching almost 350 knots (650 km/h), and even relatively sluggish fighters like the Wildcat and the Kittyhawk were much faster than the Boomerang.
In early 1942, CAC began work to address the CA-12's deficiencies in speed, climb and ceiling. A new variant, the CA-14, was designed around an order for 145 U.S.-built, 1,700 hp (1,268 kW) Wright Cyclone R-2600 engines. However, the Wright engines ordered were not delivered as scheduled, and in mid-1942 Wackett authorised use of the 1,850 hp (1,380 kW) Pratt & Whitney R-2800, which was available from the CAC factory in Lidcombe. However, the significantly greater weight of this powerplant led to an unacceptable risk of undercarriage failure. (The R-2800 engine would later be the basis of design work on the Boomerang's successor, the CAC CA-15, also known as the "Kangaroo".)
CAC eventually returned to the Twin Wasp, to which was added a General Electric B-2 turbo-supercharger mounted inside the rear part of the fuselage, new propellor gear, a geared cooling fan (influenced by reports on Focke-Wulf Fw 190s captured in Europe) and a larger, squared-off tailfin and rudder. By July 1943, the significantly re-worked CA-14 prototype, now known as the CA-14A, had a top speed which was 25-30% better than the CA-12, and an operational ceiling which was 4,000 ft (1,200 m) higher. Overall, it compared favourably with the Spitfire Mk V and early Thunderbolts and Mustangs. By this time, however, British-built Spitfires had filled the interceptor role and Mustangs had been ordered, to fill the bomber escort, air superiority and close air support roles. Consequently, production Boomerangs were never fitted with superchargers.
Boomerangs that reached frontline RAAF units were delivered under three different CAC production contract numbers: CA-12, CA-13 and CA-19, incorporating various minor improvements and modifications. A total of 250 aircraft of these marques were built: 105 CA-12s, 95 CA-13s and 49 CA-19s The CA-13 and CA-19 are sometimes known collectively as the Boomerang Mark II.
The sole CA-14A was used for research by No. 1 Aircraft Performance Unit RAAF, and was also seconded to the Bureau of Meteorology for a period after the war ended.
Operational history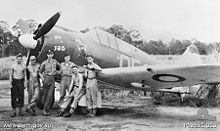 Picture - A No. 4 Squadron Boomerang and ground crew at Nadzab, New Guinea in October 1943 (AWM P02531.013)
Following the devastating first air raids on Darwin on 19 February 1942, the need for interceptors became more pressing. Despite the Boomerang's astonishingly short development phase - especially since the Australian aviation industry had never built fighters before, let alone designed them - by the time the Boomerang entered service, sufficient Curtiss P-40 Kittyhawks had arrived from the United States. In January 1943, these were replaced in the air defence role over Darwin by No. 1 (Fighter) Wing RAAF, which had returned from Europe, equipped with the Spitfire Mk Vc.
Two of the first three operational Boomerang units, No. 83 Squadron and No. 85 Squadron, were used for home defence. No. 84 Squadron was deployed to Horn Island in Torres Strait and Dutch New Guinea (West Papua), in an attempt to address the continuing shortage of fighters in this area. The squadron was only modestly successful however. The Boomerang's low top speed and poor high altitude performance meant that No. 84 Squadron could drive off enemy attacks but rarely get close enough to Japanese aircraft to bring their guns to bear. On the only occasion when a Boomerang did close with a Japanese aircraft, its guns jammed. Fortunately, there were not many air raids in this area, and after using Boomerangs for eight months No. 84 Squadron upgraded to the Kittyhawk.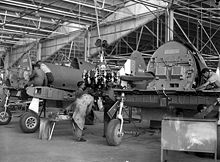 Picture - CAC Boomerang during assembly
The Boomerang found its real use as a close support aircraft. In contrast to Europe or North Africa, the ground war in the jungles of the south-west Pacific was, in broad terms, a series of small unit actions fought at very close quarters by widely dispersed forces with no clear front lines. It was here that the Boomerang found its niche: as close to the troops on the ground as possible.
It had the range to go wherever it was needed (usually the aircraft were based close to the area of ground operations), heavy armament by the standards of the day and, because it was easier to fly than most fighters, the pilot could get in close to the objective and have time to concentrate on the ground forces. Sprightly low-level handling helped avoid ground fire and rough terrain and the unusually extensive armour plating protected pilots. In addition, the aircraft's simple wood and aluminium airframe proved capable of absorbing battle damage. Nonetheless, several of the aircraft were shot down, including two accidental kills by US units, and more were damaged during landing accidents, as the Boomerang was prone to ground looping.
No. 4 Squadron and No. 5 Squadron flew Boomerangs in New Guinea, the Solomon Islands Campaign and Borneo Campaign, also in the close support role, with marked success. Flying in pairs (one to observe the ground, the other to observe the air around them), their tasks included bombing, strafing, close infantry support and artillery spotting. When attacking larger enemy formations Boomerangs often operated in conjunction with larger aircraft. In this role the Boomerang would get in close to confirm the identity of the target and mark it with a 20 lb (9 kg) smoke bomb with the "cooperating" aircraft delivering the major ordnance from a safer distance. The partnership between 5 Squadron Boomerangs and Royal New Zealand Air Force Corsair fighter bombers during the Bougainville Campaign was said to be particularly effective.
The other user of Boomerangs in New Guinea was No. 8 Communications Unit, which used the aircraft to assist with air sea rescue operations.
Variants
CA-12 (Mark I)
The first single-seat fighter version, 105 built.
CA-13 (Mark II)
Improved version of the CA-12, 95 built.
CA-14
One aircraft fitted with a turbo-supercharged engine, did not enter production. Serial number A46-1001.
CA-14A
The CA-14 prototype was later modified to have a square tail and rudder
CA-19
Tactical reconnaissance variant with a single vertical camera in the fuselage, 49 built. Serial numbers: A46-201 to A46-249.
Operators
Australia
Royal Australian Air Force
No. 2 Operational Training Unit (October 1942-1945)
No. 4 Squadron (August 1943 - August 1945). Code letters: QE
No. 5 Squadron (November 1943 - August 1946). Code letters: BF
No. 83 Squadron (September 1943 - August 1945). Code letters: MH
No. 84 Squadron (April 1943 - October 1943). Code letters: LB
No. 85 Squadron (May 1943 - January 1945). Code letters: SH
No. 8 Communications Unit (February 1944 - August 1944). Code letters: ZA

Survivors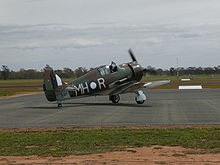 Picture - Temora Aviation Museum's CA-13 Boomerang VH-MHR/"A46-122"
Three Boomerangs remain airworthy today, all in Australia:
A46-122 CA-13 "Suzy Q" (VH-MHR) with the Temora Aviation Museum

A46-206 which was formerly with Lynette Zuccoli at Toowoomba, Queensland until donated to the Museum of Australian Army Flying at the Army Aviation base located at the nearby town of Oakey is now on static display.

A46-63 a CA-12 from 1943 first flew again on 26 June 2009 as VH-XBL. The restoration includes the provision of a passenger seat.

A full-scale, airworthy replica with many original parts is based in the United States. Several others are under restoration to fly in both Australia and the USA. This includes A46-90 which is currently being restored to airworthy status.
Specifications (CA-12)
Data from The Great Book of Fighters
General characteristics
Crew: 1
Length: 25 ft 6 in (7.77 m)
Wingspan: 36 ft 0 in (10.97 m)
Height: 9 ft 7 in (2.92 m)
Wing area: 225 ft² (20.9 m²)
Empty weight: 5,373 lb (2,437 kg)
Loaded weight: 7,699 lb (3,492 kg)
Powerplant: 1x— Pratt & Whitney R-1830 Twin Wasp radial engine, 1,200 hp (895 kW)

Performance
Maximum speed: 305 mph (265 knots, 491 km/h) at 15,500 ft (4,730 m)
Range: 930 mi (810 nm, 1,500 km)
Service ceiling: 29,000 ft (8,800 m)
Rate of climb: 2,940 ft/min (14.9 m/s)
Wing loading: 34.2 lb/ft² (167.1 kg/m²)
Power/mass: 0.16 hp/lb (256 W/kg)

Armament
Guns:
2x— 20 mm (0.787 in) Hispano or CAC cannons
4x— 0.303 in (7.7 mm) Browning machine guns
Bombs: Could be fitted when the large drop tank was not carried

Related development
CAC Wirraway

Comparable aircraft
A6M Zero
Bloch MB.150
Brewster Buffalo
Curtiss-Wright CW-21
F4F Wildcat
Polikarpov I-185
Nakajima Ki-43
North American P-64
P-36 Hawk
P-66 Vanguard
FFVS J 22

Bibliography
Caterson, Simon, "Magnificent men who built a vital flying machine", The Weekend Australian, 24 April 2010, [1]
Dennis, Peter et al. The Oxford Companion to Australian Military History. . South Melbourne, Australia: Oxford University Press, Second Edition 2008. ISBN 978-0195532272.
Francillon, René J. The Commonwealth Boomerang, Aircraft in Profile number 178. Leatherhead, UK: Profile Publications, 1967.
Green, William. War Planes of the Second World War, Fighters, Volume One. London: Macdonald, 1960 (10th impression 1972). ISBN 0-356-01445-2.
Luranc, Zbigniew. Commonwealth Boomerang, Skrzydła W Miniaturze 24 (in Polish). Gdańsk: Wydawnicto Avia-Press, 2000. ISSN 1234-4109.
Pentland, Geoffrey. Commonwealth Boomerang Described. Dandenong, Victoria, Australia: Kookaburra Technical Publications, 1964.
Pentland, Geoffrey.RAAF Camouflage & Markings, 1939-1945, Vol. 1. Dandenong, Victoria, Australia: Kookaburra Technical Publications Pty Ltd., 1980. ISBN 0-85880-036-5.
Pentland, Geoffrey. Wirraway and Boomerang Markings. Dandenong, Victoria, Australia: Kookaburra Technical Publications, 1970. ISBN 0-85880-007-1.
Ross, A.T. Armed and Ready: The Industrial Development and Defence of Australia 1900-1945. Wahroonga, New South Wales, Australia: Turton & Armstrong, 1995. ISBN 0-908031-63-7.
Wilson, Stewart. Wirraway, Boomerang & CA-15 in Australian Service. Sydney, Australia: Aerospace Publications, 1991. ISBN 0-958797-88-9.
Zbiegniewski, Andre R. and Jacek Nowicki. CAC Boomerang & CAC Wirraway, Wydawnicto Militaria 43 (in Polish). Warszawa: Wydawnicto Militaria, 1997. ISBN 83-86209-57-7.

CAC Boomerang Pictures
Living Warbirds: The best warbirds DVD series.
Source: WikiPedia