CAC Sabre Video - Temora Air Museum
CAC Sabre Video - RAAF Williamtown
CAC Sabre Aircraft Information
CAC Sabre
CAC-27 Sabre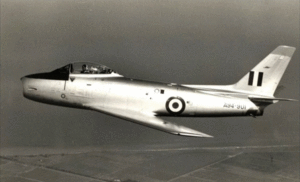 Picture - CAC CA-27 Sabre (A94-989), c. 1953
Role: Fighter aircraft
National origin: United States / Australia
Manufacturer: Commonwealth Aircraft Corporation
First flight: 3 August 1953
Introduced: 1954
Retired: 1982 (Indonesian Air Force)
Primary users: Royal Australian Air Force Indonesian Air Force Royal Malaysian Air Force
Number built: 112
Developed from: North American F-86 Sabre

The CAC Sabre, sometimes known as the Avon Sabre or CA-27, is an Australian variant of the North American Aviation F-86F Sabre fighter aircraft. The F-86F was redesigned and built by the Commonwealth Aircraft Corporation (CAC).
Development
In 1951, CAC obtained a licence agreement to build the F-86. It was decided to power the aircraft using a licence-built version of the Rolls-Royce Avon R.A.7. This involved a re-design of the fuselage as the Avon was shorter, wider and lighter than the General Electric J47 that powered the North American-built aircraft. Because of the engine change the type is often referred to as the Avon Sabre. To accommodate the Avon, over 60% of the fuselage was redesigned along with a 25% increase in the size of the air intake. Another major revision was in replacing the F-86F's six machine guns with two 30mm Aden cannons, while other changes were also made to the cockpit and to provide an increased fuel capacity.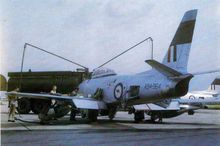 Picture - A94-964 and A94-982 (Mk 32) in Thailand in the early 1960s.
The prototype aircraft (designated CA-26 Sabre) first flew on 3 August 1953. The production aircraft were designated the CA-27 Sabre and first deliveries to the Royal Australian Air Force began in 1954. The first batch of aircraft were powered by the Avon 20 engine and were designated the Sabre Mk 30. Between 1957 and 1958 this batch had the wing slats removed and were redesignated Sabre Mk 31. These Sabres were supplemented by 20 new-build aircraft. The last batch of aircraft were designated Sabre Mk 32 and used the Avon 26 engine.
Operational history
The RAAF operated the CA-27 from 1956 to 1971.
In 1958-60, CAC Sabres completed numerous ground attack sorties against communist insurgents in Malaya, during the Malayan Emergency, with No. 3 Squadron RAAF and No. 77 Squadron RAAF. Following the Emergency, they remained in Malaysia at RAAF Butterworth. From August 1964 onwards these aircraft responded several times to incursions by Indonesian MiG-21 fighters. However, the Indonesian aircraft always turned back before crossing the international boundary.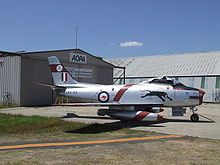 Picture - A94-901 (Mk 30), the first production CAC Sabre, in the colours of the "Black Panthers" aerobatics team of 76 Sqn RAAF.
In 1962, a detachment of eight CA-27s, which was later expanded and designated No. 79 Squadron RAAF (79 Sqn), was sent from Butterworth to RAAF Ubon, Ubon, Thailand, to assist the Thai and Laotian governments in actions against communist insurgents. Australia and Thailand were allies of South Vietnam and the United States during the Vietnam War, and 79 Sqn performed air defence for United States Air Force attack and bomber aircraft based at Ubon. The squadron never engaged North Vietnamese aircraft or ground forces and was withdrawn in 1968.
Former RAAF CAC Sabres were operated by the Royal Malaysian Air Force (TUDM) between 1969 and 1972. Following the establishment of better relations with Indonesia, 23 CAC Sabres were donated to the Indonesian Air Force (TNI-AU) between 1973 and 1975; five of these were former Malaysian aircraft.
In Australia one aircraft, RAAF Sabre A94-983, has recently been restored to flying condition, and is involved in flying displays at the Temora Aviation Museum in New South Wales.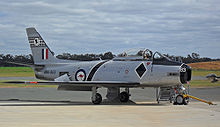 Picture - CAC Sabre Mk 32 (A94-983) on display at the Temora Aviation Museum
Variants
CA-26 Sabre
Prototype, one built
CA-27 Sabre Mk 30
Production version powered by the Avon 20 engine and fitted with wing slats; 22 built.
CA-27 Sabre Mk 31
Version similar to Mk 30 but with wing slats removed; 20 built and surviving Mk 30s converted to this standard.
CA-27 Sabre Mk 32
Final production batch with four wing pylons, Avon 26 engine and increased fuel capacity; 69 built.
Operators
Australia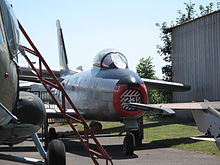 Picture - CAC Sabre Mk 30 (A94-923) at Prague Aviation Museum, Kbely.
Royal Australian Air Force
No. 3 Squadron RAAF
No. 75 Squadron RAAF
No. 76 Squadron RAAF
No. 77 Squadron RAAF
No. 79 Squadron RAAF
No. 2 Operational Training Unit RAAF
No. 5 Operational Training Unit RAAF

Indonesia
Indonesian Air Force
No. 14 Squadron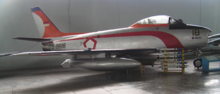 Picture - The Indonesian Air Force Museum exhibits this Mk 32 example (TS-8603, RAAF serial A94-368) in Indonesian markings.
Malaysia
Royal Malaysian Air Force
No. 11 Squadron
No. 12 Squadron

Preserved aircraft
Specifications (Mk 32)
Data from Meteor, Sabre and Mirage in Australian Service
General characteristics
Crew: 1
Length: 37 ft 6 in (11.43 m)
Wingspan: 37 ft 1 in (11.3 m)
Height: 14 ft 5 in (4.39 m)
Wing area: 302.3 sq ft (28.1 m²)
Empty weight: 12,000 lb (5,443 kg)
Loaded weight: 16,000 lb (7,256 kg)
Max takeoff weight: 21,210 lb (9,621 kg)
Powerplant: 1x— Rolls-Royce Avon turbojet, 7,500 lbf (33.4 kN)

Performance
Maximum speed: 700 mph (1,100 km/h) (605 knots)
Range: 1,153 mi, (1,000 NM, 1,850 km)
Service ceiling: 52,000 ft (15,850 m)
Rate of climb: 12,000 ft/min at sea level (61 m/s)

Armament
Guns: 2x— 30 mm ADEN cannons with 150 rounds per gun
Rockets: 24x— Hispano SURA R80 80mm rockets
Missiles: 2x— AIM-9 Sidewinder Air-to-air missiles
Bombs: 5,300 lb (2,400 kg) of payload on four external hardpoints, bombs are usually mounted on outer two pylons as the inner pairs are wet-plumbed pylons for 2x— 200 gallons drop tanks to give the CAC Sabre a useful range. A wide variety of bombs can be carried with maximum standard loadout being 2 x 1,000 lb bombs plus 2 drop tanks.

Related development
North American F-86 Sabre
Canadair Sabre

Comparable aircraft
Dassault Super Mystx¨re
de Havilland Venom
Hawker Hunter
Mikoyan-Gurevich MiG-15
Mikoyan-Gurevich MiG-17
Republic F-84F Thunderstreak
Saab 32 Lansen
Sukhoi Su-9

Bibliography
Allward, Maurice. F-86 Sabre. London: Ian Allen, 1978. ISBN 0-71100-860-4.
Curtis, Duncan. North American F-86 Sabre. Ramsbury, UK: Crowood, 2000. ISBN 1-86126-358-9.
The Illustrated Encyclopedia of Aircraft (Part Work 1982-1985). London: Orbis Publishing, 1985.
Wagner, Ray. The North American Sabre. London: Macdonald, 1963. No ISBN.
Wilson, Stewart. Combat Aircraft since 1945. Fyshwick, ACT, Australia: Aerospace Publications Pty. Ltd., 2000. ISBN 1-875671-50-1.
Wilson, Stewart. Meteor, Sabre and Mirage in Australian Service. Fyshwick, ACT, Australia: Aerospace Publications Pty. Ltd., 1989. ISBN 0-9587978-2-X.

CAC Sabre Pictures
Living Warbirds: The best warbirds DVD series.
Source: WikiPedia