Caudron C.59 Video - Picture
Caudron C.59 Aircraft Information
Caudron C.59
C.59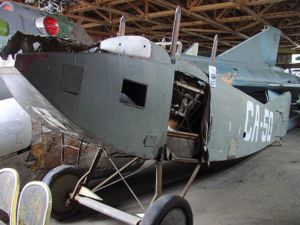 Picture - Caudron C.59, CA-50, in Finland
Role: Multi-purpose aircraft
Manufacturer: Caudron
Introduced: 1922
Primary users: French Air Force Bulgarian Air Force Turkish Air Force Finnish Air Force
Produced: 1922-1924
Number built: 1,800+

The Caudron C.59 was a French, two-seat biplane with a single engine and a canvas-covered fuselage. The French aircraft manufacturer Caudron made this aircraft between 1922-1924. It was suitable for several purposes.
The Caudron C.59 was used in France, Bulgaria, China, Finland, Turkey and in the Spanish Civil War.
There was also a C.59/2 version, which was equipped with a 230 hp Lorraine 7Ma engine.
More than 1,800 Caudron C.59s were manufactured.
Operational history
Finland
The Finnish Air Force purchased three Caudron C.59s from France in 1923. The aircraft first carried the air force designation codes 2E3-2E5 and from 1927 on CA-48 - CA-50. The manufacturing numbers of the aircraft were 5407-5409. The aircraft were equipped with landing gear, but there were at least one aircraft (2E3) was fitted with floats. The aircraft were accepted into service on March 8, 1923 and the last one was taken out of service in 1931.
Survivors
Px¤ijx¤nne Tavastia Aviation Museum in Asikkala, Finland has one Caudron C.59 in storage.
Operators
Argentina Brazil Bulgaria China Finland
Finnish Air Force

Portugal
Portuguese Air Force

Romania Spanish State Turkey Venezuela
Specifications
Data from Suomen ilmavoimien lentokoneet
General characteristics
Crew: One pilot
Length: 7.80 m (25 ft 7 in)
Wingspan: 10.24 m (33 ft 7 in)
Empty weight: 700 kg (1,543 lb)
Gross weight: 988 kg (2,178 lb)
Powerplant: 1 x— Hispano-Suiza 8A, 134 kW (180 hp)

Performance
Maximum speed: 170 km/h (106 mph)
Endurance: 3 hours 30 min

Kalevi Keskinen, Kyx¶sti Partonen, Kari Stenman: Suomen Ilmavoimat I 1918-27, 2005. ISBN 952-99432-2-9.
Kalevi Keskinen, Kari Stenman, Klaus Niska: Suomen ilmavoimien lentokoneet 1918-1939, Tietoteos, 1976.

Caudron C.59 Pictures and Caudron C.59 for Sale.
Living Warbirds: The best warbirds DVD series.
Source: WikiPedia