Caudron C.60 Video - Picture
Caudron C.60 Aircraft Information
Caudron C.60
C.60 "Aiglon"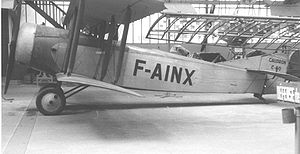 Picture - Caudron C.60 at St Cyr l'Ecole airfield, Paris, in May 1957
Role: Training aircraft
Manufacturer: Caudron
Primary users: French Air Force Finnish Air Force Latvian Air Force Venezuelan Air Force Spanish Republican Air Force
Developed from: Caudron C.59

Caudron C.60 was a French, two-seat biplane with a single engine and a canvas-covered fuselage of the 1920s and 1930s. The French aircraft manufacturer Caudron developed this aircraft from the Caudron C.59. It was mainly used as a trainer aircraft.
The Caudron C.60 was used in France, Finland, Latvia, and in Venezuela.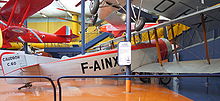 Picture - A Caudron C.60 at the Musee d'L'Air
Operational history
Finland
The Finnish Air Force purchased 30 Caudron C.60s from France in 1923. A further 34 aircraft were licence built in Finland between 1927-1928. The Finnish Air Force had a total of 64 64 Caudron C.60s. The French-manufactured aircraft carried the codes 1E20 - 1E30 and 1F31 - 1F49, and later CA-20 - CA-9. The Finnish-manufactured ones carried the codes CA-61 - CA-94.
The aircraft was in use between 1923-1936.
Operators
Finland
Finnish Air Force

France
French Air Force

Latvia
Latvian Air Force

Spain
Spanish Republican Air Force

Venezuela
Venezuelan Air Force

Survivors
The Finnish Aviation Museum in Vantaa has one of the Finnish-manufactured C.60s (CA-84)
Specifications (C.60)
Data from Suomen ilmavoimien lentokoneet
General characteristics
Crew: two
Length: 7.50 m (26 ft 7 in)
Wingspan: 10.24 m (33 ft 7 in)
Height: 2.60 m (8 ft 6 in)
Wing area: 26.00 m² (279.7 ft²)
Empty weight: 505 kg (1,111 lb)
Loaded weight: kg (lb)
Useful load: kg (kg)
Max takeoff weight: 862 kg (1,896 lb)
Powerplant: 1x— Clerget 9B radial engine, 97 kW (130 hp)

Performance
Never exceed speed: km/h (knots, mph)
Maximum speed: 150 km/h (81 knots, 93 mph)
Cruise speed: km/h (knots, mph)
Stall speed: km/h (knots, mph)
Range: km (nm, mi)
Service ceiling: 4,000 m (13,120 ft)
Rate of climb: m/s (ft/min)
Wing loading: kg/m² (lb/ft²)
Power/mass: W/kg (hp/lb)
Endurance: 5 hours

Kalevi Keskinen, Kyx¶sti Partonen, Kari Stenman, Suomen Ilmavoimat I 1918-27, 2005. ISBN 952-99432-2-9.
Kalevi Keskinen, Kari Stenman, Klaus Niska, Suomen ilmavoimien lentokoneet 1918-1939, Tietoteos, 1976.

Caudron C.60 Pictures and Caudron C.60 for Sale.
Living Warbirds: The best warbirds DVD series.
Source: WikiPedia