Caudron G.3 Video - Flying at the Old Rhinebeck Aerodrome
Caudron G.3 Video - At Rhinebeck Airshow
Caudron G.3 Aircraft Information
Caudron G.3
Caudron G.3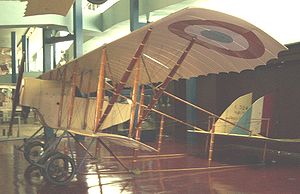 Picture - Caudron G.3 displayed in the Musee de l'Air et de l'Espace at Le Bourget airport, Paris
Role: Reconnaissance aircraft
Manufacturer: Caudron
First flight: Late 1913
Introduced: 1914
Primary users: Aéronautique Militaire US Army Air Service Finnish Air Force Polish Air Force
Developed from: Caudron G.2

The Caudron G.3 was a single-engined French biplane built by Caudron, widely used in World War I as a reconnaissance aircraft and trainer. In comparison to its competitors, it had a better rate of climb and it was considered especially suitable in mountainous terrain.
Development
The Caudron G.3 was designed by René and Gaston Caudron as a development of their earlier Caudron G.2 for military use. It first flew in May 1914 at their Le Crotoy aerodrome.
The aircraft had a short crew nacelle, with a single engine in the nose of the nacelle, and twin open tailbooms. It was of sesquiplane layout, and used wing warping for lateral control, although this was replaced by conventional ailerons fitted on the upper wing in late production aircraft.
Following the outbreak of the First World War, it was ordered in large quantities. The Caudron factories built 1423 aircraft (2450 total were built in France) and it was built under licence in several other countries (233 were built in England and 166 were built in Italy). The Caudron brothers did not charge a licencing fee for the design, as an act of patriotism.
Usually, the G.3 was not equipped with any weapons, although sometimes light, small calibre machine guns and some hand-released small bombs were fitted to it.
It was followed in production by the Caudron G.4, which was a twin engined development.
Operational history
The G.3 equipped Escadrille C.11 of the French Aéronautique Militaire at the outbreak of war, and was well-suited for reconnaissance use, proving tough and reliable. As the war went on however, its low performance and the fact that it was unarmed made it vulnerable in front line service, and so the French withdrew it from front line operations in mid-1916. The Italians also used the G.3 for reconnaissance on a wide scale until 1917, as did the British RFC (continuing operations until October 1917),who also fitted some with light bombs and machine guns for ground attack.
It continued in use as a trainer after ceasing combat operations until after the end of the war. Caudron G.3 in Chinese hands, namely the air force of Fengtian clique warlords remained in service in training roles until the Mukden Incident, when most of them were captured by Japanese, and their eventual fate is unknown.
Variants
Most G.3s were the A.2 model, used by various airforces for fire spotting on the West front, in Russia and in the Middle East. G.3 D.2 was a two-seated trainer aircraft, equipped with dual controls and the E.2 was a basic trainer. The R.1 version, which had been developed from the basic version was used by France and by the USA for taxi training, with fabric removed from large areas of the wing to prevent its becoming airborne. The last version, the G.3.12, was equipped with a more powerful 100 hp Anzani 10 radial engine.
In Germany, Gotha built copies of the G.3 as the LD.3 and LD.4 (Land Doppeldecker - "Land Biplane").
Survivors
Caudron G.3s are displayed in several museums, including at the RAF Museum Hendon, the Musée de l'Air et de l'Espace, Paris, the Royal Army and Military History Museum, Brussels and the Aerospace Museum (Musal), Rio de Janeiro. One aircraft (1E.18) is currently being repaired at the Hallinportti Aviation Museum.
Operators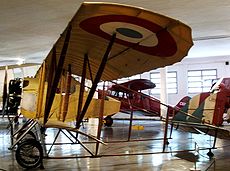 Picture - Caudron G3 in the Airspace Museum (Museu Aeroespacial) in Rio de Janeiro.
Argentina Australia
Mesopotamian Half Flight
Central Flying School AFC at Point Cook, Victoria.

Belgium Brazil China Colombia Three aircraft only. The first military aircraft in the history of this country. Denmark El Salvador Three aircraft only. Finland The Finnish Air Force purchased twelve aircraft from France in 1920. Six of these were built in Finland by Santahaminan ilmailutelakka (today a part of Patria Aviation) between 1921 - 1923. Two aircraft and spares were purchased from Flyg Aktiebolaget on April 26, 1923 (production numbers 6 and 4396) together with a Caudron G.4 for 100,000 Finnish markka. The aircraft was easy to fly and repair and thus very suitable as a trainer. The Finnish-constructed aircraft had worse flying characteristics than the French machines due to a bad wing profile. The FAF used a total of 19 Caudron G.3 aircraft, which carried the designation codes 2A.490 - 2A.495, later 1B.1 - 1B.7 and 1D.8 - 1D.12. Aircraft constructed in Finland carried designation codes 1D.12 and 1E.14 - 1E.18, and the one purchased from Flyg Aktiebolaget carried designation code 1B.19. The aircraft was called Tutankhamon in Finland. The G.3 was used by the FAF between 1920-1924.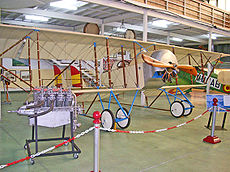 Picture - Caudron G.3 replica in "Museo del Aire", Madrid
Royal Flying Corps
No. 1 Squadron RFC
No. 4 Squadron RFC
No. 5 Squadron RFC
No. 19 Squadron RFC
No. 23 Squadron RFC
No. 25 Squadron RFC
No. 29 Squadron RFC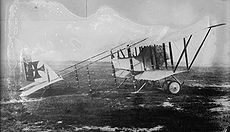 Picture - Caudron captured
United States Venezuela
Specifications (G.3)
Data from Suomen ilmavoimien lentokoneet
General characteristics
Crew: 1
Length: 6.40 m (21 ft 0 in)
Wingspan: 13.40 m (44 ft 0 in)
Height: 2.50 m (8 ft 3 in)
Wing area: 27.00 m² (290 ft²)
Empty weight: 420 kg (933 lb)
Max takeoff weight: 710 kg (1,577 lb)
Powerplant: 1x— Le Rhone C rotary, 60 kW (80 hp)

Performance
Maximum speed: 106 km/h (57 kn, 68 mph)
Service ceiling: 4,300 m (14,110 ft)

Armament
One small calibre machine gun (optional) and some hand released bombs (optional)
Related development
Caudron G.4
Caudron R.4
Caudron R.11

Donald, David (Editor) (1997). The Encyclopedia of World Aircraft. Aerospace Publishing. ISBN 1-85605-375-X.
Holmes, Tony (2005). Jane's Vintage Aircraft Recognition Guide. London: Harper Collins. ISBN 0 0071 9292 4.
Kalevi Keskinen, Kyx¶sti Partonen, Kari Stenman: Suomen Ilmavoimat I 1918-27, 2005. ISBN 952-99432-2-9.
Kalevi Keskinen, Kari Stenman, Klaus Niska: Suomen ilmavoimien lentokoneet 1918-1939', Tietoteos, 1976.

Caudron G.3 Pictures and Caudron G.3 for Sale.
Living Warbirds: The best warbirds DVD series.
Source: WikiPedia