Waco CG-4 Video - Picture
Waco CG-4 Warbird Information
Waco CG-4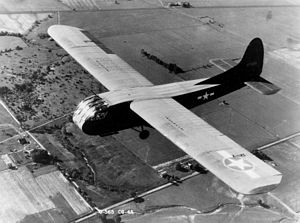 Aircraft Picture - CG-4A
Role: Military glider
Manufacturer: Waco Aircraft Company
First flight: 1942
Primary users: United States Army Air Forces Royal Air Force Royal Canadian Air Force United States Navy
Number built: >13,903
Variants: Waco CG-15

The Waco CG-4 was the most widely used United States troop/cargo military glider of World War II. It was designated the CG-4 by the United States Army Air Forces, and named Hadrian in British military service.
Designed by the Waco Aircraft Company, flight testing began in May 1942, and eventually more than 13,900 CG-4As were delivered.
Design and development
The CG-4A was constructed of fabric-covered wood and metal and was crewed by a pilot and copilot. It had two fixed mainwheels and a tailwheel. The factories ran 24-hour shifts to build the gliders. One night-shift worker in the Wicks Aircraft Company factory in Kansas City wrote,
The wings are first covered with a canvas fabric stretched on like wallpaper over plywood then every seam, hold, open place, closed place, and edge is taped down with the all adhesive dope that not only makes the wings airtight, but covers my hands, my slacks, my eyebrows, my hair, and my tools with a fast-drying coat that peels off like nail polish or rubs off with a thinner that burns like Hell.
The CG-4A could carry 13 troops and their equipment. Cargo loads could be a quarter ton truck (Jeep), a 75 mm howitzer, or a ¼ ton trailer, loaded through the upward-hinged nose section. C-47s were usually used as tow aircraft. A few C-46 tugs were used during and after Operation Plunder.
The USAAF CG-4A tow line was ⁄16-inch-diameter (17 mm) nylon, 350 feet (107 m) long. The CG-4A pickup line was /16 inch- (24 mm)-diameter nylon, but only 225 ft (69 m) long including the doubled loop.
Sixteen companies were prime contractors for manufacturing the CG-4A. Among them were, Wicks Aircraft Company of Kansas City, Commonwealth Aircraft of Kansas City (1470), General Aircraft Corporation of Lowell (1112), Robertson Aircraft Corporation of St. Louis (170), Northwestern Aeronautical Corporation of Minneapolis (1510), Ford Motor Company of Detroit (2418 Units at $14,891 dollars each) and the WACO Company of Troy (999 Units at $19,367 each). Others were the Cessna Aircraft Company of Wichita, Kansas (750), Babcock Aircraft Company of Deland, Florida (60), Gibson Refrigerator of Greenville, Michigan (1078), Laister-Kauffman Corporation of St. Louis, Missouri (310), National (1 at an astronomical $1,741,809) , Pratt-Read of Eddystone, Pennsylvania (956), Ridgefield Manufacturing Company of Ridgeville, New Jersey (156), Timm Aircraft Company of Van Nuys, California (434), and Ward Furniture Company of Fort Smith, Arkansas (7).
Operational history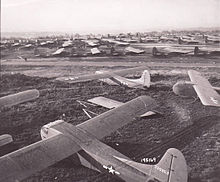 Airplane Picture - During Operation Market-Garden, the 101st Airborne Division was reinforced with twelve gliders on 18 September 1944. Here, Waco gliders are lined up on an English airfield in preparation for the next lift to Holland.
Whiteman Air Force Base was originally activated on 6 August 1942 as Sedalia Glider Base. In November 1942 the installation became Sedalia Army Air Field and was assigned to the 12th Troop Carrier Command of the United States Army Air Forces. The field served as a training site for glider pilots and paratroopers. Assigned aircraft included the CG-4A glider, Curtiss C-46, and Douglas C-47 . However, the C-46 was not used as a glider tug in combat until Operation Plunder in March 1945.
CG-4As went into operation in July 1943 during the Allied invasion of Sicily. They participated in the American airborne landings in Normandy on 6 June 1944, and in other important airborne operations in Europe and in the China-Burma-India Theater. Although not the intention of the Army Air Forces, gliders were generally considered expendable by high-ranking European theater officers and combat personnel and were abandoned or destroyed after landing. While equipment and methods for extracting flyable gliders were developed and delivered to Europe, half of that equipment was rendered unavailable by certain higher-ranked officers. Despite this lack of support for the recovery system, several gliders were recovered from Normandy and even more from Operation Market Garden in the Netherlands and Wesel, Germany.
The CG-4A found favor where its small size was a benefit. The larger British Airspeed Horsa could carry more troopers (seating for 28 or a jeep or an anti-tank gun), and the British General Aircraft Hamilcar could carry a light tank, but the CG-4A could land in smaller spaces. In addition, by using a fairly simple net system, an in-flight C-47 equipped with a tail hook could "pick up" a CG-4A waiting on the ground. The system was used succsefully in the 1945 high-altitude rescue attempt of the survivors of the Gremlin Special in a mountain valley of New Guninea.
The CG-4A was also used to send supplies to partisans in Yugoslavia.
After World War II ended almost all the remaining CG-4s were declared surplus and almost all were sold. Many were bought for the wood in the large shipping boxes. Others were bought for conversion to towed camping homes with the wing and tail end cut off and being towed by the rear section and others sold for hunting cabins and lake side vacation cabins.
Variants
XCG-4
Prototypes, two built, plus one stress test article
CG-4A
Main Production variant, survivors became G-4A in 1948, 13,903 built by 16 contractors
XCG-4B
One CG-4A built with a plywood structure
XPG-1
One CG-4A converted with two Franklin 6AC-298-N3 engines by Northwestern
XPG-2
One CG-4A converted with two 175 hp (130 kW) L-440-1 engines by Ridgefield
XPG-2A
Two articles: XPG-2 engines changed to 200 hp (150 kW) plus one CG-4A converted also with 200 hp (150 kW) engines
PG-2A
Production PG-2A with two 200 hp (150 kW) L-440-7s, redesignated G-2A in 1948, ten built by Northwestern
XPG-2B
Cancelled variant with two R-775-9 engines
LRW-1
CG-4A transferred to the United States Navy (13 units)
G-2A
PG-2A re-designated in 1948
G-4A
CG-4A re-designated in 1948
G-4C
G-4A with different tow-bar, 35 conversions
Hadrian Mk.I
Royal Air Force designation for the CG-4A, 25 delivered
Hadrian Mk.II
Royal Air Force designation for the CG-4A with equipment changes
Operators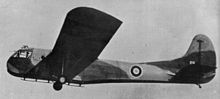 Airplane Picture - A British Hadrian
Canada
Royal Canadian Air Force

Czechoslovakia
Czechoslovakian Air Force operated 2 or 3 Wacos, designated NK-4

United Kingdom
Army Air Corps
Glider Pilot Regiment
Royal Air Force
No. 668 Squadron RAF
No. 669 Squadron RAF
No. 670 Squadron RAF
No. 671 Squadron RAF
No. 672 Squadron RAF
No. 673 Squadron RAF

United States
United States Army Air Forces
United States Navy

Surviving aircraft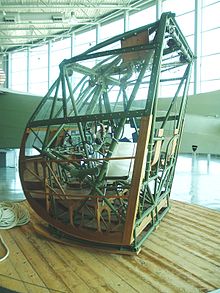 Airplane Picture - Cockpit of CG-4A at the Silent Wings Museum
U.S. Army Airborne & Special Operations Museum, Fayetteville, NC
The Fighting Falcon Museum, Greenville MI
National Museum of the United States Air Force
National Infantry Museum, Fort Benning, Columbus GA
82nd Airborne Division War Memorial Museum, Fort Bragg, Fayetteville NC
Air Mobility Command Museum
Carolinas Aviation Museum, Charlotte NC
National Soaring Museum
Musée Airborne
Silent Wings Museum, Lubbock TX
Museum of Army Flying, Middle Wallop, United Kingdom
Don F. Pratt Memorial Museum, Fort Campbell KY
Airborne D-Day Museum, St. Mere Eglise, Normandy, France
Cradle of Aviation Museum , Long Island, NY
Yanks Air Museum , Chino, CA

Specifications (CG-4A)
Data from Tribute to the American Combat Glider Pilots of World War II and Pilot's Flight Operating Instructions for Army Model CG4A Glider (TO No. 09-40CA-1)
General characteristics
Crew: two pilots
Capacity: 13 troops, or quarter-ton truck (Jeep) and 4 troopers, or 6 litters
Length: 48 ft 8 in (14.8 m)
Wingspan: 83 ft 8 in (25.5 m)
Height: 15 ft 4 in (4.7 m)
Wing area: 900 ft² (83.6 m²)
Empty weight: 3,900 lb (1,769 kg)
Loaded weight: 7,500 lb (3,402 kg)
Useful load:

"Troop Carrier (2 crew & 13 passengers): 4197 lb"; "Cargo Carrier - Jeep (2 crew, 4 passengers, 1 Jeep Car): 4197 lb" "Cargo Carrier - 75 MM howitzer (2 crew, 3 passengers, 1 Howitzer, 18 rounds ammunition): 4197 lb ()
Max takeoff weight: 7,500 lb (3,402 kg)
*Max take off (Emergency Load): 9,000 lb (4,082 kg)

Performance
Never exceed speed: 150 mph IAS (241 km/h)
Maximum speed: 150 mph CAS (240 km/h CAS) at 7,500 lb (3,400 kg) 128 mph CAS/135 mph IAS at 9000 lb
Cruise speed: IAS 72.6 mph (117 km/h)
Stall speed: 49 mph (79 km/h) with design load 7,500 lb (3,400 kg)
Wing loading: 8.33 lb/ft² (40.7 kg/m²
Rate of sink: About 400 ft/min (2 m/sec) at tactical glide speed (IAS 60 mph/96 km/h)
Landing run: 600-800 feet (180-244 m) for normal three-point landing; "Landing rolls of approximately 2,000 to 3,000 feet are to be expected at the higher emergency gross weights...")

Armament none
Avionics none
Related development
Waco CG-15

Comparable aircraft
Airspeed Horsa
DFS 230
General Aircraft Hamilcar
General Aircraft Hotspur
Gotha Go 242
Schweizer cargo glider designs
Slingsby Hengist

Waco CG-4 Pictures
More airplane video.
Source: WikiPedia