Blackburn Cirrus Minor Videos
Blackburn Cirrus Minor Aircraft Information
Blackburn Cirrus Minor
Cirrus Minor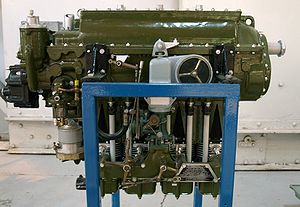 Picture - Blackburn Cirrus Minor 2A
Type: Air-cooled 4 cylinder inline piston engine
National origin: United Kingdom
Manufacturer: Blackburn Aircraft
First run: 1937

The Blackburn Cirrus Minor is a British four-cylinder, inverted, in-line air-cooled aero-engine that was designed and built by the Cirrus Engine Section of Blackburn Aircraft Limited in the late 1930s.
Design and development
The Cirrus Minor started life as a development of the original Cirrus series of engines which progressed through a number of variants Cirrus I, II, & III. Each with slightly different displacement and power. Later Cirrus was bought by Hermes Engine Company and they produced the Cirrus Hermes I, II, III and IV. Again each differing slightly in displacement and power.
In 1934 Cirrus was bought again by the Blackburn Aircraft company and later that year the Cirrus Minor was produced and in 1935 the Blackburn Cirrus Major was produced.
The Minor was known for excellent reliability, and had a major "win" when it was selected to power the RAF's Taylorcraft Auster observation aircraft. The RAF's version had several modifications, known as the Series I. Although externally identical, the Series II engine was redesigned to operate on 77 octane fuel, as opposed to the original's 70, increasing power to 100 hp (75 kW).
Applications
Arpin A-1 Mk.2
Auster J-1 Autocrat
Auster J-4
British Aircraft Swallow
Deekay Knight
Marendaz Trainer
Miles M.68

Miles Gemini
SAI KZ III
Taylorcraft Auster I
Taylorcraft Plus C2
Taylorcraft Plus D
VEF I-12

Engines on display
A preserved Blackburn Cirrus Minor II is on public display at the Royal Air Force Museum Cosford.

Specifications (Cirrus Minor I)
Data from Lumsden
General characteristics
Type: Inline air cooled inverted 4 cylinder
Bore: 3.94 in (100 mm)
Stroke: 5.00 in (127 mm)
Displacement: 243 cu in (4 L)
Length: 39.9 in (1,013 mm)
Width: 17.9 in (455 mm)
Height: 25.6 in (650 mm)
Dry weight: 200 lb (91 kg)

Components
Valvetrain: 1 inlet and 1 exhaust valve per cylinder
Fuel system: 1 Claudel carburettor
Fuel type: 70 octane
Cooling system: Air-cooled

Performance
Power output: 90 hp (67 kW) at 2,600 rpm
Compression ratio: 5.8:1
Power-to-weight ratio: 0.45 hp/lb (0.73 kW/kg)

Related development
Blackburn Cirrus Major

Comparable engines
ADC Cirrus
Alfa Romeo 110
Hirth HM 504
Menasco C4

Related lists
List of aircraft engines

Bibliography
Oldengine.org
Gunston, Bill (1986). World Encyclopedia of Aero Engines. Wellingborough: Patrick Stephens. pp. 40.
Lumsden, Alec. British Piston Engines and their Aircraft. Marlborough, Wiltshire: Airlife Publishing, 2003. ISBN 1-85310-294-6.

Blackburn Cirrus Minor Pictures and Blackburn Cirrus Minor for Sale.
Living Warbirds: The best warbirds DVD series.
Source: WikiPedia